Commentary
Can Charlie Adam succeed at Liverpool?
Updated:
July 8, 2011, 3:14 PM ET
By
Michael Cox
| Special to ESPN.com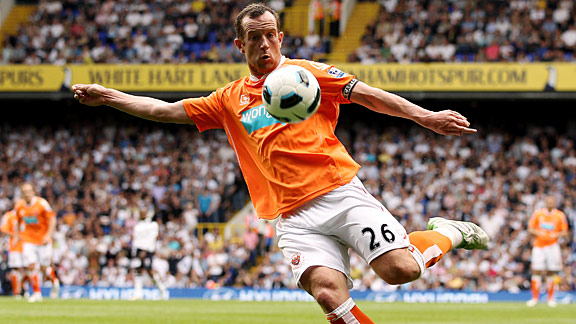 Scott Heavey/Getty ImagesAt Blackpool, Charlie Adam was a big fish in a small pond. At Liverpool, he'll have to fight for a starting position.
Liverpool's new midfielder Charlie Adam may have been playing beside the seaside at Blackpool last season, but he was the ultimate big fish in a small pond. Ian Holloway was frank about Adam's impact upon his side. "If he plays well, we play well," Blackpool's manager said.
Holloway put that belief into practice by basing his entire side around the Scottish midfielder. Adam was fielded alongside two players, generally Keith Southern and David Vaughan, who did lots of running and kept things neat and tidy on the ball, leaving Adam to drift around the midfield finding space to play his long, ambitious diagonal balls to the flanks.
The overall strategy of the Blackpool side was attack-minded. As a unit, it played high up the pitch, squeezing the opposition into its own half and playing a wide 4-3-3 that put two wingers in a position to receive those diagonals from Adam. The mutual dependence between Adam and Blackpool's system was excellent for the first half of the season. It was arguably when Adam had his head turned by bigger clubs in the January transfer window that things started to fall apart.
Perhaps aware of the attention on him, Adam started to overplay. Killer passes were attempted from impossible positions, and as the superb Blackpool site Tangerine Dreaming illustrates with a graph, his pass completion ratio fell drastically after January. Adam started the season finding a teammate 75 percent of the time, but that number was frequently below 60 percent toward the end of the campaign.
Holloway acknowledged the problem. "What he has got to do is concentrate on playing simply, quickly, nicely and neatly and forget all his World Cup Willie shots from the halfway line," he told the media in early May. "I've spoken to him about it, saying, 'You've got to be 75/25, son.' It's got to be 75 percent short and quick and tidy and 25 percent lovely jubbly, not the other way around, which is probably what he's doing now."
Elite central midfielders average an 85 percent-plus pass completion rate. Paul Scholes managed 90 percent in his final season with United, while Xabi Alonso, Liverpool's last master of the long diagonal pass, recorded 85 percent for Real Madrid. Adam's was at 72 percent for the 2010-11 season.
ESPN FC on Twitter
Don't miss a moment of the latest soccer coverage from around the world. Follow us on Twitter and stay informed. Join »
To immediately dismiss his ability to fit in at Liverpool based upon these statistics would be foolish, of course. Adam's role on a struggling team necessitated ambitious passes. It's undeniable, however, that Adam will have to adjust his game -- or, to put it another way, he'll have to revert to the football he was playing at the beginning of 2010-11. The test for Adam is not about his technical ability, but about his mental ability.
His promotion to a big club is one half of the change. The other is his diminished status within his club, from the star player to a man not assured of a starting position. Liverpool may yet lose midfielders before the end of the transfer window, but as things stand, Adam will be competing with Lucas Leiva and Raul Meireles, players who enjoyed good campaigns last season, plus captain Steven Gerrard, fellow new signing Jordan Henderson and the returning Alberto Aquilani. Jay Spearing is likely to be loaned out, and Christian Poulsen will be offloaded, but it's still a daunting challenge for Adam.
That said, a lower profile might suit him. Holloway believes Adam had difficulty coping with the pressure placed upon him at Blackpool, and becoming an "ordinary" squad member could be a welcome change.
[+] Enlarge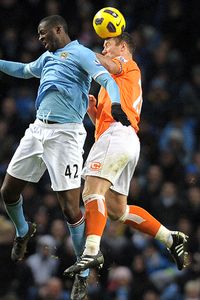 Andrew Yates/AFP/Getty ImagesAt 6-foot-1, Adam can compete for balls in the air, which could mean Liverpool deploys him in a more defensive role.
With question marks hanging over the future of many of Adam's new teammates, it's too early to speculate upon how Liverpool will line up next season. His playing style demands a 4-3-3 rather than a 4-4-2, where his lack of mobility would be exposed. Liverpool probably needs to invest in another winger to play that system comfortably, as its current pursuit of Stewart Downing shows.
Adam's most obvious impact will be in terms of set pieces. In January, Sir Alex Ferguson saw his side concede headed goals from two Adam corners, and opined that Adam's corner-kick ability was worth 10 million pounds alone. That's an area Liverpool needs to improve upon. This past season, it scored the 16th-most goals from set pieces in the Premier League, from 20 teams. All of Adam's assists from corners came from right-wing, in-swinging corner kicks.
A more obscure possibility is the idea of Adam slotting in as a defender. Adam revealed in the program for that Manchester United game that he believes center back is his best position, a rather surprising comment considering he's never played there before as a professional.
At 6-foot-1, he'd have the ability to compete in the air, and since he loves seeing the whole of the pitch to spring his long-range balls, it might suit him if Liverpool plays with less width than Blackpool. It seems doubtful that he'd be deployed at the back permanently, but with flexibility from a four- to a three-man defense in possession increasingly common among top sides, we might become used to seeing Adam launching attacks from between his own center backs.
One thing's for sure: In Liverpool colors, Adam will have to play less hit-and-hope and more pass-and-move.
Michael Cox is a freelance writer for ESPN.com. He also runs zonalmarking.net.
Michael Cox
ESPN.com writer