Commentary
Hope and glory for the U.S.
Updated:
July 11, 2011, 4:38 PM ET
By
David Hirshey
| Special to ESPN.com
I once asked the five-time FIFA Women's World Player of the Year, Marta, what it is about the U.S. that makes it so hard to beat. She pointed to her head, leading me to think she meant the Americans were strong in the air. "No, no," she explained. "It's the mentality."
Never before -- and yes, I include the epic 1999 Brandi Chastain jersey-doffing final, which coincidentally took place 12 years ago to the day that the U.S. faced Brazil on Sunday -- has the world seen a more astonishing display of that U.S. resiliency. Just when it was clear that the Americans had been the victims of a Brinks job to usher Brazil into the semifinals, they stole their berth back the only way they know, with that unshakeable self-belief that can overcome just about anything, including playing 10 against 12.
A couple of outrageous calls by Australian referee Jacqui Melksham (I place the accent on the last syllable of her name) -- a red card for Rachel Buehler's "foul" on Marta and a PK retake that only the most delusional of encroachment pedants would cheer -- were ultimately redeemed by Megan Rapinoe's inch-perfect 30-yard pass, Abby Wambach's brave header and a hero named Solo more impressive than the one who battled Jabba the Hutt.
ESPN FC on Twitter
Don't miss a moment of the latest soccer coverage from around the world. Follow us on Twitter and stay informed. Join »
Still, Melksham earned her place on the podium for Blind-As-A-Bat-Officials Who Have Tried to Screw The Red, White and Blue. She can stand there proudly right next to Malian whistleblower Koman "Grand Theft" Coulibaly, who refereed that farcical 2-2 U.S-Slovenia game in the men's World Cup last summer. Perhaps Jacqui and Koman will one day get married and the ceremony will be presided over by the high priest of con artistry, Howard Webb.
We have become accustomed in this country to our soccer teams, at least the male ones, radiating an attitude of "We're Just Happy To Be Here" when it comes to tournament knockout rounds. For the women, however, anything less than winning the championship is considered a massive disappointment. The Women's World Cup title is as much their birthright as it is Prince Harry's to drink Pimm's Cup on horseback. Sure, there were eight years when they ceded dominance of women's soccer to Germany, but that reign ended in the Teutonic gloom of Wolfsburg on Saturday in a shocking upset to Japan. Now the U.S. can already feel the cool touch of silverware once again.
In a soccer month when the U.S. men wilted against Mexico in the Gold Cup final after taking a 2-0 lead, you have to wonder, what is it about the U.S. women that makes them capable of such improbable, life-affirming comebacks?
"I come from Sweden," U.S. women's head coach Pia Sundhage said after Sunday's 123-minute thriller, "and this American attitude is contagious."
[+] Enlarge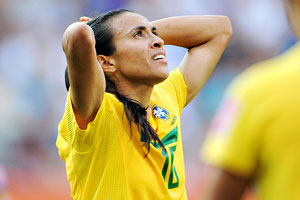 Frank Peters/US PresswireA dejected Marta left the field on Sunday to a chorus of boos.
That warrior mentality was forged long before Sundhage was brought in to replace Greg Ryan after the U.S. was embarrassed by Brazil 4-0 in the semifinals of the 2007 World Cup. The names, faces and hairdos -- I don't believe the U.S. ever fielded a player sporting a bottle-blond, Annie Lennox comb-over before Rapinoe -- may have changed since the Americans won the first Women's World Cup in 1991, but their extraordinary resolve has remained fiercely intact. Two decades ago, this combative mindset was embodied by Mother Courage herself, the great Michelle Akers, who over her career battled chronic fatigue syndrome for six years with 12 knee operations mixed in for good measure. Later, this psychological toughness became the calling cards of Mia Hamm, Kristine Lilly, Julie Foudy, Chastain and the rest of the storied '99 champions.
It begins with a simple premise. "We don't genuflect to our opponents," Hamm told me on the eve of that World Cup 12 years ago. And this 2011 team can now add Marta, "Pele in a skirt," to that list. Though she scored both of Brazil's goals -- the second a wonderful piece of improvisation that only she could conjure -- she ended the game a WWE-worthy villain, being booed and whistled at relentlessly by the majority of the neutral fans in Dresden. It turns out that Marta picked up more than just incredible skills playing with male soccer players back in Brazil all these years.
Her ball wizardry was undone by the cynical side of Brazilian soccer, a comical parade of tumbles, flops and time-wasting that would have made Robinho beam with pride. When Brazil's Erika took a good 10 seconds to crumple to the ground following the faintest of touches in the penalty area, before requiring the full stretcher treatment to haul her rapidly decomposing body off the field, little could she have known that those precious added minutes would give Rapinoe the time to trigger her miracle alley-oop to send the game to PKs.
Rapinoe, brought into the game before Marta's brace to provide sharper delivery from the left flank and from set-pieces, floated the best cross of her life to the back post for Wambach to crash home. As the super sub called it, she simply "took a touch and friggin' smacked it" to a spot where only the U.S. striker could reach it. Justice and Wambach were served.
David Hirshey

For more from David Hirshey, check out his columns on all things soccer.
• The All-EPL Team, 2011-12
• Saying goodbye to Chinaglia
• Time to dethrone King Kenny Dalglish?
• In praise of Fulham
• The comeback artists
• Call it a comeback
• Death by Manchester
• The battle for third
• Spurs' title credentials
• EPL's best starting XI
• City handed first EPL loss
• Chelsea pushed to brink
• Fragile egos crossing
• City and United
• Is Newcastle for real?
• The bad-behavior derby
You could tell by Marta's body language after the U.S. goal -- her shoulders slumped for the first time in more than two hours -- that she worried whether Brazil had exhausted its luck, along with its numerical advantage and theatrical repertoire. You didn't need to be Nostradamus to predict that the U.S. enjoyed a considerable edge in the shootout with Stonewall Solo, the best women's goalkeeper in the world, especially given that less than two minutes into the match Brazilian keeper Andreia had combined with her central defender Daiane to gift the U.S. a goal with a passable imitation of Arsenal's Wojciech Szczesny and Laurent Koscielny's comical mix-up in the Carling Cup final. And let's not forget Solo's World Cup-sized grudge that she's been nursing ever since her controversial benching in 2007 against Brazil and the witch hunt that ensued when she had the audacity to question her coach's decision.
So you just knew Solo was good for at least one save, and the only cruel element was that it had to be the luckless Daiane who was gloriously stuffed on Brazil's third kick. How much more satisfying would it have been had she stopped Marta's shot, but after Derek Jeter's heartwarming script on Saturday even Hollywood can only handle so much.
On the same weekend when England's Paul Scholes lamented the dearth of passion and camaraderie on the England national men's squad, the U.S. women showed the world how hard work and grit can still trump technical superiority.
You just have to have hope. Lots of Hope.
David Hirshey has been covering soccer for more than 30 years and has written about the sport for The New York Times, Time, ESPN The Magazine and Deadspin. He is the co-author of "The ESPN World Cup Companion" and played himself (almost convincingly) in the acclaimed soccer documentary "Once in a Lifetime."
2011 Women's World Cup
Which team will be holding the trophy after the final on July 17 in Frankfurt? Tune in to ESPN or ESPN3 to find out.
Women's World Cup
Date:
June 26-July 17
2011 champion:
Japan
Where:
Germany
Topics:
Women's World Cup
SUNDAY
SATURDAY
FRIDAY
THURSDAY
WEDNESDAY
TUESDAY
MONDAY
SUNDAY
SATURDAY
NEWS
MORE COVERAGE