Commentary
Previewing U.S. vs. France
Updated:
July 12, 2011, 4:52 PM ET
By
Ravi Ubha
| ESPN.com
MONCHENGLADBACH, Germany -- The message from the U.S. camp was loud and clear: Sunday's victory over Brazil was great, but it's time to move on. There's still work to be done.
"It's very important not to get on too much of a high because we have our business to take care of," midfielder Carli Lloyd said. "The time we can enjoy it is hopefully when we win this thing."
With that, the U.S. faces a much improved France in the semifinals of the Women's World Cup in Monchengladbach on Wednesday (watch on ESPN and ESPN3 at noon ET), hoping to keep the momentum going.
[+] Enlarge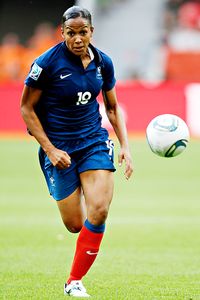 Friedemann Vogel/Getty ImagesMarie-Laure Delie will lead the attack for France.
What's on the line?
Only a spot in Sunday's finale in Frankfurt. The U.S., the No. 1-ranked team in the world, hasn't reached the World Cup final since winning it all on home soil in 1999, when it was armed with greats Mia Hamm, Brandi Chastain, Kristine Lilly and Michelle Akers. This is new territory for France -- never before had Les Bleus even been to a World Cup quarterfinal. Their previous appearance at the tournament was eight years ago. The winner could face Sweden in the finale, and that's more motivation for the U.S., which has lost twice to the Swedes in 2011.
Style and tactics
France's game is based on possession and building from the back. It's pretty stuff. Under manager Bruno Bini, described as a poet, the formation of choice has been an attacking 4-3-2-1. Marie-Laure Delie is up top, and her offensive support largely comes from Camille Abily, Gaetane Thiney and Louisa Necib.
"They're a good team, a technical team with good players," U.S. manager Pia Sundhage said. "So for us it's very important that we're patient. We need to pick up the rhythm and dictate the tempo. We need the midfield to get involved as much as possible. We don't want to make this a stretched game."
Much has been made of the U.S. having six different goal scorers in the tournament thus far, but France isn't far behind with five, as Delie and Thiney have netted two each. France and the U.S. have averaged the most shots on target in this World Cup with eight.
It's Bruno Bini's World

What is it with eccentric French coaches? After Raymond Domenech, the former French men's national team coach who used astrology to help with his team selections, the world of soccer is now graced with the presence of one Bruno Bini.
The women's national coach has been tabbed as a poet, psychologist and generally off-the-wall character. Bini, 56, sometimes waxes poetic to inspire the up-and-coming Bleus.
All eyes, and ears, were on Bini in France's news conference in Monchengladbach a day before facing the U.S. in the Women's World Cup semifinals. Midfielder Caroline Pizzala, also in attendance, could hardly get in a word. Bini couldn't quite match this quote, which he made earlier in the tournament -- someday "I will go back to my interplanetary spaceship, and I will leave I do not know where" -- but he was nonetheless highly entertaining. He's also more likable than Domenech, who had the distaste to propose to his girlfriend on live television after France, under his guidance, was humiliated at Euro 2008.
When Bini was told by a French reporter that U.S. striker Abby Wambach said his team had guts, he replied, "[The game] will be a story about football, not charcuterie." Always thinking about food, the French.
Bini added that he was tired of discussing poetry, although he eventually elaborated on the subject. Another reporter asked Pizzala whether Bini's sunny disposition rubbed off on the players. "Can you tell me one good reason why I shouldn't be happy and laughing all the time?" Bini piped in.
Times weren't always this good. Bini underwent surgery for an irregular breathing condition and was ordered by doctors to lose weight. He's now around 100 pounds lighter.
Before Tuesday's rendezvous, Bini said he vomited because he ate too quickly. That drew laughs, which Bini didn't appreciate. He probably was happy, however, after getting a good-luck message from current men's coach Laurent Blanc.
Sundhage reverted to three at the back shortly after central defender Rachel Buehler was dismissed in the second half against Brazil, so she has the option of going with a 3-5-2 or 3-4-3, similar to the Samba Queens. However, that's unlikely. In a 4-4-2, Sundhage can move Amy LePeilbet from left back to her natural position in the center and employ Stephanie Cox on the left. Cox played the second half at left back against Sweden in the group stage. Also a possibility, and perhaps more likely, is Becky Sauerbrunn slotting into the middle. She took up the position in practice Tuesday.
Players to watch
For France: Louisa Necib, Gaetane Thiney and Marie-Laure Delie.
Necib continues to be compared to Zinedine Zidane for her technical brilliance on the ball, her ability to control games and the fact that she, too, comes from Marseille and has Algerian roots. She'll be looking to rebound after a mediocre display against England in the quarterfinals. Thiney and Delie have scored almost a goal a game this season.
For the U.S.: Abby Wambach.
Isn't it always the case? A striker goes games without scoring, then can't stop. Wambach could be in the midst of something special. After struggling early on, she opened her account at this World Cup thanks to her shoulder before finding the net in more conventional fashion against Brazil, putting away Megan Rapinoe's delicious cross with her head. Wambach lived up to her reputation as a leader, too, constantly encouraging her teammates when things appeared bleak in the quarterfinals.
What we can expect
As momentum goes, the U.S. holds the edge. Sundhage and her squad should really be out of the tournament, and now many think the trophy is theirs to lose. But France may have something to say about that. Although the Americans seem to have destiny on their side, Les Bleus have the physical advantage. Sure, they went to penalties against England, but Bini's troops will have had an extra day to recuperate before kickoff. While the U.S. was flying toward Monchengladbach on Monday afternoon, France was already there.
Recovery will be a challenge for the U.S. team. Defender Christie Rampone, central midfielders Lloyd and Shannon Boxx, and Wambach put in the hard yards up the middle. Rampone is 36, Boxx is 34, Wambach is 31 and still dealing with her Achilles injury, and Lloyd will turn 29 next week. Will the mileage come back to bite Team USA? "I know they [France] have that one extra day, but they played 120 minutes, too," Boxx said. "I don't look at it as being the older team. It's just about recovery."
"Every hour counts in terms of recovery," said attacking midfielder Heather O'Reilly, who had returned from a groin injury to contest 108 minutes against Brazil. "But we have a fitness coach here with us who's encouraged us, even outside the World Cup, about recovery strategies -- ice baths, massages and wearing these very, very tight compressed pants. We're just doing everything to get our legs back."
And Rampone, who was virtually neck and neck with Marta as the Brazilian sprinted toward goal from the center circle in the first half Sunday, added, "My legs are actually pretty good, shockingly, after 120 minutes chasing after the best player in the world. A few ice baths, just relaxing; I think I need one good night's rest, and I'll be good."
Tired bodies lead to tired minds, which is a recipe for cheaply losing possession and all sorts of other mistakes. But the Americans also can take heart that France looked vulnerable in the air against Germany, and while it pounded Canada 4-0, perhaps that was mostly a reflection of the Canadians' lack of quality.
In any case, Bini didn't think his team would especially benefit. "The Americans are in physically better shape" overall, he claimed.
Intangibles
When it comes to goalkeepers, the U.S. has the best in the business in Hope Solo. She proved it again versus Brazil. Her gathering and decision-making were mostly spot-on. That said, she's turned into a leader, akin to a Peter Schmeichel in stature, never afraid to bark orders and correct her defense.
"She will be our fifth defender," Sundhage said.
For France, it's all about team chemistry. Ten of its players come from club side Lyon, which became the first French outfit to win the women's Champions League in May. Most national teams, aside from, say, the Spanish men's national team, don't have the luxury of having such a large group from the same club. France also gets a boost because its No. 1 keeper, Berangere Sapowicz, returns from suspension.
Which team will win?
Just for the record, the U.S. has never lost to France (11-0-1), although their last meeting was five years ago. It won't be an easy match for the Americans, but their depth and resolve should see them through. A U.S. win, 3-1. This is indeed a team of destiny.
London-based Ravi Ubha covers soccer and tennis for ESPN.com. You can follow him on Twitter here.
2011 Women's World Cup
Which team will be holding the trophy after the final on July 17 in Frankfurt? Tune in to ESPN or ESPN3 to find out.
Women's World Cup
Date:
June 26-July 17
2011 champion:
Japan
Where:
Germany
Topics:
Women's World Cup
SUNDAY
SATURDAY
FRIDAY
THURSDAY
WEDNESDAY
TUESDAY
MONDAY
SUNDAY
SATURDAY
NEWS
MORE COVERAGE