Commentary
U.S. women must tune out distractions
Updated:
July 12, 2011, 4:04 PM ET
By
Roger Bennett
| Special to ESPN.com
The U.S. women's national team is America's new media darling. Abby Wambach, Hope Solo and Ali Krieger fanned out across the morning talk show circuit Monday after their last-second exploits had been splashed across the front page of over a hundred national newspapers. Wambach's game-tying 122nd minute goal appeared as if on a perpetual highlight reel replay.
It seems hard to believe now, but when the squad left these shores three weeks ago, both its departure, and the tournament it was poised to enter, merited barely a single news story. I had the honor of hosting the team's farewell at Niketown in New York. The event was high on energy but low on media credentials. A particularly sad reality as there are few more positive, intelligent and articulate squads in world soccer than the U.S. women's national team.
The absence of media buzz did little to dampen the enthusiasm of the audience at Niketown. Most were teen girls who took their soccer seriously and were simply ecstatic to be in the same room as their athletic role models. Once the whole squad had walked onto the stage, I asked coach Pia Sundhage whom the U.S. feared most in the tournament. The modest Swede grabbed the mike and answered with a spontaneous yet off-tune rendition of Tina Turner's smooth-pop smash, "Simply the Best." A surreal yet endearingly relaxed moment that received an ovation from the players who seemed as close-knit as a club team rather than an international squad. Bob Bradley may discover the U.S. men's national team competes with increased confidence if he occasionally burst into song.
[+] Enlarge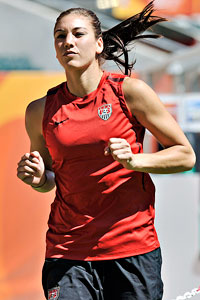 AP Photo/Martin MeissnerOff-the-pitch media distractions will be the greatest challenge for Hope Solo and the U.S. heading into their semifinal against France.
Sundhage's crooning aside, the USWNT is a team that appreciates its constituency. In the question and answer session, a tiny 9-year-old aspiring goalkeeper informed Solo she was poised to make the jump to guarding full-sized goals, begging the American No. 1 for tips. Solo gazed intently at the pint-sized inquirer. Sizing her up at just under 5 feet tall, she optimistically responded, "Footwork, footwork, footwork" before proceeding to sign autographs patiently, accompanying each one with the advice to "Dream Big."
In the wake of the U.S.'s game-changing victory against Brazil, Solo wrapped up an appearance on "Good Morning America" by divulging the team's collective mission to a giddy Robin Roberts. "We want to close our chapter with a storybook ending," she said.
But storybooks and "Dreaming Big" can only get you so far in a World Cup semifinal. France will take the field as a team in ruthless form. If the U.S. women are to progress, they must analyze the mistakes that befell Bradley's men's team in South Africa as closely as they break down video of the sophisticated French passing game.
Cast your minds back to June 23, 2010. Landon Donovan swept in to stab home a last-gasp game-winner against Algeria, earning the gritty squad a place in the elimination round and captivating a nation. A YouTube clip celebrating the reaction of suitably intoxicated Americans from Springfield, Mo., to Covington, Ky., quickly rattled up over 3.5 million hits. The New York Times' Jere Longman strove to capture the emotions that gripped the country, claiming, "There is a particular spirit about this American team, a persistence and resilience that compel it to play on, a belief that unyielding commitment will bring a deserved reward even at times when skills and technique may not."
And that is where things started to go awry. Throughout the tournament, Bradley rigorously kept his team out of the media spotlight. Donovan's goal changed everything. He became omnipresent, cropping up on television screens even more than Ryan Seacrest. Bill Clinton wandered into the U.S. locker room to chug a Bud with Carlos Bocanegra. Mick Jagger anointed himself the team's most famous fanboy.
ESPN FC on Twitter
Don't miss a moment of the latest soccer coverage from around the world. Follow us on Twitter and stay informed. Join »
America's passionate love affair with soccer lasted just three days. On June 26, the team was flat and uninspired in a 2-1 loss to Ghana. If it had performed half as well on the field as it had on "Larry King Live," it might have ended differently. Soccer, so unaccustomed to the national spotlight, had wilted under its glare.
Fast forward to this Women's World Cup semifinal. Without a doubt, the French pose an intricate challenge. Ball handler Louisa Necib has dazzled with her acutely intelligent sense of space. Sonia Bompastor presents a ceaseless threat down the flanks. The speed and ruthless finishing of Marie-Laure Delie will torment the American backline. But for all their threat, the greater test for the U.S. women may be off the pitch. It is imperative the background noise of agents, potential endorsements, Ellen's latest USWNT tweets and future visits to the White House Lawn are tuned out.
The U.S.'s defense must maintain its order in the absence of suspended Rachel Buehler. The midfield must cease forcing play and appear more comfortable in possession. And the attack must have more to feast on than long balls lumped vaguely in Wambach's direction.
In an interview on Monday, I asked penalty-kick heroine Krieger what went through her mind as she walked up to strike the U.S.'s winning penalty. "All of a sudden I felt a confidence and a release of pressure," she revealed, adding that as she addressed the ball "there was nothing in my mind other than kicking that ball and putting it in the net for the win." If her teammates are able to follow her example, clear their minds and gut this semifinal out, they will reclaim their mantle at the pinnacle of the women's game. Kids will revere Abby, Hope and Ali in the same way we already talk about Brandi, Mia and Julie.
All it will take is to channel out the noise and hear only Sundhage's reedy voice butchering a Tina Turner classic.
Roger Bennett is the co-host of Off The Ball and appears on Futbol Frenzy on "Morning Joe" every Monday. He can be reached via Twitter: @rogbennett
2011 Women's World Cup
Which team will be holding the trophy after the final on July 17 in Frankfurt? Tune in to ESPN or ESPN3 to find out.
Women's World Cup
Date:
June 26-July 17
2011 champion:
Japan
Where:
Germany
Topics:
Women's World Cup
SUNDAY
SATURDAY
FRIDAY
THURSDAY
WEDNESDAY
TUESDAY
MONDAY
SUNDAY
SATURDAY
NEWS
MORE COVERAGE