Commentary
The Prem's most wanted players
Updated:
July 12, 2011, 6:23 PM ET
By
Michael Cox
| Special to ESPN.com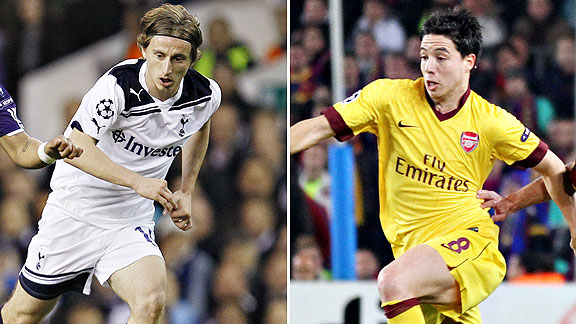 AP PhotosNever before have midfield maestros been in such high demand in the EPL, but there are key differences to players such as Luka Modric and Samir Nasri.
In term of transfers, football clubs seem to go through crazes. The January transfer window was all about strikers, with Fernando Torres, Andy Carroll, Edin Dzeko, Darren Bent and Luis Suarez all changing hands for more than 20 million pounds each. In fact, those five transfers contributed to 159 million pounds of the record 225 million spent by Premier League clubs in that month.
Now, it's the game's playmakers who are all the rage. The two most interesting (or most tedious, depending upon your take on transfer rumors) potential intra-Premier League transfers involve Samir Nasri and Luka Modric. Furthermore, the biggest name likely to leave the league is Cesc Fabregas, and the biggest possible incoming transfer would be Inter's Wesley Sneijder, or perhaps Valencia's Juan Mata.
Those five players all have individual qualities, but there are some obvious similarities between them. They're all very short, for example -- at 5-foot-10, Nasri is the tallest. But more importantly, they have excellent technique -- each one specializes at playing short, quick passes while on the move. And there's a pre-requisite for being able to showcase that ability. You need to be intelligent enough to take up good positions, to find space between the lines, and to receive the ball in a manner that allows you to naturally help the ball onto a teammate, or to enable you to turn toward goal.
Never before has there been such an emphasis upon possession in football. It's only a couple of decades since English football was still based around long balls and big, powerful strikers, but now possession football is overwhelmingly popular for the most successful sides. Last season's top six Premier League clubs are also the six that had the highest average possession. In fact, Arsenal, Chelsea, Manchester United, Manchester City, Tottenham and Liverpool are the only six clubs that averaged more than 50 percent of possession in 2010-11. With that in mind, it's obvious why these clubs are so keen to have gifted playmakers among their ranks.
There are two types of playmaker, however: controlling playmakers and incisive playmakers. The former generally sits deeper and dictates the pattern and tempo of the game, while the latter is more likely to thrive between the lines and play intricate passes through the opposition defense. There are players who can play either role, and some who play something of a hybrid of the two. But it's important to remember that the term "playmaker" can refer to two very different functions.
[+] Enlarge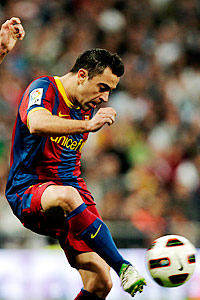 AP Photo/Paul WhiteXavi Hernandez is the ultimate example of the controlling playmaker.
The ultimate example of the controlling playmaker is Xavi Hernandez. He'll finish the game with exceptionally high passing figures -- last season, he played 110 passes per game with a completion ratio of 94 percent -- but he didn't record a miraculously high number of assists (just seven).
Compare that to Real Madrid's Mesut Ozil, who finished with 17 assists, but with only 40 passes per game at 85 percent completion. Their stats are completely different, because they are completely different players who play completely different roles -- and yet, they'd both still be referred to as playmakers.
This is where the English footballing lexicon can be slightly restrictive. Italians, for example, differentiate between a trequartista like Francesco Totti, who plays high up the pitch between the lines of opposition midfield and defense, and a regista, generally used for those who play much deeper, such as Andrea Pirlo.
The confusion can unfairly change how a player is viewed. On the subject of Modric's possible move to Manchester United or Chelsea, some have pointed out that he has low goalscoring and assist records at Tottenham, recording just three of each last season. However, playing delicate through-balls in the final third is plainly not his main job at Spurs -- that task falls to Rafael van der Vaart, who played as a classic No. 10 between the lines. Modric was instructed to sit deeper, and knock balls out to Gareth Bale and Aaron Lennon on the flanks, in addition to playing passes in toward van der Vaart.
Modric's low goals and assists statistics should be used to illustrate the role he plays, not to criticize his contribution, because he is a controlling playmaker, like Xavi. He recorded more passes per game than any other Tottenham player last season, 62.5 -- which, incidentally, is more than any Manchester United player. Its best contender on that measure was Paul Scholes, who played 61.7, demonstrating exactly why United would want Modric to be Scholes' replacement.
ESPN FC on Twitter
Don't miss a moment of the latest soccer coverage from around the world. Follow us on Twitter and stay informed. Join »
It can work the other way, too. When Kaka joined Real Madrid, there were complaints that he wasn't really taking a hold of games, making himself the key player. But that view misunderstood the role he'd played at his previous club, Milan. There, he'd had at least two passers playing deeper than him, Clarence Seedorf and Pirlo, and sometimes a third when Manuel Rui Costa was at the club. Kaka left dictating the game to those players, and instead focused his play in the final third. Granted, he has never hit the heights at Real -- partly due to Ozil's rise -- but anyone expecting him to be "in charge" of the game was never going to get their wish, even if he'd been a success.
Some play a hybrid of the two roles. This was probably more common a decade ago, when the likes of Zinedine Zidane, Rui Costa and Carlos Valeron could all be said to broadly control a game, and yet also provide moments of magic to claim assists. Barcelona's Andres Iniesta is perhaps a similar example today, but there seems to be more of a divide between the two types of playmakers. The game has gotten faster, and with defenses playing deeper (as evidenced by the fall in the number offsides over the past few years), the midfield zone has become larger. Couple that with the popularity of 4-2-3-1 and 4-3-3, and there's another midfield slot up for grabs, furthering the differences between different types of midfielders.
All this results in one main thing, however: an increase in the number of technically gifted midfield players. For that, we should all be grateful.
Michael Cox is a freelance writer for ESPN.com. He also runs zonalmarking.net.
Michael Cox
ESPN.com writer