Commentary
Manchester United's most prized asset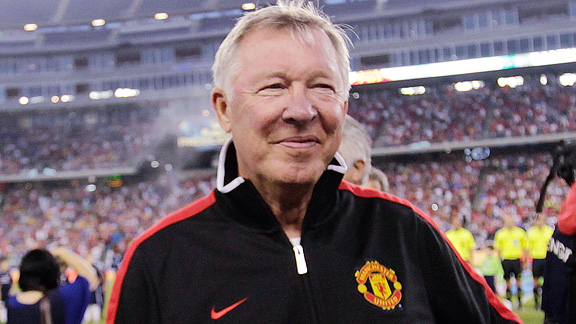 Jim Rogash/Getty ImagesAlex Ferguson has been with United since 1986, and he's still hungry for titles after all these years.
BOSTON -- Look for the essence of Manchester United. Look for the essence of the longevity of its success, the formula that has yielded 12 championships in the world's most competitive domestic soccer league in just 19 years, three Champions League finals in the past four seasons, two Champions League trophies since 1999. Look for the essence of the longest-running dynasty of the sport -- and, yes, that includes Barcelona.
Look for that essence and you might find it walking into an upstairs meeting room in the Four Seasons Hotel in Boston, just off the Public Garden. Downstairs, Gene Simmons and two other members of the 1970s glam-rock band Kiss each get in their own blacked-out Explorers. But this sweltering afternoon, they're just a side act.
"Alex Ferguson," the Manchester United manager introduces himself in his incorrigibly Scottish accent, planting the firmest handshake I've ever felt on my hand. With his other hand, he wags a warning finger. "No questions on football, eh?" Then he smiles.
We sit down for a rare one-on-one interview. (Ferguson and much of the British press have a hate-hate relationship.) He strokes his thinning tufts of white hair into place. His eyes are improbably blue, offset against his tan. He's the fittest potbellied man I've ever seen.
Ferguson and his team are in the U.S. to play a series of exhibition matches in the World Football Challenge. They defeated the New England Revolution on Wednesday night 4-1 and will face the Chicago Fire on July 23. The tour is a chance for the manager to give a number of players, new and old, a runout to help him determine the shape of his team when the Premier League season kicks off next month.
You never know exactly what changes Ferguson will make season-to-season. All you know is that he'll be the one making them. The man is continuity personified. It isn't merely his age. (He will soon swell the game's thin ranks of septuagenarian managers.) Or his thoughtful, paternal demeanor, which contrasts sharply with his ability to be a world-class crank. It isn't his incontestable talent for making soccer teams win games, resulting in 47 major trophies for his teams and a record 10 Premier League Manager of the Year accolades. It's the fact that of the 37-man squad with which he's currently preparing for the new season, 23 were born after Ferguson took charge of United in 1986.
[+] Enlarge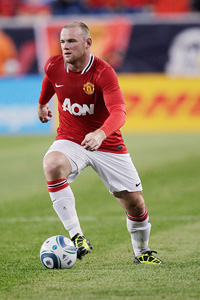 Jim Rogash/Getty ImagesWayne Rooney, who played the first half against the New England Revolution, is hoping to get off to a quicker start this season.
"Most of my staff have been with me more than 20 years -- some 24 years -- as long as I've been here myself," says Ferguson. "Therefore, it's very easy to keep the continuity."
That work environment is elusive elsewhere in the world of football. "The continuity is a very difficult thing in modern-day football," says Ferguson. "It's a results industry."
Ferguson has had enough time to implement systems and protocols for any scenario. "We have a tradition and we have a philosophy," he says. "And we've stuck mainly to that in all my time." This has made problem-solving straightforward. The staff has seen it all before. And therein is the key to United's success. "With having a good staff, we've got the experience to handle most things," says Ferguson. "As they come along, we have difficulties -- we lose a game, maybe sometimes we lose two games -- but we have the experience and the patience to see things through, which I don't know everyone gets that opportunity. As I say, it's a results industry. And some unfortunate managers can lose three games and be out of a job. That wouldn't happen at United."
According to his own explanation, what has allowed Ferguson to win is that he is untouchable, that he doesn't have to win. He can make decisions and take calculated risks without having to worry if he'll lose his job.
"The manager we've got has been here 25 years now," says United's star forward Wayne Rooney. "You look at the other clubs, they change their managers every two, three years and they have to start again. New managers like to rebuild their team, where our manager has been here for such a long time that he knows what's better for the club and what's better for the players."
That managerial stability has seen to it that the club has lived through remarkably few rocky patches in recent decades.
Yet in another way, the key to United's continuity has been change. Ferguson's greatest feat has been building a handful of different teams for United, reinventing the squad when it was time to ship out a star player who'd grown too big for his boots or ease out those who had passed their prime. "He studies the game really well," says Rooney. "You ask him any question about football and he'll know the answer."
Mistakes, Ferguson's made a few
Alex Ferguson usually gets things right. But he's also quick to admit when his managerial moves miss the mark. Two such times were with former United players Diego Forlan and the New Jersey-born Giuseppe Rossi. Both players wanted more playing time, and Ferguson ultimately decided to move them out.
"We do make mistakes, you know," he said. "We probably made a mistake with both of them. With Giuseppe, he wasn't getting a regular game with us. He was a young man, he was hungry to play, and Villarreal came in with an offer -- it was a very good one. And we decided to take it.
"Diego was an unfortunate one," Ferguson added. "When we had [Ruud] van Nistelrooy as a player, it was difficult for us to put players with van Nistelrooy. He preferred to play on his own and he had this great goal-scoring record, which always persuaded you that he was the man to play. And, of course, that left Diego in the shadow. He was a fantastic player. I knew the minute I sold him I was making a mistake. I tried to persuade him to stay, but he wanted first-team football, and I can understand that.
"But two fantastic guys and two great pros," Ferguson says. "I still keep in touch with both of them from time to time. I get texts sometimes from Giuseppe, and Diego always keeps in touch through the links at the club." -- LS
Central in those studies is the life cycle of his own teams, of his own stars. And parlaying those observations into hard decisions. "Most things are black and white as far as I'm concerned," Ferguson says about his view of what an aging stalwart of his team might or might not have left to offer. "And it's unfortunate that I've had to deal with great players coming to that time of their life when it's past them. It's not nice to see because they were every bit as much a part of Manchester United as I've been -- players like [Gary] Neville and [Paul] Scholes and [Peter] Schmeichel and [Edwin] van der Sar. You know, I've been very fortunate to have these players, the ones who got to that age -- Steve Bruce and Gary Pallister and Denis Irwin -- and they've given you unbelievable service and you know it's time for them to either move on or retire, and it's not easy to do. So observation and judgment on who replaces these players is vital. We don't make many mistakes and we can't afford to because we are replacing fantastic players."
Ferguson builds, tears down and rebuilds. Over and over.
One common trait of every subsequent generation of Ferguson's Red Devils has been an exceptional durability and drive among his players. It's a reflection of Ferguson himself. "I think I'm blessed with energy," he says. "That is part of me, and it's also very easy for me to be motivated and keep the hunger. That desire to win every match -- you don't always win them, but you always try to win them all. There's never been a negative thought in our bodies when it comes to winning games of football."
Ferguson's players take on that same persona.
Heading into this season, Ferguson has started to rebuild his squad anew, bringing in Atletico Madrid keeper David de Gea to replace Van der Sar, midfielder Ashley Young from Aston Villa and defender Phil Jones from Blackburn. One player, however, that will be more problematic to replace is Scholes, who retired at the end of last season. Rumors abound that Ferguson wants to bring in Inter midfielder Wesley Sneijder, but the manager says "there's absolutely nothing at all to that. First of all, I don't think Inter Milan are prepared to sell him anyway. But you get conjecture and you get speculation every week in newspapers, unfortunately. And you have to answer these for some reason -- why I don't know. But we have to still find a reason without adding insult to any particular club or embarrassing any particular player. That's just the way it happens and there's nothing we can do about it."
Ferguson could be playing coy. But the squad won't lack for players who share his hunger for titles.
Rooney is one such exponent. He is a finely honed, highly creative player who could get by on his technique alone, but he also logs long hours on the training pitch and in the gym. He is the game's great juxtaposition: a finesse-player trapped in a bouncer's body. And he, too, is forever lusting after the next shiny trophy. "It's something which this club breeds into you, really -- you need to look forward rather than look back," he says with a disarming smile. "The feeling you get from winning trophies is incredible. But the trophies I have won, to be honest, are at the back of my mind. Of course, it's something I'll look back on when I finish playing and be proud of different things, but now I have to look forward to the season and hopefully I can help the team win more trophies."
Eyes on the prize. Correction: prizes. "It's a demand on all of the players," says Rooney. "We're expected to win trophies. We need to try and create more history for the club, so that's what we look to do."
ESPN FC on Twitter
Don't miss a moment of the latest soccer coverage from around the world. Follow us on Twitter and stay informed. Join »
In the pursuit of more history, another distinctive trait of the club is its disaffected stance. It doesn't concern itself too much with keeping up with the Joneses, or the Arsenals, or the Barcelonas. Manchester United has set itself apart by taking that notion very literally. When the club sold Cristiano Ronaldo in 2009 for 80 million pounds, many demanded that Ferguson run out and spend all of the money, but he insisted that there wasn't good value in the market and held off.
"Worry about yourself," says Ferguson. "Try to achieve. Try to get a percentage of improvement ourselves and progress. And sometimes that's a detail, just a small detail -- it could be 1 percent, it could be 2 percent. That's the way we look at it."
"I think you can't waste time or energy worrying about what other teams are doing," echoes Rooney. "We need to concentrate on ourselves. We have to keep doing what we're doing and we know if we do that we'll keep winning trophies."
That winning tradition continues to be a big draw for players. "As soon as I heard of the interest I just wanted to come to the club and get the paperwork signed and get out there and start training," says Young. "As a player, you always want to set your standards high and play in the biggest competitions at club level. Man United do that year in and year out."
That mystique probably does half the work. Its manager does the rest. "I think while he's here, we'll always be in the hunt to win trophies," says Rooney.
But what happens when the manager finally retires? It's a thought United had best not entertain.
Leander Schaerlaeckens is a soccer writer for ESPN.com. He can be reached at leander.espn@gmail.com. Follow him on Twitter at @LeanderESPN.
Contributing writer, ESPN.com
Leander Schaerlaeckens is a contributing writer for ESPN.com. He has previously written for The Guardian, The Washington Times and UPI.