Commentary
Alex Morgan relishing role of super sub
Updated:
July 14, 2011, 3:39 PM ET
By
Ravi Ubha
| ESPN.com
FRANKFURT, Germany -- Alex Morgan has had a pretty busy past 24 hours. Besides scoring her first World Cup goal, she's received at least 10 more marriage proposals. All in a day's work, eh?
[+] Enlarge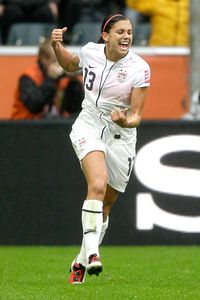 AP Photo/Frank AugsteinAlex Morgan celebrates scoring her first World Cup goal, which came against France in the semifinals.
She didn't know any of her suitors on Twitter, but they're sure to grow the more airtime Morgan receives. She merited a bit of the spotlight Wednesday, scoring yet another important goal in U.S. colors as part of a 3-1 win over France to reach the Women's World Cup final.
"I mean, it's all fun and games," said a smiling Morgan on Thursday before the team made its way from Dusseldorf to Frankfurt for Sunday's championship match against Japan.
Morgan is highly marketable: You could say the world, as well as the ball, is at her feet. Barely 22, softly spoken and yet bubbly, she often attracts the camera with her long, dark hair, blue eyes and warm smile. Not as much as teammate Hope Solo, mind you, although Morgan could be front and center at the ensuing two World Cups, like the 29-year-old Solo is now.
Morgan already has 55,000 followers on Twitter, more than fellow young guns Lauren Cheney and Amy Rodriguez and veteran Carli Lloyd combined. (No, not more than Solo, who is in triple digits.)
Coke certainly saw something in Morgan, making her one of its "eight-pack" of athletes to watch at next year's summer Olympics. "I love the attention that this national team is bringing to the game," said Morgan, who graduated early with a degree in political economy from the University of California. She's currently in a relationship with Seattle Sounders midfielder Servando Carrasco, whom she met at Cal. "Any positive attention is good, whether it's directed towards one player or an entire team."
Veterans Rampone, Sawa set for showdown
Sunday's World Cup final between the U.S. and Japan is sure to leave one veteran ebullient and another in angst. Christie Rampone, a 36-year-old mother of two competing in her fourth World Cup, lines up against Japan's Homare Sawa, 32, who has now been involved in five editions.
Each has started -- and impressed -- in all five of her team's games in Germany. Rampone has marshalled the U.S. defense, while Sawa has scored four goals, tied for the top spot with Marta, and notched a crucial assist in Japan's upset victory over host Germany in the quarterfinals.
"She's a great leader," Rampone said of Sawa. "It's great for women's soccer to have a pioneer leading her team. I think her team gets its pulse through her. We're going to have to shut her down."
Sawa and Japan have never won a World Cup, while Rampone is hoping for a second title after being a young teammate to the likes of Mia Hamm and Kristine Lilly in 1999. "It was inspiring to learn from those great leaders," said Rampone, who made a solitary appearance in 1999, in the group stage. "Now I'm in the role of being a leader and trying to help this team win the World Cup. To start my career winning a World Cup and then end it winning one would be amazing."--RU
Blessed with good pace, Morgan should feature in the national team for years to come. For now, though, she's doing her business off the bench. Morgan was a second-half substitute in group games against Sweden and North Korea, and was thrust into the action in the 72nd minute of Sunday's classic versus Brazil in Dresden, where she showed good instincts. And confronting Les Bleus on Wednesday, Morgan ran onto a loose ball, continued her charge into the penalty box and coolly chipped the ball past keeper Berangere Sapowicz in the 82nd minute with her left foot.
"Mark my words," Wambach said in what felt like a passing-of-the-torch moment, "that's the first of many Alex is going to score in the World Cup."
Morgan, who made her senior debut in March 2010 against Mexico, came up big in World Cup qualifying, producing the winner in Game 1 of a two-leg affair against Italy in November. At the 2008 under-20 World Cup, she demonstrated her "nose for goal," as fellow super sub Megan Rapinoe put it, accounting for the winner in the finale against North Korea.
Her jersey number, 13, hasn't been unlucky thus far.
"I think when she's in there, that's what she looks to do [score]," Rapinoe said. "That's what we expect of her, and I think that's what she expects of herself."
Morgan's bright performances, coupled with Rodriguez's lack of form, would lead a few to suggest that Morgan deserves a starting spot against the Japanese. Rodriguez hasn't scored in five games this World Cup, and more alarmingly, hasn't had many chances lately, either. Morgan would "love" to get the nod, though she doesn't expect U.S. manager Pia Sundhage to make such a drastic move in such an important match.
"I don't know if it's time yet," Morgan said. "It's been working with me coming off the bench, so why fix something when it's working? Pia told me before this tournament that I'd be coming off the bench almost every game, so I'm able to prepare for coming off the bench rather than being unsure if I'm going to play.
"Pia is very up front with us," Morgan continued. "And I like that about her. You don't give up your starting position very easily, and I accept that."
But Morgan probably won't have to accept it for much longer.
London-based Ravi Ubha covers soccer and tennis for ESPN.com. You can follow him on Twitter here.
2011 Women's World Cup
Which team will be holding the trophy after the final on July 17 in Frankfurt? Tune in to ESPN or ESPN3 to find out.
Women's World Cup
Date:
June 26-July 17
2011 champion:
Japan
Where:
Germany
Topics:
Women's World Cup
SUNDAY
SATURDAY
FRIDAY
THURSDAY
WEDNESDAY
TUESDAY
MONDAY
SUNDAY
SATURDAY
NEWS
MORE COVERAGE