Commentary
Tale of the tape -- U.S. vs. Japan
Updated:
July 17, 2011, 11:50 AM ET
By
Ravi Ubha
| ESPN.com
Team Destiny, meet Team Destiny.
When the U.S. scored on virtually the last sequence of the game against Brazil to force penalties in their thrilling quarterfinal, you felt it was going all the way at the Women's World Cup. Hope Solo and Alex Morgan thought that, too. Forget the magic of 1999 -- this crew was writing its own compelling history.
But what about Japan?
"

[Japan's] playing for something bigger and better than the game. When you're playing with so much heart, that's hard to play against.

"

-- Hope Solo, U.S. keeper
Its women's soccer team has raised spirits back home in the wake of March's earthquake and tsunami that killed a reported 15,000 people, left 7,000 missing and ravaged the nation's infrastructure.
"They're the sentimental favorites in this tournament," Solo conceded. "They're playing for something bigger and better than the game. When you're playing with so much heart, that's hard to play against."
And let's not forget that Japan knocked out favorite Germany in the quarterfinals.
"All the players have to have certain abilities and skills, and everybody on the team has been playing football since they were little," Japan coach Norio Sasaki said. "Football was always their dream, and their dream was to make the finals."
Here's a closer look at Sunday's Women's World Cup final (2 p.m. ET, ESPN):
What's on the line?
The U.S. is seeking its first World Cup in 12 years. More than that, though, this side is determined to create its own legacy and not live in the shadow of the U.S.'s most famous squad. It seems that at almost every turn in Germany, Solo, striker Abby Wambach and the rest of the team have been asked about the 99ers. Now is their chance to change that.
ESPN FC on Twitter
Don't miss a moment of the latest soccer coverage from around the world. Follow us on Twitter and stay informed. Join »
"It's cool that we're writing our own story," said the versatile Lauren Cheney. "It's not the Mia Hamms, Brandi Chastains and Julie Foudys, but it's Abby, Shannon Boxx. Maybe people have doubted us, but we have pure heart and determination."
Japan, right behind the big three in the world rankings, has never won the World Cup and is only the second Asian side to reach the final. The other was China in 1999. A good omen for the U.S.?
Style and tactics
Similar to the U.S.'s previous two opponents, Japan excels technically, although perhaps not as well as the French or Brazilians. But Japan, which usually lines up in a 4-4-2, is certainly faster. The team also has plenty of experience in 32-year-old Homare Sawa. Appearing in her fifth and final World Cup, Sawa is pure class in midfield, where she'll help control the tempo. Aya Miyama, meanwhile, can deliver dangerous balls and dictate play; she set up Japan's opener against Sweden in the semifinals.
U.S. manager Pia Sundhage will stick with a 4-4-2. Rachel Buehler should return to the center of defense after sitting out the semis because of a suspension. "We kept saying we're going to [win the semifinal] for Rachel to get her back in the final," said Buehler's central defensive partner, captain Christie Rampone.
A dilemma for Sundhage relates to striker Amy Rodriguez, who's slumping. She missed a wonderful opportunity against Sweden in the group stage, hitting the crossbar, and hasn't scored all tournament. But the fiercely loyal manager has shown a penchant for sticking with players, so it's unlikely that Sundhage will bench Rodriguez. But there are options. As a straight swap, Sundhage could bring in Morgan, a fearless 22-year-old. A little more adventurous would be putting Cheney up top and inserting Megan Rapinoe on the left side of midfield, their natural positions.
Players to watch
For Japan:
Sawa, Miyama, Nahomi Kawasumi.
Sawa gifted Sweden the opening goal with an errant pass. That was probably her only bad move. She atoned by scoring the winner, taking advantage of a blunder by Swedish keeper Hedvig Lindahl to give her four goals total, tied for top position with Marta.
Miyama has chipped in with three assists, level for most in the tournament. She and Sawa are expected to shine, but Kawasumi's emergence in the semifinals -- she scored twice -- was a surprise as it was her first start in the World Cup. "You could say I was able to take all that power and energy that I had saved and was able to put it into the match against Sweden," she told FIFA.com.
For the U.S: Cheney, Wambach.
Who else has three assists? Cheney, to go along with two goals. Her finish against France was what you'd expect from someone who hangs around the box, and Cheney set up Wambach for the winner deep in the second half with a perfectly placed corner to the far post.
Wambach's mini scoring drought is over. She's netted in three straight games and will like her chances to make it four given Japan's diminutive defense.
What we can expect
Perhaps the U.S. doesn't want to score so early. Having found the back of the net within 10 minutes against Brazil and France, the U.S. sat back instead of gunning for a second. The result was sustained pressure from the opposing team and an eventual equalizer.
Regardless of timing, goals figure to be on offer. The U.S. has averaged 2.2 per game, with Japan countering at 2.0.
[+] Enlarge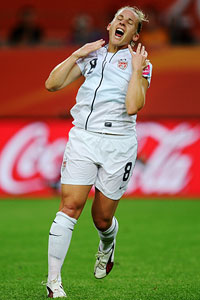 Mike Hewitt/Getty ImagesIt's been a frustrating tournament for Amy Rodriguez, but will U.S. manager Pia Sundhage start the striker on the bench for the final?
U.S. veteran Carli Lloyd was overrun in central midfield against France, visibly ticked to be removed early in the second half. Lloyd and Boxx will have a little bit of an easier time against Japan, since it doesn't flood the center of the pitch. But they must stay tight on Sawa and Miyama.
It's also vital, though, for Heather O'Reilly and particularly Cheney on the left to be mindful of their defensive responsibilities. Left-back Amy LePeilbet doesn't want to be exposed to one-on-one situations with speedier Japanese attackers.
Rampone's legs have held up nicely thus far, and the 36-year-old, along with Buehler, needs to keep her concentration confronting quick forwards.
Intangibles
Japan is far from the tallest team. The starting 11 in the semifinals averaged 5-foot-4 in height, with the tallest player being defender Saki Kumagai at 5-7. It's that kind of stat that will encourage 5-11 Wambach, who will look to get on the end of balls with her head in the box.
Indeed, for all the talk of the U.S. wanting to keep the ball on the ground and play a game based on possession, why mess with success? Wambach has become the battering ram for her team. She scored from a corner against Sweden, got the winner against France in the same fashion, and made it 2-2 versus Brazil following a long aerial ball.
"I don't think size has any influence on the game," Rampone said. "When you look at them, you see technique, discipline, an amazing attacking team."
That said, Germany created several opportunities off set pieces against Japan. Poor finishing cost the host.
Which team will win?
France probably didn't have much fear of the U.S. when the teams met in the semis. Even though it had never beaten the U.S., their last meeting was five years ago. Japan, however, lost a pair of friendlies to the U.S. in May, somewhat of a psychological blow. The U.S.'s mental toughness can't be questioned. So the winner will be … the U.S, 3-1.
London-based Ravi Ubha covers soccer and tennis for ESPN.com. You can follow him on Twitter here.
2011 Women's World Cup
Which team will be holding the trophy after the final on July 17 in Frankfurt? Tune in to ESPN or ESPN3 to find out.
Women's World Cup
Date:
June 26-July 17
2011 champion:
Japan
Where:
Germany
Topics:
Women's World Cup
SUNDAY
SATURDAY
FRIDAY
THURSDAY
WEDNESDAY
TUESDAY
MONDAY
SUNDAY
SATURDAY
NEWS
MORE COVERAGE