Commentary
Underestimate Japan at your own risk
Updated:
July 16, 2011, 1:47 AM ET
By
Roger Bennett
| Special to ESPN.com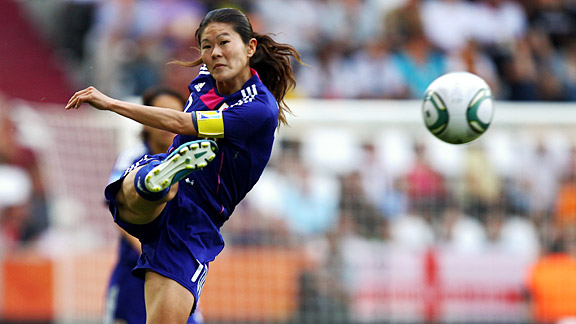 Sandra Montanez/FIFA/Getty ImagesHomare Sawa has helped chart Japan's course with tactical precision and quiet determination.
The polished physicality of the Germans was meant to bully them. The Swedes were expected to outstrip them. Both were nullified. Though tiny in stature, the Japanese women's team is still standing, suffocating one opponent after another by denying it access to the ball. Coach Norio Sasaki summed up the nature of his squad's achievement: "They are short little ladies, but they achieved a lot and I am very proud of my girls."
The U.S. underestimates Japan at its own risk, even though their head-to-head record may suggest otherwise.
Japan has never won against the Americans, mustering just three draws in 25 previous encounters. On Sunday, we will discover whether this run is one of the lengthier and more elaborate rope-a-dope maneuvers in sporting history.
Witnessing Japan's progress in this tournament has been an exercise in wonder. Barely favored, and with a self-evident physical disadvantage, it has charted its course with tactical precision girded by quiet determination. Its games against Germany and Sweden were akin to watching bloodthirsty Teutons and Vikings descend upon a band of Smurfs, only to be routed.
The Japanese are an agile team obsessed with possession. It's an intuitive style that earned them the nickname "the Barcelona of Women's Soccer." Coach Sasaki downplayed the moniker at the outset of the World Cup, suggesting that the squad was better equipped to mount a 2012 Olympic challenge. His team has peaked early.
ESPN FC on Twitter
Don't miss a moment of the latest soccer coverage from around the world. Follow us on Twitter and stay informed. Join »
Finding a rhythm in the crucible of the tournament, this Japanese squad is a very different proposition from the outfit that lost in back-to-back exhibition games against the U.S. two months ago. Agile, hard-running, elaborate yet ingenious, it avoids confronting the force of an opponent head-on, relying on precise passing patterns to paper-cut them to death.
The possession game does not only pay dividends offensively. If an opponent is unable to touch the ball, it cannot score. The Japanese defense has leaked just four goals, with goalkeeper Ayumi Kaihori authoritative. The battle to contain Abby Wambach will be key, particularly at set pieces. The "short little ladies" defending the American battering ram may resemble a reenactment of "Gulliver's Travels."
The key to Japan's game is the team's comfort on the ball coupled with a boundless energy. The Japanese were relentless in the extra-time win against Germany, demonstrating a hard-charging stamina which may be the Americans' equal. In its semifinal against France, the U.S. midfield found it hard to live with the intricate dynamism of Louisa Necib and Camille Abily for long periods. It will again be tested Sunday.
The ultimate symbol of Japan's ruthless organization is its aerial threat, a superhuman feat considering that the squad contains only one player taller than 5-foot-7. Even against Sweden, a squad with only five players less than 5-7, the Japanese defied the height disadvantage like Mighty Atoms, heading home the go-ahead goal.
The scorer, 32-year-old Homare Sawa, is the heartbeat of the team. She's Asia's most gifted female footballer, who debuted at her club as a 12-year-old prodigy and is representing the nation at a World Cup for a remarkable fifth time. Age has not withered her. Despite an uncharacteristically sloppy pass that gifted Sweden its opener, Sawa has amassed a metronomic 82 percent pass-completion rate in the competition. Three of her tournament-leading four goals have been knocked home with her head.
No nation can compete with the team talks delivered by Coach Sasaki. Before Wednesday's semifinal, he simply instructed his team to "think of the disaster victims and give it your all."
The team's best-documented asset is its motivation. While the U.S. battles to emerge from the shadow of its vaunted 1999 team, Japan is driven by a loftier national mission: to bring joy to a country reeling after the earthquake and tsunami that devastated the northern coast in March. Defender Aya Sameshima experienced the disaster firsthand as her club team, TEPCO Mareeze, was based at the radioactive Fukushima nuclear plant, where she also worked part-time.
No nation can compete with the team talks delivered by Coach Sasaki. Before Wednesday's semifinal, he simply instructed his team to "think of the disaster victims and give it your all." Ahead of the Germany game, words had been deemed unnecessary. The coach merely showed his players images of the destruction in northern Japan.
Even American star Hope Solo is torn. "Sentimentally, I'm cheering for Japan because of everything their country has been through." she said. Gracious words, although with her team a 1-2 favorite, there may appear to be room for such generosity. Before their games, Germany and Sweden were also prohibitive favorites. Both will be watching Sunday's final from home, still shocked by a Japanese knockout punch they never saw coming.
Roger Bennett is the co-host of Off The Ball and appears on Futbol Frenzy on "Morning Joe" every Monday. He can be reached via Twitter: @rogbennett
2011 Women's World Cup
Which team will be holding the trophy after the final on July 17 in Frankfurt? Tune in to ESPN or ESPN3 to find out.
Women's World Cup
Date:
June 26-July 17
2011 champion:
Japan
Where:
Germany
Topics:
Women's World Cup
SUNDAY
SATURDAY
FRIDAY
THURSDAY
WEDNESDAY
TUESDAY
MONDAY
SUNDAY
SATURDAY
NEWS
MORE COVERAGE