Commentary
U.S. relaxed, confident ahead of final
Updated:
July 17, 2011, 8:33 AM ET
By
Ravi Ubha
| ESPN.com
FRANKFURT, Germany -- Call this World Cup one of peace and love. Let's all gather around the fire.
French manager Bruno Bini uses poetry to inspire his team, and U.S. head coach Pia Sundhage broke into song at a press conference Friday, two days before the U.S. meets Japan in the final.
Sundhage has long used her soothing voice to calm her squad.
"It's funny, this life is about competition and pressure," the Swede said. "And of course the players feel the same thing. It's this stress, like you have to [do this], you must [do that], then I just tell them … "
That's when Sundhage let loose with the Simon and Garfunkel tune "Feelin' Groovy."
"Slow down, you move too fast, you've got to make the morning last. Just kickin' down the cobblestones, lookin' for fun and feelin' groovy."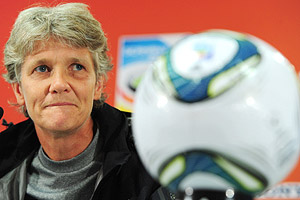 Johannes Eisele/AFP/Getty ImagesU.S. head coach Pia Sundhage was "Feelin' Groovy" at a press conference before the WWC final.
All in attendance applauded, and rightfully so. You'd pay to listen to Sundhage sing, really. "She does it a good amount of the time," said veteran midfielder Carli Lloyd. "We never know when it's going to come."
Then it was back to business.
Sundhage was asked about slumping striker Amy Rodriguez. Rodriguez has been the sound of silence (sorry, couldn't resist) in front of goal. She hasn't scored at the World Cup and hasn't been getting into too many promising positions lately, either. The good news for her is that the team keeps winning, so Sundhage probably won't tinker with the lineup in the biggest game of them all.
Alex Morgan, however, is a more than viable replacement, scoring the third goal in Wednesday's 3-1 win against France. The 22-year-old has looked lively every time she enters. "Amy Rodriguez played very well before the World Cup and found [strike partner] Abby Wambach many times," Sundhage said. "Those two play well together. I think they've been OK so far, and she'll score a goal sooner or later. I always stress the team responsibility if one of the team isn't performing."
Sorry, Obama At least Sundhage is consistent. When asked if she would go to the White House -- if invited -- following the World Cup, she said no. "I'm going to Sweden to relax because I'm exhausted," Sundhage said.
She drew criticism in 2008, the year she steered the U.S. to Olympic gold, for telling a Swedish newspaper she had no interest in meeting President Bush at the White House because she wasn't a fan of his. This week, Sundhage apparently urged President Obama to fly to Germany for the final. "I would say to him, just like anyone, make it if you can because it is going to be phenomenal," she was quoted as saying by AFP.
Carli calm: Lloyd, a workmanlike central midfielder who can pop up with a goal now and then, wasn't happy against France. She'd played every minute of the tournament before being replaced by the flashy Megan Rapinoe early in the second half. With a little reflection, she now says it was the right move. Lauren Cheney moved into the center and adapted surprisingly well, while Rapinoe wreaked havoc on the wing.
Unless something unforeseen happens, Lloyd starts Sunday.
"I never want to get subbed off, but people coming off the bench did a great job," she said. "The legs were just a bit tired."
Lloyd and Shannon Boxx, her fellow central midfielder, should have more time on the ball than they did against France, which employs two forwards behind the striker and essentially has three central midfielders, led by Louisa Necib. "France likes to slip those balls to Necib, who was hanging in that space," Lloyd said. "Japan will be a little bit similar, but I do know they like to kind of go wider with their passes."
ESPN FC on Twitter
Don't miss a moment of the latest soccer coverage from around the world. Follow us on Twitter and stay informed. Join »
Team spirit: Trying to find a U.S. player who hints of negativity at this World Cup is akin to searching for a bargain at Harrods. Sundhage has made sure everyone is pulling for each other, as Rapinoe pointed out. She lost her starting spot in Germany to Cheney but isn't pouting.
"She should be in the starting lineup; I don't know if for me," Rapinoe said, smiling. "But we want to win, bottom line. We're never going to sit on the sidelines and sulk."
Cheney feels the same way. "I was on the bench before this tournament and I was part of that," she said. "We joke that our bench is Team Annoying because we're all so loud on the bench and excited."
Wambach's world: Wambach is one of the top players of her generation and will forever go down in history for scoring against Brazil in the 122nd minute of their quarterfinal Sunday. How many replays will there be in the coming years? Already a hero back home in Rochester, N.Y., Wambach said she knows, if only a little, how David Beckham feels when he's out in public.
"I bring hats and sunglasses and stuff," Wambach said.
Her success in the past week won't be hurting her brother's business: He owns a sports bar in Rochester, and it was packed Wednesday.
Hope and glory: As soon as U.S. keeper Hope Solo arrived at a roundtable to chat to the media, a T.V. camera followed. Replying to a print reporter who said teenage boys all over the U.S. had pictures of her on their walls, she cut him off. "Well, let's hope there are teenage girls as well," Solo said. "We're here to inspire a nation."
With that, she moved to the next question.
The woman in charge: What is it with police officers refereeing World Cup finals? Howard Webb took charge of last summer's finale in South Africa, and Bibiana Steinhaus calls the shots Sunday. Let's hope Steinhaus' display is much better than Webb's, who was shambolic as Spain downed the Netherlands. Her appointment means we'll have a German in the final, some consolation.
London-based Ravi Ubha covers soccer and tennis for ESPN.com. You can follow him on Twitter here.
2011 Women's World Cup
Which team will be holding the trophy after the final on July 17 in Frankfurt? Tune in to ESPN or ESPN3 to find out.
Women's World Cup
Date:
June 26-July 17
2011 champion:
Japan
Where:
Germany
Topics:
Women's World Cup
SUNDAY
SATURDAY
FRIDAY
THURSDAY
WEDNESDAY
TUESDAY
MONDAY
SUNDAY
SATURDAY
NEWS
MORE COVERAGE