Five North Korean players test positive
Updated:
July 16, 2011, 5:52 PM ET
Associated Press
FRANKFURT, Germany -- North Korea officials blamed traditional musk deer gland medicine used after a lightning strike for five positive tests for steroids at the Women's World Cup, the biggest soccer doping scandal at a major tournament in 17 years.
After two players were caught during the tournament this month, FIFA president Sepp Blatter said Saturday the world soccer governing body took the unprecedented step of testing the rest of the North Korean squad and found three more positive results.
"This is a shock," Blatter said at a news conference. "We are confronted with a very, very bad case of doping and it hurts."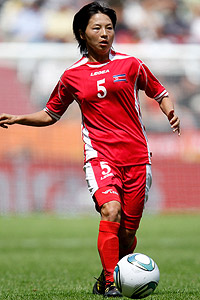 Friedemann Vogel/Getty ImagesDefender Song Jong Sun tested positive for steroids after North Korea's first two group games and was suspended for the last match.
A North Korean delegation told Blatter and the head of FIFA's medical committee on Saturday that the steroids were accidentally taken with traditional Chinese medicines based on the deer glands.
"The North Korean officials said they didn't use it to improve performance. They said they had a serious lightning accident with several players injured and they gave it as therapy," said Michel D'Hooghe, chief of FIFA's medical committee. "It is not systemic, because not all of the players took it. We would have found it with the others too."
The case will be taken up by FIFA's disciplinary committee. Players face a ban of up to two years.
In late June, Colombia's reserve goalkeeper Yineth Varon was provisionally suspended for failing an out-of-competition test before the World Cup. The Colombian Football Federation said she had hormonal treatment that led to a failed drug test, the first doping case in the history of the Women's World Cup.
FIFA annually spends some $30 million on 35,000 doping tests. Despite the cases at the Women's World Cup, "doping really is a marginal, fringe phenomenon in football," Blatter said.
The last doping case at a major event came at the men's 1994 World Cup in the United States, when Diego Maradona was kicked out after testing positive for a cocktail of banned substances.
FIFA has already met with a North Korean delegation and heard arguments that the steroids were accidentally taken to treat players after a lightning strike on June 8 during a training camp in North Korea.
Defenders Song Jong Sun and Jong Pok Sim tested positive for steroids after North Korea's first two group games and were suspended for the last match. The team was eliminated in the first round after losses to the United States and Sweden and a draw with Colombia.
Blatter said the North Korean federation "wrote to us and they presented their excuses. They said that a lightning strike was responsible for this."
The names of the three other players would only be made public at a later stage, FIFA said.
FIFA investigators who discovered evidence of doping in the North Korean samples were in uncharted territory. Experts from the World Anti-Doping Agency were called in to confirm the breach of doping rules.
It was very complex," FIFA's chief medical officer Jiri Dvorak said, especially because the kind of steroids had "never before appeared and never before been determined."
The experts concluded there were "positive findings of an unknown origin," Dvorak said.
After the first two cases were discovered, doping officials went unannounced to North Korea's last match. They declared the two players provisionally suspended, and 15 minutes before the end of play, said all players would be tested.
"They were surprised but they cooperated," Dvorak said. The testing took until 3 a.m. and a few hours later, the whole delegation was on its way back to North Korea.
Dvorak said the team's medical officer "gave us (a) sample that she described as classical or traditional medicine that is often used in North Korea."
After extensive testing that lasted until late Friday, "we can really say with far-reaching confidence that these steroids were the result of this so-callled Chinese traditional medicine," Dvorak said.
He added the musk deer gland extract "is not part of the world of doping. It is really the first case in which this has been discovered."
The gland in question comes from musk deer living in a large swath of Asia from Siberia to North Korea. The hairy gland is usually cut open to extract a liquid that is used for medical purposes.
"There is a whole industry linked to that to produce these medical products," D'Hooghe said.
Doping officials have been concerned about such naturally occurring substances in recent years. During the run-up to the 2010 World Cup in South Africa, FIFA's concerns focused on African plants that could give players an unfair advantage by providing energy or helping to heal muscle injuries.
North Korean coach Kim Kwang Min said after their first match against the U.S. that "more than five" players were sent to the hospital. Goalkeeper Hong Myong Hui, four defenders and some of the midfielders were the players most affected, Kim said.
"The physicians actually said the players were not capable of playing in the tournament," Kim said through an interpreter.
Dvorak said the information was still sketchy.
"We saw some pictures with ambulances and saw that some players were taken from the pitch, but that is all we have," he said.
FIFA also got information from North Korea about the initial hospital treatment of the players and "this very first report did not include the traditional Chinese medicine," Dvorak said.
The World Cup ends Sunday with the final between the United States and Japan.

Copyright 2011 by The Associated Press