Team Obama shows rooting interest
Updated:
July 18, 2011, 12:37 AM ET
Associated Press
ATHENS, Greece -- U.S. Secretary of State Hillary Rodham Clinton has "the highest hopes" for an American victory in Sunday night's Women's World Cup final against Japan, a match at which her daughter, Chelsea, is part of the official U.S. delegation.
[+] Enlarge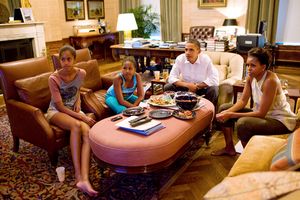 White HouseThe Obamas cheer on the U.S. in the Women's World Cup final during a viewing in the Treaty Room of the White House Sunday.
"Go USA," Clinton shouted at the end of a news conference with the Greek foreign minister in Athens.
In Washington, President Barack Obama joined in with a tweet to the team Sunday morning: "Sorry I can't be there to see you play, but I'll be cheering you on from here. Let's go. -- BO."
Although Clinton is visiting nearby Greece, she won't be able to attend the match herself in Frankfurt, Germany with Chelsea and Vice President Joe Biden's wife, Jill, but she said she'll be watching on television and cheering the team on. The game is set for 2:45 p.m. ET on ESPN and ESPN3.com.
"I am going to be watching. I'm so excited," she told reporters. "I am so proud of the U.S. women. Dr. Biden is there and my daughter was asked to accompany her. So we have a really good cheering section and I've just got the highest hopes that this great team, which has such resilience, will be coming back and winning for the U.S."
"

Sorry I can't be there to see you play, but I'll be cheering you on from here. Let's go.

"

-- President Obama via Twitter
Clinton called the team to wish them luck, telling them that her own good luck charm -- her daughter -- would be with them. She also told the team that she was placing a bet on the match with her Japanese counterpart.
The former first lady and senator is a passionate supporter of women's and girls' sport and education and has in her current position highlighted their importance to development and economic success.
The top-ranked U.S. women's team will be playing for their third World Cup championship in the game after a riveting road to the final that included a breathtaking come-from-behind victory on penalty shots over Brazil. Clinton said she and her husband, former President Bill Clinton, watched that match and were thrilled.
"The game that they played against Brazil which Bill and I watched on the Internet was one of the best football soccer games I've ever seen," she told reporters.

Copyright 2011 by The Associated Press
2011 Women's World Cup
Which team will be holding the trophy after the final on July 17 in Frankfurt? Tune in to ESPN or ESPN3 to find out.
Women's World Cup
Date:
June 26-July 17
2011 champion:
Japan
Where:
Germany
Topics:
Women's World Cup
SUNDAY
SATURDAY
FRIDAY
THURSDAY
WEDNESDAY
TUESDAY
MONDAY
SUNDAY
SATURDAY
NEWS
MORE COVERAGE