Commentary
Seven realizations from the World Cup
Updated:
July 18, 2011, 2:10 PM ET
By
Roger Bennett
| Special to ESPN.com
Twenty-two days of sporting spectacle have come to an end, culminating in a showcase final between two relentless teams, each worthy of victory. The U.S. bandwagon can now be put back in mothballs as we wish the victors a hearty Mazeltov, Japanese for congratulations. This World Cup caused women's soccer to hurtle out of obscurity onto the front pages of every newspaper. The Girls of Summer have grabbed the American imagination. Here are seven realizations that have been indelibly etched into my sporting consciousness:
[+] Enlarge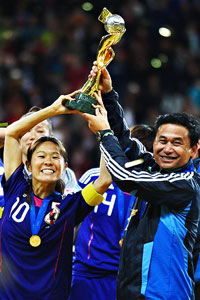 Joern Pollex/Getty ImagesHomare Sawa, who finished as the tournament's top goal scorer, celebrates winning the World Cup with Japan coach Norio Sasaki.
1. The right team won
Japan deserved victory. Few favored this team going into the tournament. Its own coach labeled the players "short little ladies." But the Japanese women won the hard way, dispatching the mighty Germans, physical Swedes and destiny-driven U.S. on their march to glory. Their mission of bringing relief to a disaster-devastated nation was noble. Yet it should not mask a true appreciation of the tenacious brand of technical soccer they displayed. Glorious football fused with aikido, the martial art in which the force of an opponent is redirected, never met head on. Japan's victory is even more remarkable if you consider the following: Japan has just 25,000 registered female youth players. The state of California has more than 200,000.
2. Defeat should not tarnish the U.S.'s achievement
The USWNT's last-minute victory against Brazil inspired a women's-soccer-loving-bandwagon the size of Texas. Just seven days later, the Americans capitulated in a penalty shootout, triggering a feeding frenzy of online haters who took to the comment boards to excoriate the team. Neither phenomenon captures the essence of the team's achievement. The Americans rarely displayed their finest soccer in the course of this tournament. They gutted out victories with determination and collective belief. I am a cynical Englishman, but even I can only admire the emotional qualities Christie Rampone's team displayed, and wish our footballing women, and our men, had an iota of these distinctly American qualities.
The Americans headed to this tournament without media fanfare. Their swashbuckling play captivated a nation and provided a singular sporting moment against Brazil that will long be remembered. Abby Wambach was a noble warrior who played in pain. Hope Solo is a superlative athlete at the peak of her game. Megan Rapinoe was an effervescent force of human wonder. Yet the team depended upon emotion and athleticism more than craft and technique. Manufacturing 14 shots in the first half Sunday, but placing just one on target is a stat that will haunt the players more than their epic choke in the penalty shootout. It is a disservice for us to turn on them. They can return to these shores with heads held high.
3. The Women's World Cup of parity
A new name has been etched on the trophy, a fitting end to a tournament in which the gap between traditional superpowers and the rest of the field has closed. In the glory days of 1999, the U.S. women could pummel the rest of the world with their physicality and athleticism. Technique, tactics and general level of play have evolved radically. Even vast outsider Equatorial Guinea demonstrated sufficient pluck and menace to change the focus from the storylines surrounding the gender of its star players.
Watching metronomic Homare Sawa of Japan and intelligent Louisa Necib of France charge forward on a break is to glimpse the future of women's soccer. The tournament is still in its infancy (this was just the sixth one), but we saw enough to know that the medium term of the international women's game shines brightly. Roll on to the 2012 Olympics.
[+] Enlarge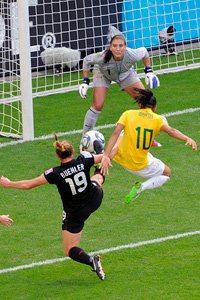 AP Photo/Jens MeyerMarta dazzled us with her sublime skill, but also disappointed with her theatrics.
4. The two sides of Marta
Vaunted strikers such as Germany's Birgit Prinz and England's Kelly Smith were duds, but quicksilver Brazilian Marta came, shone … and departed. After demonstrating her peerless talents, she proved one outstanding professional cannot a championship team make.
Marta will be remembered by many Americans as a symbol of her team's wrestling-heel-esque performance in the quarterfinal that provided the tournament with a rash of diving and fake injuries. But if the CBF, the Brazilian Football Confederation, reverses its miserly investment in the women's game -- funding was so slim that the team was forced to wear the men's jerseys and was offered just one pre-tournament practice game to find its rhythm -- Marta and Brazil will experience triumph soon enough.
5. My bad! The curse of slapstick goalkeeping
Although the tournament provided a glut of SportsCenter-worthy goal-scoring action, women's goalkeeping is an area that cries out for improvement. On too many spectacular strikes, there was a sneaking suspicion the keeper was guilty of going on a walkabout. Michael Davies, my partner on the Off the Ball podcast, ventured an extreme position, maintaining that to score in the women's game, a player simply had to place the ball on target and not hit the goalkeeper. Although I don't agree with that, it's clear that positioning, footwork and ballhandling are skills that can be taught. They need to be.
6. Twitter loves women's soccer
After a final in which the president of the United States tweeted real-time color commentary along with the action, it came as little surprise that the U.S.-Japan game set a new record for global Twitter volume, at a nosebleed-inducing 7,196 tweets per second.
Even better than the quantity was the quality. The microblogging platform offered the opportunity to experience the tournament journey through the player's eyes. @Hopesolo famously vacuumed up 188,000 purple-jersey-loving followers in a week. But @mPinoe was the most entertaining in 140 characters, as she had been on the field: "Waking up this morning with a feeling Ive never had before, WWC Finals day! Holy ---- here we go."
How I wish Twitter had been invented in 1966 when England's men won the World Cup. One can only imagine what tweets would have been preserved for history: @Bobbymoore "Just had pregame bangers and mash washed down with some beers and a cigarette. Bring on the Germans."
7. What now for our returning heroes?
The London Olympics are just 12 months away, but America's Darlings -- Abby, Hope, Megan and Alex Morgan -- will first return to the harsh realities of home: Women's Professional Soccer, the ailing professional league in which six teams ply their trade before average crowds of less than 4,000, which offers average player salaries of just $27,000 and in which a major sponsor is the MagicJack.
ESPN FC on Twitter
Don't miss a moment of the latest soccer coverage from around the world. Follow us on Twitter and stay informed. Join »
The subject of whether there will be a World Cup bounce will be hotly debated. For now, let it suffice to say, this was a tournament that achieved the seemingly impossible -- making FIFA president Sepp Blatter seem even more ridiculous. Blatter infamously urged female players to consider donning skimpier uniforms to save the women's game. The stars in this World Cup let their play do the talking, serving up an intoxicating three-week athletic spectacle of skill, drama, heroes, villains, suspense, joy and heartbreak.
It was a tournament that far surpassed the 2010 South African World Cup in quality of competition, inspiring some to suggest that, henceforth, the Women's World Cup should simply be referred to as the "World Cup" and the one with the gents that will be played in Brazil in 2014 should now be called "the Men's World Cup."
Roger Bennett is the co-host of Off The Ball and appears on Futbol Frenzy on "Morning Joe" every Monday. He can be reached via Twitter: @rogbennett
2011 Women's World Cup
Which team will be holding the trophy after the final on July 17 in Frankfurt? Tune in to ESPN or ESPN3 to find out.
Women's World Cup
Date:
June 26-July 17
2011 champion:
Japan
Where:
Germany
Topics:
Women's World Cup
SUNDAY
SATURDAY
FRIDAY
THURSDAY
WEDNESDAY
TUESDAY
MONDAY
SUNDAY
SATURDAY
NEWS
MORE COVERAGE