Commentary
U.S. must improve or be left behind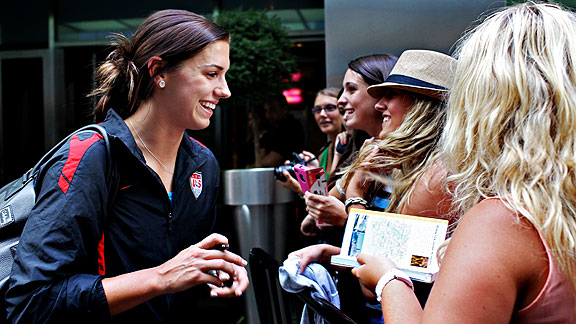 AP Photo/Craig RuttleAlex Morgan and her teammates can bask in the glow of their World Cup run, but they know that if the U.S. is to remain competitive, it must get better -- or get left behind.
NEW YORK CITY -- The team bus pulled around the corner and up to a swanky hotel off Times Square on Monday afternoon. It took all of a dozen cops to keep a rapturous crowd out of the bus's path. Abby Wambach turned to her teammates. "Guys, this is awesome," gushed the star striker, whose has become as iconic in women's soccer as Brandi Chastain.
Coming straight from the trans-Atlantic flight, the players stepped off the bus and into a whooping cauldron absent from their everyday lives in the anemic Women's Professional Soccer league. Few people had to ask what all the hubbub was for, and if they did, they would have struggled to find somebody not too busy snapping pictures or clamoring for autographs to tell them.
Despite coughing up two leads against Japan in the World Cup final, only to lose on penalty kicks, these players are reliving the halcyon days of their predecessors, who won the 1999 World Cup on home soil. However fleeting this moment may turn out to be, Wambach and her teammates matter right now, thanks to a pair of belief-bulldozing and karma-cuddling wins over Brazil and France in the knockout stages.
ESPN FC on Twitter
Don't miss a moment of the latest soccer coverage from around the world. Follow us on Twitter and stay informed. Join »
But how long will this new peak for women's soccer last? Will the U.S. team be able to sustain it long enough to make another run at a World Cup title in four years? It'll take even more than all the moxie and willpower that powered the team in Germany.
Women's soccer is changing very fast. The world has caught up to the U.S. Between 1991 and 2007, the United States, Germany and Norway dominated the ladies' division, splitting all five World Cups between them. In 2011, however, all eight quarterfinalists had a reasonable chance of hoisting the trophy, while Norway hadn't even made it out of the group stage and two-time semifinalist China had failed to qualify for the tournament altogether. The playing field is leveling; the margins shrinking. Take the goal differences. In Germany, no game was decided by a margin of more than four goals, while in every previous World Cup at least one game had been won by six. And no team had a worse goal difference than Equatorial Guinea (-5) or Canada (-6) this summer. Every edition before 2011 had seen at least three teams with negative goal balances of -7 or much worse. In each of the 2003 and '07 tournaments, in fact, the three worst teams in the group stage had combined for goal differences of -35 and -38, respectively. In 2011, the three worst-performing teams put up a combined goal difference of -15. The U.S., meanwhile, lost a group stage game for the first time ever.
The field has gotten so strong that the next Women's World Cup will expand to 24 teams.
"I think you can see around the world that the game is growing so much -- the style of play, possession-oriented teams," said talismanic midfielder Megan Rapinoe. "The football all around the world is just amazing. The level of play [at the 2011 Women's World Cup] was awesome from pretty much every single team."
And while this made for a highly exciting tournament, it presents a challenge to the U.S.: Keep developing or you'll soon be relegated to the second tier.
"Yeah, absolutely," Rapinoe said. "I think that's everybody's challenge, to keep up with everybody else."
"It's not going to be any easier winning any championships moving forward," Wambach said. "It's going to get harder."
[+] Enlarge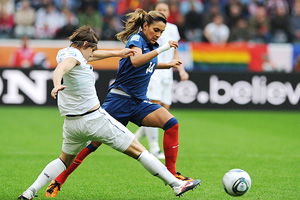 Patrik Stollarz/AFP/Getty ImagesAlthough France lost to the U.S., players such as Louisa Necib were technically superior to the Americans.
The U.S. has forged its dynastic dominance -- highlighted by an unrivaled string of bronze-or-better performances at every Women's World Cup, as well as three golds and a silver at four Olympics -- on the strength of superior athleticism and mental toughness. As indicated by head coach Pia Sundhage after she took charge following the 2007 World Cup, this is no longer sufficient to win internationally. She set about turning her squad from a slogging set of kick-and-rushers into more of a finesse outfit that could hold the ball and treat it with more respect. That process is under way but not complete. In both the recent semifinal and final, France and Japan demonstrated superior technique.
"We have the heart, we have the determination, we know how to play a goal down, we know how to play a goal up," said captain Christie Rampone, cradling her toddler daughter, dressed in a starred-and-striped dress. "I think technically is the last part of the puzzle to us."
"The priority is to continue to get better technically," midfielder Heather O'Reilly said. "I think the Japanese showed the world that, athletically, we definitely have the upper hand. But in terms of technical ability, they are so impressive. I think tactically and technically we need to continue to evolve."
Even though it lost, the U.S. team could see the positives from the match. It lost by being profligate in front of goal (not to mention some bad luck), not by its inability to possess the ball. "I'm really sad, obviously, about the loss," midfielder Carli Lloyd reflected. "But I'm really happy at the same time, because that was the first time that we have displayed really, really good soccer -- ball on the ground, possessing the ball against the best possession-style team in the world, Japan. We have to continue to do that, we have to continue to possess the ball, to get technically sound on the ball because that's what's happening around the world. Teams are getting that much better."
Playing that sort of game more often will allow the U.S. to compete in the brave new world of women's soccer. "It's all about the consistency and playing the way we did in the final, in which we played great," goalkeeper Hope Solo said. "It's doing that every game."
But henceforth, every occasion will be a special occasion for the U.S. women. Because while Solo may think that the U.S. is still very much the team to beat -- "I truly believe it's up to other countries to keep up with us," she said -- the past month suggested something very different. The days of coasting into the semifinals on cruise control are over.
In other words, progress -- or perish.
Leander Schaerlaeckens is a soccer writer for ESPN.com. He can be reached at leander.espn@gmail.com. Follow him on Twitter at @LeanderESPN.
Contributing writer, ESPN.com
Leander Schaerlaeckens is a contributing writer for ESPN.com. He has previously written for The Guardian, The Washington Times and UPI.