Commentary
Giuseppe Rossi's future with Villarreal
Updated:
July 19, 2011, 6:19 PM ET
By
Arch Bell
| Special to ESPN.com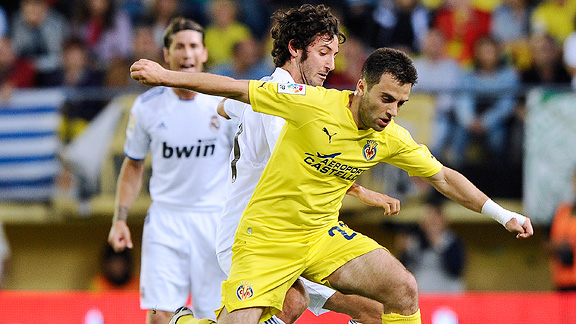 Jose Jordan/AFP/Getty ImagesAfter a breakout season with Villarreal, Giuseppe Rossi has been rumored to be leaving his club. But all signs point to him staying at El Madrigal.
It was another sun-splashed May afternoon in the coastal town of Benicassim, Spain. A slightly hobbled Giuseppe Rossi was still recuperating from Villarreal's match the night before against Real Madrid. The New Jersey native, sore from a Marcelo first-half tackle, eased into his chair, ordered an apple juice and gazed out onto the Mediterranean.
"Looks like paradise, right?" he said.
On that day, life was good for Rossi. Villarreal had clinched a berth in the Champions League for the next season and he was wrapping up his finest season as a striker with 32 goals in 60 games. Best of all, in just a few weeks, he was headed home to the U.S. to feast on his mother's pasta and rest his battered body.
Over the course of two hours, Rossi expounded on his appreciation for Villarreal and how signing a contract extension earlier this year, which would keep him at El Madrigal through 2016, was an easy decision.
"When I renewed my contract in January it was something that I wanted, and it was something that the team wanted," Rossi said. "They've shown me a lot of respect so it was a pretty simple decision on my part."
The club supported him during those dark days in early 2010 when Rossi returned home to New Jersey to be with his father, who ultimately lost his fight with cancer in February of that year. These are gestures Rossi does not ever forget. "In that period, Villarreal were very close to me," Rossi said. "It's hard to find teams and people like that."
When the conversation ended and Rossi hopped into his white SUV to leave, almost no doubt was left that Rossi's future would be at Villarreal. That is, until that next week when media speculation exploded that the Italian international was headed to Barcelona. Then later in the summer came reports that Rossi was bound for Italy to play for Juventus. Yet neither deal came to pass.
ESPN FC on Twitter
Don't miss a moment of the latest soccer coverage from around the world. Follow us on Twitter and stay informed. Join »
As it turns out, everyone had Rossi leaving Villarreal -- except Rossi.
"Basically papers and journalists love to talk about the transfer market," he said in May. "That's what brings the attention to fans around the world. Some stuff is true and some stuff is false. But at the end of the day, as long as you have a ball between your feet, you feel happy. And in Villarreal, this is what I feel."
Two months later, after all the rumors and speculation, Rossi's position has not wavered. "I'm just very concentrated in what I have to do and that's to play well for my team and help them win games," Rossi said via phone after scoring the lone goal in Villarreal's 1-0 preseason win over Aberdeen. "I'm a player for Villarreal so I'm going to try and do that for them."
Instead of becoming the heir apparent to legendary Juventus forward Alessandro Del Piero, Rossi is gearing up for his fifth season with the Yellow Submarine, which will include the Champions League, a competition that will not feature Juventus.
"I think it would be hard for Rossi to find a better place to play right now than Villarreal," said Ramiro Aldunate, a correspondent with Spain's most circulated newspaper, Marca. "It would have been a step back if he had gone to Juventus. Right now, Juventus are no more important than an Atletico Madrid"
The interest from the Old Lady underlines the level of respect the 24-year-old forward holds in Italy, the country he famously chose to represent internationally. With Euro 2012 looming next summer, there exists the argument that a move to Serie A would seal Rossi's place on Cesare Prandelli's 23-man roster and avoid a repeat of his 2010 World Cup roster exclusion.
"I think some feel playing abroad may have hurt Rossi to some degree under [then manager Marcelo] Lippi, but even then it's tough to make the argument," says Gabriele Marcotti, a London-based correspondent for Italy's Corriere dello Sport. "It's not as if he did not have his shot. This narrative that it somehow cost him a place in South Africa is, I think, somewhat misguided."
Rossi, who has featured in four of Italy's six Euro 2012 qualifiers, agrees with that sentiment. "The Italian Football Federation has never put any pressure on me to play for a club in Italy," he said.
Still, Rossi feels an innate connection to Serie A. As a boy, he grew up watching Serie A matches with his father every Sunday morning, stoking a passion for Italy's top flight. Yet as his career continues, Rossi realizes he may never play another match in Italy's top flight, after featuring for Parma on loan from Manchester United during the 2006-07 season.
"I could be at peace with never having played another game in Serie A," Rossi said.
While his 2010-11 season transformed Rossi into one of the best players on the continent, losing his father and best friend Fernando Rossi, who succumbed to cancer at the age of 60, has served as a prime motivator for his success.
Rossi acknowledges that the care he received from the club in that period has played a part in his decision to stay. "It's tough especially when he's your best friend and you're always together," Rossi said. "My father was the rock. My goals were also my father's goals, so therefore I have this extra motivation to go out there and do the best I can do."
For this season at least, Rossi will be doing that at Villarreal.
Arch Bell is a free-lance writer for ESPN.com. He can be reached on Twitter at @ArchBell.
Arch Bell
U.S. soccer writer