Commentary
Great Britain's soccer game of thrones
Updated:
January 18, 2012, 11:29 AM ET
By
Roger Bennett
| Special to ESPN.com
The Olympic Games pride themselves on creating a peerless sense of global unity through such minor sports as beach volleyball and kayaking. Strange, then, that when it comes to soccer, the world's most popular sport, they have triggered a political conflagration among the English, Scottish, Welsh and Northern Irish worthy of the "Game of Thrones."
Future of U.S. soccer
Check out our coverage on the future of the U.S. men's national team:
• Top 10 under 21
• Coaches' roundtable
• Brazil Board 2014
• Sports Nation: Have your say
• 2012 U.S. resolutions
• Chat, 3 ET: Jeff Carlisle on U.S. soccer
• Report from U.S. camp

On June 21, the British Olympic Association proudly announced "a historic agreement" had been reached that would "enable Team GB to compete in both men's and women's football at home in London 2012." This landmark accord, which reportedly took six years to negotiate, would unite England, Scotland, Wales and Northern Ireland -- traditionally fierce historic rivals -- to take the field under a single Great Britain banner.
[+] Enlarge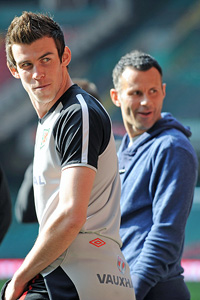 Michael Regan/Getty ImagesWelsh international Gareth Bale wants to play for Great Britain, fearing he could face a fate similar to that of compatriot Ryan Giggs, who didn't experience a single international tournament.
The radical announcement was historic. But it appears to have been made without the full buy-in of key partners -- the football associations of Scotland, Wales and Northern Ireland. The trio wasted no time before firing off a blunt broadside, releasing a joint statement to "reiterate our collective opposition to Team GB participation at the 2012 Olympic Games in London." Scottish association president George Peat was furious and to the point: "I know nothing about any such agreement and we want nothing to do with this tournament."
The Celtic nations' resistance was more than mere habit of resisting any orders emanating from London. It was an action rooted in fear. The three independent associations were terrified this "one-time" Olympic unification as Team Great Britain would gift soccer's world governing body, FIFA, an excuse to make the arrangement permanent and merge their teams with regional power England. The doomsday scenario would be the revocation of their right to enter major tournaments, including the World Cup and European Championship, as individual, albeit mediocre, soccer-playing entities. By uniting at the Games, their venerable heritages risked being wiped out in events that ultimately are more important in the world of soccer than the Olympics.
The BOA's decision to enter the tournament was perplexing. The British won the gold medal in the 1908 and 1912 Games. But they had not previously entered the women's tournament and withdrew from the men's competition in 1960 to protest the sliding distinction between professionalism and the amateur ideal. The BOA hasn't re-formed a team since then, making the "historic agreement" all the more controversial.
FIFA officials quickly attempted to snuff out the embarrassing standoff. A spokesman revealed the organization had issued written assurances to the three nations vowing their autonomy would not be compromised. But the Celtic trio was not swayed, perhaps aware that for FIFA, an organization mired in scandalous corruption charges, word and deed can often be two different matters.
The Celts went on the counter-attack, accusing the BOA of being motivated by both greed and the prospect of raking in the commercial revenue from sales of official adidas Team GB soccer jerseys. Organizers were reported to have salivated after witnessing 3.5 million pairs of official Winter Olympics souvenir mittens fly off the shelves in Vancouver at $10 a piece. Other critics suggested the decision was simply a desperate attempt to buttress flagging ticket sales for the competition.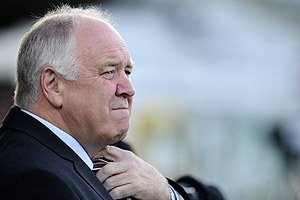 Claus Fisker/AFP/Getty ImagesFormer Scottish national team manager Craig Brown summed up the thoughts of many of his countrymen: "I would rather lose as Scotland than win as Great Britain."
Politicians entered the fray, floating solutions as drastic as they were unrealistic. Alex Salmond, the controversial MP and leader of the Scottish National Party, raised the specter of Scotland ceding and fielding an entirely independent Olympic team, inspired by the success of small island nations such as Usain Bolt's Jamaica. This romantic notion was derided by Scottish legend and three-time Olympic cycling champion Chris Hoy. "I would never have had three gold medals hanging 'round my neck if I had not been part of Team GB," the track cyclist said, suggesting the absence of Scottish financial resources made the idea a nonstarter.
The BOA stood firm and announced its intention to select a long list of potential squad members. The Olympic body was confident it had the law on its side and knew the ultimate decision to participate lay with the players as individuals rather than the national soccer administrators. The Scottish Football Association ceded the point, dispatching a spokesperson to announce its default position: Any Scotsman willing to suit up for Great Britain would be "educated" and "made aware that in the eyes of the fans, it would be an act of treachery for personal gain over the collective interest."
Former national team manager Craig Brown zealously framed the consequences as he saw them. "Are you going to put other players' possibility of playing for Scotland at risk by being selfish? If you do, there might no longer be a Scottish team," he said. He summed up his comments with a pessimistic yet realistic declaration that could pass as a line from a "Braveheart" sequel. "I would rather lose as Scotland than win as Great Britain," Brown said.
The nationalistic pleasure Brown derived from losing might not be shared by his players. Indeed, the feeble records amassed by Scotland, Wales and Northern Ireland on the international level might ultimately prove to be the determining factor. Coveted Welsh winger Gareth Bale has been the most vocal. The Tottenham Hotspur star threatened to sue the Welsh football association if it did not let him play, saying, "The Olympics would be a great opportunity for a young player like me to play in a major tournament. We all know Wales don't qualify for too many of the big occasions."
Bale only has to look at the barren international record of countryman Ryan Giggs to realize the Olympics could be his best chance to dazzle on the global stage. Despite his medal-festooned 21-year career with Manchester United, Giggs did not experience a single international tournament. Wales failed to qualify every time.
Bale might be just 22 years old, but he has no desire to toil on the global stage without reward. Premier League players inhabit a world of eye-popping paychecks, custom sports cars and surplus supermodels, but the prospect of an Olympic medal remains one of the few things money can't buy.
Roger Bennett is the co-host of Off The Ball and appears on Futbol Frenzy on "Morning Joe" every Monday. He can be reached via Twitter: @rogbennett
COUNTDOWN TO LONDON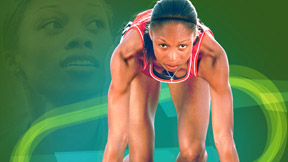 Follow the Olympics: Twitter / Facebook