Commentary
Preview of Copa America final
Uruguay and Paraguay face off in what has been a dark, defensive-minded event
Updated:
July 22, 2011, 5:29 PM ET
By
Michael Cox
| Special to ESPN.com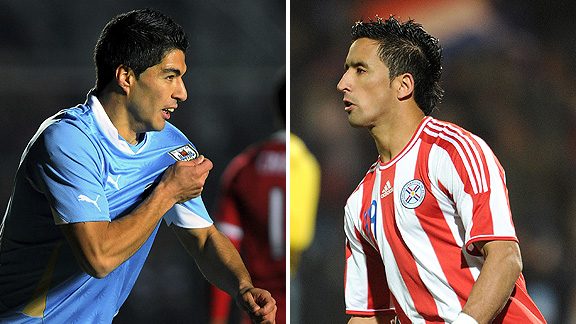 Getty ImagesLuis Suarez and Uruguay play Lucas Barrios and Paraguay on Sunday for the Copa America title.
The finalists of the Copa America, Paraguay and Uruguay, have played a combined 10 games in the competition so far. Of those matches, only two have ended in victory. Uruguay has progressed with two wins from its five matches, while Paraguay has amazingly managed to squeeze through with five consecutive draws.
Even considering the fact that this has been a slow, defensive-minded tournament, it is an astonishing statistic. The danger, of course, is that the pattern will continue, and we'll be subjected to a boring 0-0 followed by another penalty shootout during the final Sunday, which starts at 3 p.m. ET.
That brings us to the second interesting pattern from this tournament. Uruguay progressed against Argentina on penalties at the quarterfinal stage, while both of Paraguay's knockout victories have come from the spot. What were the only two countries to win penalty shootouts at last summer's World Cup? Uruguay and Paraguay, which overcame Ghana and Japan, respectively, and it's fair to assume that the confidence and experience gained from those victories put them in good shape for this tournament.
There is another, more crucial thing these two teams have retained from their World Cup experience: their coaches. In fact, Uruguay's Oscar Tabarez and Paraguay's Gerardo Martino are the two longest-serving bosses in the South American confederation, having been appointed in 2006. There is always an element of chicken-and-the-egg about these situations -- neither would still be in their positions had they been failures -- but it's another victory for stability over chopping and changing unnecessarily.
ESPN FC on Twitter
Don't miss a moment of the latest soccer coverage from around the world. Follow us on Twitter and stay informed. Join »
Stability hasn't been extended to starting lineups. These managers are both true tacticians, willing to drop star players or make sweeping changes between games to find a shape to nullify the opposition. That is probably the most fascinating aspect of this final, although those desperate for anything other than a tight, patient game won't be enthralled by the prospect of a chess match between two of South America's most intriguing coaches.
Martino has largely kept the same formation throughout both the World Cup and the Copa. It is best described as a hybrid of 4-4-2 and 4-3-3 -- he uses three central midfielders, with a winger on one side and an out-of-position striker on the other (either Nelson Valdez or Roque Santa Cruz), who is asked to sprint forward and form a strike partnership with Lucas Barrios at every opportunity.
Usually, the striker is fielded to the right, with the winger on the left, but for the Venezuela match Martino decided to switch things around, with Valdez starting from the left. This had a knock-on effect on which midfielders he used, as well as which full-backs started. In all, he ended up making five changes from the Brazil game. That's not out of the ordinary for Martino. Between the two World Cup knockout matches against Japan and Spain that year, he dropped six of his 10 outfield players.
Tabarez has a similar penchant for mid-tournament switches, but he's more willing to change his formation than his players. He's used around seven different formations over the past year, including different variations upon three- and four-man defenses. This sometimes necessitates a change in personnel, but he's lucky to have the versatility of the likes of Alvaro Pereira, Martin Caceres and Luis Suarez, all of whom have played at least two different positions at this competition.
[+] Enlarge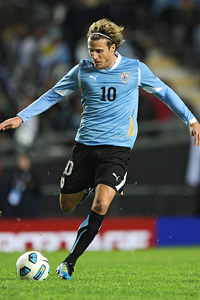 Eitan Abramovich/AFP/Getty Images Diego Forlan has been dropping deep for Uruguay.
The one clear preference has been the use of Egidio Arevalo and Diego Perez in the center of midfield, but even that had to change for the semifinal against Peru. Tabarez took it in his stride, playing Walter Gargano higher up the pitch on the left of a midfield three, meaning that even his fondness of a defensive midfield duo is not compulsory.
All these changes mean that, with the exception of the two substitute goalkeepers and fever-struck Uruguayan center back Diego Godin, every player in the two squads has seen some game time at the Copa. There are no passengers -- each member of the squad has a part to play, and that has fostered a team spirit and resilience that may have been crucial in the tight games so far.
This makes predicting the course of this game extremely challenging, but it's difficult to escape the feeling that this will be a slow starter. These managers have triumphed by being reactive to the threat of the opposition, and placing defensive solidarity over attacking invention. The sides might be content to play in front of each other, which would produce a dull game.
Which players can break this pattern? Suarez is unquestionably the main goal threat for Uruguay, having scored three times at the tournament so far, heading the goal-scoring charts alongside Argentina's Sergio Aguero. Since Edinson Cavani was dropped after the first two matches, Tabarez has moved toward a two-man strike force of Diego Forlan, who drops deep, and Suarez, who uses his energy to sprint across the pitch and work the channels. He's also proved an expert at getting opponents booked. And discipline may be a factor in this game. Uruguay has picked up 20 bookings and two red cards in its five matches, while Paraguay's semifinal win was overshadowed by an almighty brawl with the Venezuelan players after the match.
The final might well come down to penalties, though. It wouldn't be a triumphant end to this tournament, but it would certainly be a fitting one.
Michael Cox is a freelance writer for ESPN.com. He also runs zonalmarking.net.
Michael Cox
ESPN.com writer