Commentary
Jose Torres' road back to the U.S. team
Updated:
July 25, 2011, 4:31 PM ET
By
Brent Latham
| Special to ESPN.com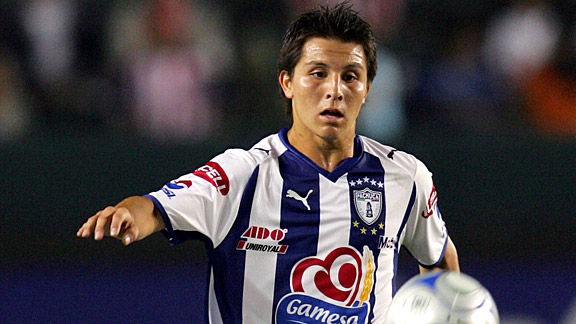 Victor Decolongon/Getty ImagesHe's been shut out of the U.S. national team and is coming off a poor season in Mexico. But Jose Torres believes he can turn his fortunes around for both club and country.
Pachuca made some unusual headlines earlier this summer when management transfer-listed the entire team. After another subpar tournament, the proud Mexican club -- four-time CONCACAF champ and one-time South American Cup winner -- had simply tired of mediocrity.
Most of Pachuca's players have since found their way out the door, including American striker Herculez Gomez. But when Pachuca played a recent exhibition match to kick off preparations for the new season, there was Jose Torres in his familiar role at the heart of the attack, spraying balls around the midfield with pinpoint accuracy. Despite the wholesale changes, Torres has stuck around. And judging from the preseason, the Texan figures to be a starter once again this year as he attempts to regain the form he displayed in the run-up to the 2010 World Cup.
"I had a not-so-good year," Torres said of the 2010-11 campaign. "With the change of coaches, it was very hard for me. But now the new coach, he's told me that he expects me to give even more, and that's what I'm going to do this year. I need to develop my soccer the way I know how to do it."
Under new boss Efrain Flores, who led the Mexican national team as an interim coach earlier this year, Torres is back in a familiar role. He'll be charged once again with a deep-lying creator role in the middle of an attack-oriented formation.
"He's very good at holding the ball and getting it into the right spots," said Pachuca technical director Hans Westerhof. "He's got plenty of experience doing that, and that will be his job for us again now."
"

There are some players that apparently don't play that much [for their clubs], and you can ask why they are there [on the U.S. national team] if you want. But I'm going to keep working and hope [Bob Bradley] takes me into account again.

"

-- Jose Torres
It's a spot the 23-year-old Torres has grown quite adept at during his three full years with Pachuca's first team. But at the international level the story has been different. The deep-lying distributor role doesn't seem to fit in the scheme for the American national team. Despite manning a spot just above the center backs, Torres won't win many balls defensively, and only occasionally gets forward into the opponent's box.
Bob Bradley's game plan instead favors workmanlike box-to-box types in the middle of the field -- an archetype the U.S. has in abundance. That's made it difficult for Torres to break through in the past, and clouds his role for the national team going forward. It's been over a year since Torres has figured in Bradley's plans, on the heels of a harried and unproductive first-half shift against Slovenia at the World Cup. With Torres looking out of place, the game plan went awry, the Yanks were down 2-0 at the half, and Torres was off.
"I tried to play the best I know how, to have maximum possession of the ball, but the game went not so well," Torres said of his only World Cup appearance. "In the end we tied it up, and [Bradley] didn't call on me again. But in the end, everything comes with patience, and I'm going to work hard to get back there again."
ESPN FC on Twitter
Don't miss a moment of the latest soccer coverage from around the world. Follow us on Twitter and stay informed. Join »
If the Slovenia match cost Torres any further playing time in South Africa, the timelier question is whether there's a spot for him in Bradley's future plans. If the midfielder was already a mismatch for the coach's style, the Slovenia game, combined with some tepid form for Pachuca after the World Cup, knocked Torres completely off the U.S. soccer map. In fact, Torres says he hasn't heard from Bradley or the USSF since the World Cup.
"I haven't spoken with Bob Bradley," Torres said. "I didn't have a great year and didn't play my best, but this season I'm going to put in maximum effort to get back there. I don't feel like I'm outside of the process of the national team. They haven't called me, but I believe that I just have to keep working and sooner or later the chance will come to get back to the national team. I have to work as hard as I can and put in the maximum effort for that to happen."
[+] Enlarge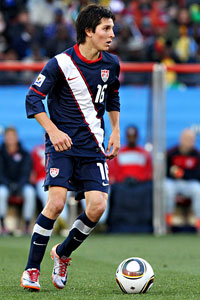 Andy Mead/Icon SMI"I haven't spoken with Bob Bradley," said Torres, who hasn't played for the national team since the Slovenia game in the World Cup.
If there's a road map back to Bradley's squad for players on the outside looking in, it's the hard work and determination Torres talks about. Freddy Adu proved just that by being called up to the team for the Gold Cup.
Torres said he watched the developments at the Gold Cup, keeping in mind that most of the players on Bradley's squad were experiencing good runs of form at their clubs. "The ones that go are a great group, most of them in Europe, and to get there I have to have a great season," Torres said. "In the end, those are the coach's decisions. He knows what he's doing. There are some players that apparently don't play that much [for their clubs], and you can ask why they are there if you want. But I'm going to keep working and hope he takes me into account again."
For Jose Torres, the road back to the national team begins in Pachuca.
Brent Latham covers soccer for ESPN.com. He previously covered sports throughout Africa for Voice of America radio and now works as a soccer commentator for a national television station in Guatemala. He can be reached at brentlatham@ymail.com.
ESPN Insider
Brent Latham is a soccer commentator who covers the youth national teams for ESPN.com. Based in Guatemala, he has attended youth World Cups from Peru to Egypt, and places in between.