Commentary
All-Stars want payback against United
NEW YORK -- SoHo has been plastered with All-Star Game logos. The Empire State Building is lit in Major League Soccer and Manchester United's colors. Just over the river, shiny Red Bull Arena, one of the land's most pleasant soccer stadiums, will host the 2011 MLS All-Star Game on Wednesday night (8.30 p.m. ET on ESPN2 and ESPN3.com).
For the eighth time and the seventh year in a row, the All-Stars -- who are without the injured Landon Donovan and a few players badly needed in their respective clubs' CONCACAF Champions League campaigns -- will face a famed foreign team. Like last year, this will be Manchester United, which dismantled MLS 5-2 in 2010.
[+] Enlarge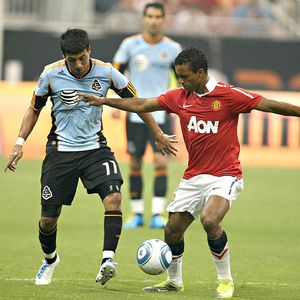 Matthew Peters/Getty ImagesLast year, Nani and Manchester United defeated the MLS All-Stars 5-2.
Against feeble MLS opposition, United has romped through the first three friendlies in its North American tour this summer, beating the New England Revolution 4-1, the Seattle Sounders 7-0 and the Chicago Fire 3-1.
"We've seen so far in the preseason friendlies that [United] takes these really seriously," said All-Star coach Hans Backe, who is in charge of the New York Red Bulls by day.
"Of course I want to win this game," United's star striker Wayne Rooney told ESPN.com earlier this month. "It's a matter of a great deal of pride to me."
So to avoid yet another humiliation for MLS, Backe has devised a plan. Rather than just throw his players out there for a spell before relieving them for others needing their moment in the sun, as is the All-Star custom, he appears to have done some deep thinking about a suitable solution to the problems United pose to opponents.
Just don't ask Backe what that plan is. His policy of selecting quick players for the game suggests he will look to play the match at a fast pace, perhaps capitalizing on the midseason form advantage his squad has, and making the most of the technical ability available to him. But queried on his exact strategy, Backe grinned and offered no more than: "A happy team is always a dangerous team."
"I'm sure he does have a plan," said Red Bulls defender Tim Ream. "He's always got a plan. He always knows what he's doing."
Ream better hope so. By pitting its best players against a soccer superpower once more, MLS is exposing itself to its risky, now-annual referendum on its own place in the world of football. It isn't entirely fair to judge the All-Stars on the outcome of this game, since, as midfielder Shalrie Joseph points out, "It's going to be hard to gel within only 48 hours and two practices." Yet plenty of viewers, including those giving MLS a chance for the first time, will consider the match a litmus test against which they'll measure the quality of the league.
ESPN FC on Twitter
Don't miss a moment of the latest soccer coverage from around the world. Follow us on Twitter and stay informed. Join »
"The reality is, people will," said midfielder Jack Jewsbury.
United's legendary head coach Sir Alex Ferguson, for one, believes MLS is growing rapidly. "It's improving each time we come here, particularly from six, seven years ago," he said. "It will be a tougher game than last year. I know you might look at the results [in friendlies against MLS teams] this year and say, 'We're winning games comfortably.' But the games have been difficult in different ways." Ferguson figures the goal margins during his side's tour have been inflated.
Be that as it may, here is yet another opportunity to make a statement for MLS. Or to offer fodder for deriding voices. "That's why it's really important that we do well and hold our own," said midfielder Kyle Beckerman. "It's going to mean a lot if we do well. Everybody has the same mindset that we want soccer to grow in America. In order for that to get done, we need good results and we need MLS to compete well against these European powers. We want to get a result, so [United] can't get out of America unscathed."
"Obviously we're still not up to par with the leagues in Europe," said Ream. "But it's a chance to showcase the league as a whole and the talent we have in the league."
And if all that isn't enough, Backe faces the usual All-Star pressure to place his entire roster. "I will try to give everyone some minutes," Backe said, without, as he put it, "destroying the game".
So how confident is Backe feeling with that game plan of his? "Very confident," he said, smiling. Then, more seriously, he added, "If we have a good day, then it's absolutely a possibility to get a good result."
Leander Schaerlaeckens is a soccer writer for ESPN.com. He can be reached at leander.espn@gmail.com. Follow him on Twitter at @LeanderESPN.
Contributing writer, ESPN.com
Leander Schaerlaeckens is a contributing writer for ESPN.com. He has previously written for The Guardian, The Washington Times and UPI.