Commentary
Bad blood as Bojan leaves Barca
Updated:
July 26, 2011, 1:38 PM ET
By
Michael Cox
| Special to ESPN.com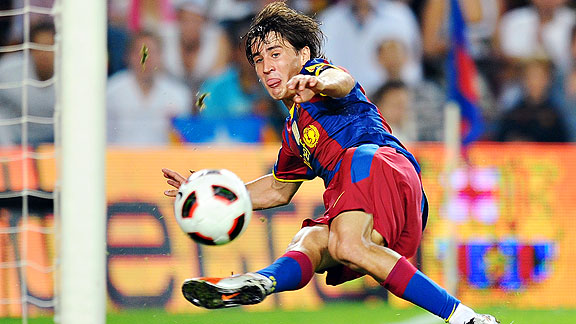 Lluis Gene/AFP/Getty ImagesHe was hailed as Barcelona's next big thing, but Bojan Krkic grew frustrated with manager Pep Guardiola. Now the player hopes for a fresh start at Roma.
Bojan Krkic was supposed to be Barcelona's next big thing. He broke into the side in 2007-08, becoming the club's youngest-ever La Liga player and, shortly afterward, its youngest-ever La Liga scorer. Both records were taken from Lionel Messi.
Bojan went on to score 10 league goals in that campaign, a decent return for a debut season. However, demonstrating how alarmingly his career has stalled, 2007-08 remains the season in which he played the most league minutes -- 1,459, to be precise. The three seasons under Pep Guardiola have seen him play 702, 988 and 928. Despite Barcelona's often seeming thin in squad terms, Bojan has been left frustrated by his lack of playing time, and a move this summer was inevitable. He's been snapped up by Roma, now under the management of former Barcelona player and reserve team coach Luis Enrique.
Like Zlatan Ibrahimovic, his predecessor in the Barcelona No. 9 shirt, Bojan endured a difficult relationship with Guardiola. His frank comments at his first Roma news conference said it all.
"As a fan, Guardiola is the best coach in the world, but personal things that have happened to me were hurtful," Bojan said. "He was not fair with me on several occasions, and this is one of the reasons that I decided to leave."
It seems that the final straw for Bojan was not being given any playing time in the Champions League final in May, with newcomer Ibrahim Afellay getting a couple of minutes near the end of the game instead. "This was the second time," Bojan complained, referring to the 2009 final, when Pedro Rodriguez was brought on rather than Bojan, despite Pedro having not played any knockout minutes in the 2008-09 competition and Bojan having appeared as a substitute in four of those six games.
[+] Enlarge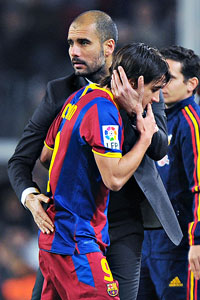 Lluis Gene/AFP/Getty Images"As a fan, Guardiola is the best coach in the world, but personal things that have happened to me were hurtful," Bojan said upon leaving Camp Nou.
Guardiola refused to respond to Bojan's comments when pressed by Spanish journalists this week, but there is no love lost between the two. Some reports indicate that Bojan first annoyed Guardiola when the latter was the club's B team manager in 2007-08. Guardiola wanted Bojan to continue playing for Barcelona B when he was not selected for the full side, but the player declined. The veracity of that story is contested in the Catalan media, and it is hard to imagine that Guardiola would hold a grudge for this long, but it wasn't the best first impression. Considering the fact that Pedro and Sergio Busquets, two notable stars of Guardiola's B team that season, have since become Barcelona regulars and World Cup winners, it is clear that Guardiola likes his trusted men.
Of course, it is significant that Bojan has been signed by Enrique, who himself was managing Barcelona B until last season. Along with his assistant Ivan de la Pena, another Barca old boy, Enrique is promising a dynamic, expansive brand of football that should suit Bojan.
It remains to be seen how Bojan will be used in Rome. The departure of Jeremy Menez, possibly followed by Mirko Vucinic's exit, makes predicting Roma's lineup very difficult. Bojan might struggle with the physical nature of the Italian game when playing as a central striker, and a role as a winger is more likely. Enrique, a man famous for being able to fill almost any position in his playing days, is probably the right man to decide.
Many believe that Enrique will succeed Guardiola as Barcelona's coach, just as he did with the B team. Guardiola has certainly hinted on a few occasions that he won't be sticking around for a long spell in charge, and Enrique's work with the B side was impressive. He took the team up to the Spanish second division, where the side was ineligible for promotion -- therefore, his job was complete and he wanted to experience coaching a full club side.
A return for Bojan is also quite possible. The slightly unusual terms of his contract mean that the "option" for Barcelona to repurchase him in 2013 is actually mandatory -- it'll be paying 13 million euros for his return, having sold him for 12 million euros last week. However, Roma has a "counter-option" to prevent losing him, but it means it will be forced to pay an additional 28 million euros to Barcelona, so the Italian club would be paying a total of 40 million euros for his services. That seems unlikely.
Incidentally, speculation that this deal was structured so Barca can fund a move for Cesc Fabregas seems misguided. Roma only needs to pay the initial 12 million euros for Bojan by July 2013, anyway -- and Roma isn't a club with a history of paying any sooner than it needs to. This is essentially a loan, with Barcelona able to record a sale of 12 million euros for this year, and only an outgoing amortized 2.6 million euros per season across Bojan's probable five-year contract on his return -- seemingly a neat trick to help the club with UEFA's Financial Fair Play regulations.
ESPN FC on Twitter
Don't miss a moment of the latest soccer coverage from around the world. Follow us on Twitter and stay informed. Join »
A return to Barca after a spell abroad is not uncommon. Gerard Pique did it with great success, and Fabregas wants to follow in his footsteps. Bojan will most likely be joining them in 2013-14, quite possibly following Enrique back to Camp Nou.
Michael Cox is a freelance writer for ESPN.com. He also runs zonalmarking.net.
Michael Cox
ESPN.com writer