Commentary
Does the All-Star Game undermine MLS?
In 15 Major League Soccer All-Star Games thus far, the East has been pitted against the West six times, and the MLS Americans faced the MLS Foreigners once. But after the invisible dividing wall was torn down, the unified MLS All-Stars played what remained of the U.S. national team once, and international clubs seven times.
The latter format has been used the past six years, yielding four wins for the All-Stars, a loss on penalties to Everton, a 5-2 shellacking at the hands of Manchester United (this year's opponent, too), and six consecutive sellouts.
Yet the format remains a contested topic. So our ever over-opinionated writers, Jeff Carlisle and Leander Schaerlaeckens, weigh in from opposite sides of the pitch for the ultimate All-Star Game format smackdown:
---
Jeff,
I heard through the Official Coors Light ESPN Grapevine -- you know, that wilted shrubbery between the East Coast Bias Incubator and Bill Simmons' old Pop Culture/Sports Transmogrifier -- that you've been telling people that you like the current MLS All-Star Game format.
I must warn you of such outcries.
For one, even though the league is improving and increasing its footprint and all that jazz, it doesn't serve MLS's interest to see the league's best players get tonked by United again before Wayne Rooney has even realized he's still got his Birkenstocks on.
For another, doesn't the league have enough star power of its own by now to justify going head-to-head between the East and West?
And finally, I think it's dangerous to define your product within the context of another, to essentially pit your league against the richest, most popular one in the world. No good can come of it.
I look forward to your hate mail.
Best,
Leander
---
Leander, yes, you are getting hate mail. And you didn't even have to post any player ratings this time.
At any rate, I must ask you this: Did you ever have occasion to watch those old East vs. West All-Star tilts? I did, and if you shook your head at last year's contest, I wonder what you would make of a 6-6 match in which defending was merely a suggestion. Ask Landon Donovan about this next time you see him. Not his finest hour.
ESPN FC on Twitter
Don't miss a moment of the latest soccer coverage from around the world. Follow us on Twitter and stay informed. Join »
Yet this was one of the highlights. You talk about getting "tonked" by Manchester United as if that is a bad thing. Believe me, there is something worse -- much worse -- than that: Irrelevance. No one cares to see if MLS players can beat other MLS players. Fans can see that every week. What they can't see is the Red Devils (or whatever team Don Garber & Co. lines up) going up against the league's best. And outside of last season, the format has worked pretty well. Heck, the All-Stars even beat Chelsea one year. Do these results prove anything? Of course not. But they provide far more entertainment than a format which only serves to reinforce just how contrived the use of conferences in MLS is.
And no, MLS does not have enough star power to stand on its own. The fact that Mustapha Jarju qualifies as a designated player is proof of this. And even the most parochial of MLS fans are smart enough to realize Manchester United is light-years ahead of MLS. No harm done if the Red Devils -- as they should -- beat an MLS XI easily.
I eagerly await your reply.
Regards,
Jeff
---
Jeff,
Let me point out that while I may not have seen much of those early days All-Star Games -- I've heard plenty about them, mind -- this very clearly isn't the same league as it was. Star power then was an ethereal concept for players of yore in their 30s (often late 30s) who were trying to squeeze out the last bit of life in their tired legs. As you point out -- wait, you didn't, but you should have -- there wasn't any Star in All-Star. This just isn't the case anymore. There are plenty of big names to field two teams. And a few poor DP decisions don't change that. Even the best teams make transfer mistakes.
And yes, I do believe that losing heavily to United again would be a bad thing. Small moments like these linger in the memory. Fair or not, each of these games is a referendum on the league. MLS would be better off not exposing itself to humiliation by a United side that has romped through its opponents at half-speed during the team's tour of the U.S. this summer.
What I suggest is that the league return to an East vs. West format but that, like baseball, it incentivize the outcome of the game. In baseball, the league that wins the All-Star Game gets home field advantage during the World Series. That's not an option for MLS, since it isn't yet positioned to put on an MLS Cup Final at a week's notice once the matchup for the final is known. Instead, I suggest that the league that wins the All-Star Game gets the last playoff spot if two teams from the different leagues are tied on points for it.
Look, having United in town is undeniably a great draw, but letting the Red Devils (or whomever) show up your very best -- or at least giving them a chance to -- is just bad PR. As we know, only the U.S. women's national team can get away with losing games and somehow come out ahead in terms of popularity.
Until we figure out how they did that, this format isn't optimal.
Best,
Leander
---
Leander,
This is too easy.
Players of yore? David Beckham and Thierry Henry are at exactly the same point in their careers as Roberto Donadoni, Carlos Valderrama, Cuauhtemoc Blanco and Lothar Matthaus were when they graced MLS All-Star games. Granted, Beckham's superstar wattage is at stratospheric levels, but it's not like that will increase by simply reverting to an East vs. West format.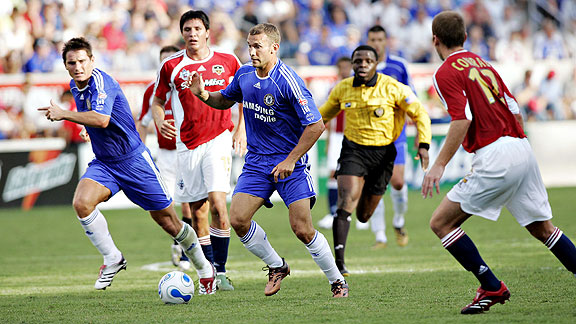 Scott Boehm/Getty ImagesThe MLS All-Stars defeated Chelsea 1-0 in 2006. But last season, Manchester United crushed them 5-2. Is either result a referendum on the league?
And it's interesting to hear you bemoan last year's loss to United, while conveniently overlooking the fact that the All-Stars have beaten Chelsea, among others.
As for incentivizing the outcome, let me get this straight. You want the final playoff spot to go to the winning conference on the off chance that one team from each conference will be tied on points for said spot at the end of the season? This has only happened three times in 15 MLS seasons. What a motivation that will prove to be. And playoff spots -- even in the forgiving world of MLS -- should not be decided by something as fickle as an exhibition.
The All-Star game is supposed to be a celebration of MLS, and that requires giving fans something different from the norm. The current format achieves that goal. The people who will turn up their noses at MLS because an All-Star team lost to Manchester United aren't inclined to support the league anyway. Those people who are already MLS fans know what they're getting. There is little to no downside. The upside is that perhaps MLS does win over some new fans, and at minimum, it will have filled its coffers with a sizable chunk of cash.
Regards,
Jeff
---
Jeff,
False!
Beckham was 32 when he came over and had been playing so well -- after initially being ostracized by Real Madrid when the Galaxy deal was announced -- in his last months at the club that it wanted desperately to keep him somehow. He'd had a good World Cup just the summer prior. Henry was 32 as well and had just won everything there is to win with Barcelona.
I'll grant you, Donadoni still played for Italy after joining the Metrostars and returned to Milan thereafter. But I find calling him a true superstar a stretch. Valderrama, who arrived at 35, was never truly a star in Europe -- he'd just played two years there for French club Montpellier. Matthaus was 39 and disinterested when he arrived in MLS. Blanco was 34 and overweight, and he was never a star in Europe either, if a huge name in Mexico. Which is all to say that the star power assembled in the league today is of an entirely different stock -- these players have aged better and are much closer to their peak years. You couldn't say that for too many of the stars of the past.
Sure, the All-Stars have gotten plenty of good results against European clubs, but they were all fairly close scores. It's the 5-something defeats that linger in the fans' memory -- just ask Barcelona and Real Madrid.
It was a suggestion for providing an incentive to the players. You need to attach meaning to the game, so people will bother to play it properly. That's the issue with East v. West games with nothing really at stake. I believe if you offer the winner something worthwhile, the East v. West format can absolutely work in MLS.
Putting all of the best players in each conference on one team is something different from the norm, that's the point. And the idea is to show those people that otherwise turn up their noses at MLS that there is good soccer here. That's how you win over fans. The current format might only funnel the so badly needed new American fan to United -- as if it needs help with that.
That said, I see your points. Both formats clearly have their merits. But I still think it's dangerous to try to glamorize yourself by osmosis. You risk advertising for somebody else.
We'll hash out our remaining differences in a to-the-death thumb-wrestling match, perhaps as the undercard to Pacquiao-Mayweather.
Be well my disagreeing but not disagreeable friend,
Leander
---
Leander,
So it's Europe or nothing then, right? It's a big world out there, and just because a player didn't succeed in Europe doesn't mean he didn't have star power. Valderrama was a former South American Player of the Year and still a Colombian international when he arrived in MLS. Blanco was still playing internationally for Mexico after leaving MLS. As for Matthaus, as disinterested as he was with the MetroStars, had just played in Euro 2000 for Germany.
But I digress. The All-Star Game is all about bringing attention to MLS. That's much easier if Manchester United is sharing the bill -- or even taking center stage -- than the league standing on its own.
Long live the current All-Star format.
Regards,
Jeff
Contributing writer, ESPN.com
Leander Schaerlaeckens is a contributing writer for ESPN.com. He has previously written for The Guardian, The Washington Times and UPI.
U.S. soccer correspondent
Jeff Carlisle covers MLS and the U.S. national team for ESPN FC.