Commentary
All-Star Game a celebration of soccer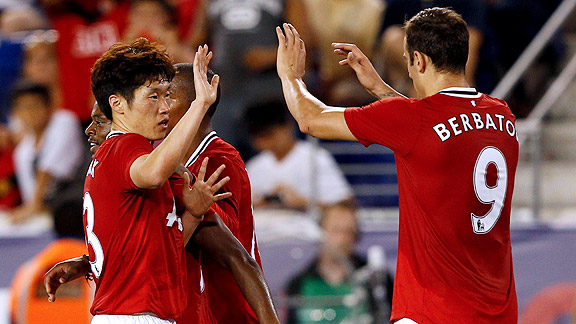 Mike Stobe/New York Red Bulls/Getty ImagesManchester United defeated the best of the MLS 4-0, but in the end, the All-Star Game was still a worthwhile celebration of soccer.
HARRISON, N.J. -- In a sold-out and rabid Red Bull Arena, a valiant band of MLS All-Stars managed to go toe-to-toe with Manchester United for all of 45 minutes, until class trumped form and fitness and the Red Devils defeated the best of MLS, 4-0. Here's three things we learned from the league's mid-summer showdown.
1. The score line flattered United
United may have won this game comfortably and looked the better side in the second half, but the MLS All-Stars were actually the better team in the first half, even if they did go behind 2-0 by the intermission. Fact is, both of United's opening goals went against the run of play. The ultimate outcome wasn't fair to MLS, which didn't start getting overrun until it substituted almost its entire starting lineup in the second half and completely lost the rhythm it had built in the opening 30 minutes. If the All-Stars had been more clinical with their considerable chances in the first half, and the wide-open goal Omar Bravo had in the second, they might well have posted a more respectable score. Yet for a "team" that has been together for all of one actual training session and this match, the All-Stars weren't all that bad. You can easily imagine that if the players had been a little more attuned to each other they could have turned away some goals and made it a game.
2. Backe's tactical flourishes were cunning
Even if the All-Stars looked nervous in the very early going -- misplacing passes more often than they put them on target -- head coach Hans Backe had a smart plan. By fielding a lineup of players with pace, MLS managed to put United on the back foot for a solid 30 minutes. Backe's strategy of running the preseason legs of United into the ground paid dividends. His lineup choices, in turn, were remarkable and clever for many reasons. He played central forwards Thierry Henry and Omar Cummings out on the wings, flanking Bravo, while wide midfielders David Beckham and Brad Davis played deep in the center of the park, behind holding midfielder Shalrie Joseph. This was astonishingly effective, as Beckham and Davis distributed the ball well and got countless MLS attacks off and running. And they outnumbered and overran counterparts Michael Carrick and Anderson in the process. Cummings and Henry, for their part, swapped spots with Beckham and Davis when necessary, ensuring there was always sufficient manpower on defense. A few fortuitous bounces and some better finishing could have made this an entirely different game.
ESPN FC on Twitter
Don't miss a moment of the latest soccer coverage from around the world. Follow us on Twitter and stay informed. Join »
3. I'm a convert to this format
I had written several times that I believed the All-Star Game was better suited for an East-versus-West format, rather than exposing MLS to a battering at the hands of teams such as United. No good could come of it, I argued. At best, you're competitive but advertise for somebody else's league; at worst, you show just how far behind your own league is to the big boys. In this I was obstinate -- and wrong. Good did come out of this night. Even if MLS did lose heavily and enabled ridicule at its own expense, something was gained. The atmosphere at Red Bull Arena was unlike that which any American team, whether in MLS or a national team, could generate. And let's face it: buzz and attention is a barometer of success for football. Scads of empty seats would send a far worse message than a 4-0 loss. In the end, this was a celebration of MLS soccer. Even if it came at a price.
Leander Schaerlaeckens is a soccer writer for ESPN.com. He can be reached at leander.espn@gmail.com. Follow him on Twitter at @LeanderESPN.

Contributing writer, ESPN.com
Leander Schaerlaeckens is a contributing writer for ESPN.com. He has previously written for The Guardian, The Washington Times and UPI.