Commentary
EPL teams should be wary of panic buys
Updated:
July 28, 2011, 2:18 PM ET
By
Michael Cox
| Special to ESPN.com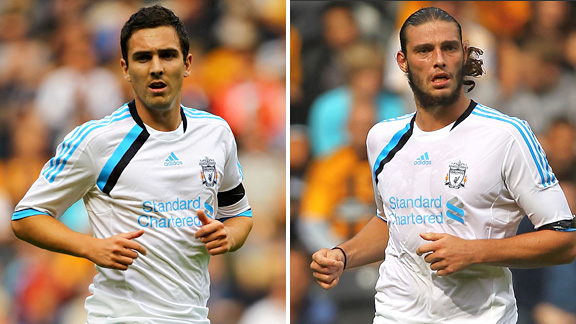 Getty ImagesBuilding a successful team isn't about signing stars, but about finding players who complement each other's style of play, such as Liverpool's Stewart Downing and Andy Carroll.
There is one word to sum up the final few days of a transfer window: panic. Sometimes the window ends, every club is happy with its purchases, and the deadline slips by almost unnoticed. In January, however, with Fernando Torres jumping ship to Chelsea and Liverpool intent on replacing him with Newcastle's Andy Carroll for 15 million pounds less than whatever they got for Torres, it was rather eventful.
Successful transfers are rarely based around panic, however -- and successful, cohesive football teams even less so. The initial outcome from those combined 85 million-pound moves was a struggle for either side to utilize their new striker to their full ability. Torres managed just one goal by the end of the season; Carroll got two.
The problem for both teams was obvious -- they lacked creative midfielders who played to the strengths of their new recruits. Irish journalist Miguel Delaney looked through all of Torres' 65 league goals in a Liverpool shirt, and found that the most frequent type of goal involved him running onto a through ball from a midfielder. Steven Gerrard and Xabi Alonso doubtless provided many of those, but who did Chelsea have as a midfield playmaker? Frank Lampard was probably the closest equivalent, but his trademark is arriving late in the box to score himself, rather than providing intricate passes.
[+] Enlarge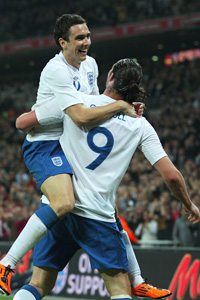 Julian Finney/Getty ImagesDowning and Carroll celebrate after Downing teed up Carroll for a goal for England in a friendly against Ghana in March.
Chelsea's pursuit of a quality passer this summer, most obviously Tottenham's Luka Modric, indicates that it's still trying to adjust to the presence of Torres up front. However, it's worth considering that (as discussed previously), Modric plays in a deep role for Tottenham and rarely provides the killer ball. Besides, Andre Villas-Boas didn't use a classic attacking creative midfielder at Porto last season -- Joao Moutinho, another rumored Chelsea target, played something akin to the Modric role.
The situation at Liverpool is more complex. Kenny Dalglish hadn't been back at Anfield for a month by the time of the Carroll signing, and Carroll's injury problems were a key factor in his low goals tally. "We signed him for five and a half years, not a few weeks," Dalglish told reporters who were anxiously inquiring about the player's fitness back in February.
Dalglish also remained adamant that Carroll wouldn't change the style of football Liverpool plays. "He's a big lad but is very good on the deck as well, he has good feet, he's very strong in the air and he'll give us a bit of presence up front," Dalglish said the day after Carroll joined. "He's a little bit different to what we've been used to, but it won't change our principles and philosophies of how we want to play."
It's important to note that Carroll is an all-round striker. He's far from a basic, limited target man, and his speed across the ground when working the channels is very impressive. It's difficult to ignore his strength in the air, however, or the fact that seven of his 14 Premier League goals for Newcastle came from headers.
When he started appearing up front for Liverpool, it soon became clear that it didn't really have any good crossers of the ball. Maxi Rodriguez, Raul Meireles, Joe Cole and Dirk Kuyt could play wide but weren't really natural wingers. In fact, the only good crosser Liverpool had last season was the injury-prone left-back Fabio Aurelio. And what happened the only time Aurelio and Carroll played together for a significant period of time? Carroll scored a brilliant header against Manchester City.
[+] Enlarge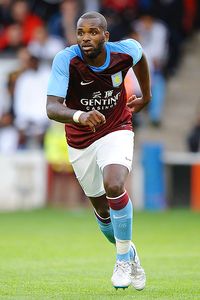 Laurence Griffiths/Getty ImagesWith Stewart Downing and Ashley Young gone, Aston Villa will need to find a new supply line to striker Darren Bent.
That was why Liverpool paid so much money for Aston Villa's Stewart Downing. On his own, Downing is not worth 20 million pounds. When you consider how much Liverpool needs a crosser, and how important crossing is to its record signing, the figure looks much more realistic.
The importance of using strikers and midfielders who complement each other is a fairly simple concept that sometimes appears lost on fans, pundits and even clubs that are often desperate for a big name regardless of the side's needs. There have been some suggestions that Liverpool should have gone for Downing's likely replacement at Aston Villa, Charles N'Zogbia, rather than Downing himself. It's arguable that N'Zogbia is the better player, but he's also a completely different type of player. Liverpool was looking for a crosser -- and Downing provided, on average, three times as many successful crosses per game as N'Zogbia did last season. There was only one logical option.
As it happens, N'Zogbia's situation at Aston Villa offers a look at the situation from the other perspective. Villa's January signing of Darren Bent worked very well. He is a poacher, and with Downing and Ashley Young providing constant delivery from the flanks, they needed someone to get on the end of crosses. Now, however, the three players -- Downing, Young and Kyle Walker -- who provided all nine of the assists for Bent's goals have left the club. Villa must support Bent's predatory qualities by providing him with similarly good service next season.
ESPN FC on Twitter
Don't miss a moment of the latest soccer coverage from around the world. Follow us on Twitter and stay informed. Join »
All this confirms what we already know: Football is about creating a cohesive set of players, not simply piling up big names. Every supporter wants to see stars arriving at their club, but beware of panic buys. It can take half a season before the manager realizes he needs to make further purchases, and even longer before the side actually starts performing.
Michael Cox is a freelance writer for ESPN.com. He also runs zonalmarking.net.