Juergen Klinsmann hired as coach
Updated:
July 29, 2011, 7:26 PM ET
Associated Press
This time, it's not just talk: Juergen Klinsmann is the new coach of the U.S. men's national soccer team.
U.S. Soccer moved quickly to name a replacement for fired coach Bob Bradley, announcing Klinsmann's hiring Friday. The former standout player and coach for the German national team will be a familiar name to American fans, given that U.S. Soccer almost hired him twice -- first after the 2006 World Cup and again last year before giving Bradley what turned out to be a short-lived contract extension.
Now, with the U.S. team's progress seemingly stalled, it's time to see what Klinsmann can do.
Big Name, Big Hopes

Juergen Klinsmann doesn't have a whole lot of time to prepare for the United States' friendly against Mexico on Aug. 10, writes Leander Schaerlaeckens. Story
---

U.S. Soccer president Sunil Gulati got his man, but now Klinsmann is faced with fulfilling lots of high expectations, writes Jeff Carlisle. Story
• Hirshey: Klinsmann will shake things up
• Klinsmann a good hire for the U.S.

"We are excited to have Juergen as the head coach of our Men's National Team," U.S. Soccer president Sunil Gulati said in a statement. "He is a highly accomplished player and coach with the experience and knowledge to advance the program. Juergen has had success in many different areas of the game, and we look forward to the leadership he will provide on and off the field."
Klinsmann will be formally introduced Monday at a news conference in New York. His debut as coach will come Aug. 10, when the U.S. team faces archrival Mexico in an exhibition match in Philadelphia. Qualifying for the next 2014 World Cup in Brazil begins next year.
"I am proud and honored to be named the head coach of the U.S. Men's National Team," Klinsmann said in a statement. "I would like to thank the U.S. Soccer Federation for the opportunity, and I'm excited about the challenge ahead. I am looking forward to bringing the team together for our upcoming match against Mexico and starting on the road toward qualifying for the 2014 FIFA World Cup."
Although the U.S. federation has discussed the job with Klinsmann in the past, the coach's desire for extensive authority over the entire U.S. program had been considered a point of contention, preventing a deal.
Germany coach Joachim Loew, who was Klinsmann's assistant before becoming his successor, wished him well -- and expects big changes.
[+] Enlarge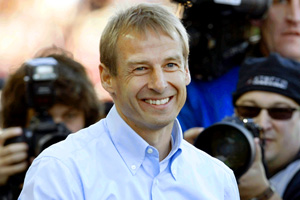 Thomas Kienzie/AP PhotoJuergen Klinsmann scored 11 goals in three World Cups, including then-West Germany's championship team in 1990.
"I am happy for Juergen, that he has found a new challenge and I wish him a lot of success," Loew said. "The way we know Juergen, he'll go into the job with power and shake up a lot of things."
The German soccer federation said Loew, federation president Theo Zwanziger and three other top officials were told by Klinsmann by telephone that he was about to sign the contract with U.S. Soccer.
Klinsmann, who turns 47 Saturday, has a considerable World Cup pedigree.
As a player, Klinsmann scored 11 goals in three World Cups (1990, 1994 and 1998). That ties him for sixth on the all-time scoring list, just behind Pele.
"He is an experienced coach and a great former player," Pele said of Klinsmann on Friday in Brazil. "Without a doubt he can be a very good coach because of his international experience."
Klinsmann was a key cog for then-West Germany's 1990 World Cup-winning team and European championship-winning German team in 1996.
He retired in 1998 and moved to the U.S. shortly afterward. Klinsmann and his wife, Debbie, reside in California with their two children, Jonathan and Laila.
Klinsmann took over as coach of the German national team July 2004, after the team had a poor showing in the 2004 European championships. Klinsmann led the German national team to a third-place finish in the 2006 World Cup, which was hosted by Germany. In 34 matches, Klinsmann's record was 20-8-6.
He went on to coach German club Bayern Munich, but lasted less than a full season after falling out of favor with management. He has worked as a consultant since then, most recently with Major League Soccer's Toronto FC.
U.S. Soccer fired Bradley in a surprise move Thursday.
Bradley led the U.S. team to considerable success and several big moments, including an appearance in the round of 16 at last year's World Cup in South Africa and a victory over Spain in the 2009 Confederations Cup.
But the U.S. team seemed to take a step backward this summer, and a stinging 4-2 loss to Mexico in the Gold Cup final last month -- the U.S. blew a 2-0 lead -- appears to have convinced U.S. Soccer officials it was time to make a change.
Last year, U.S. Soccer gave Bradley a contract extension through 2014.

Copyright 2011 by The Associated Press