Commentary
Juergen Klinsmann's daunting to-do list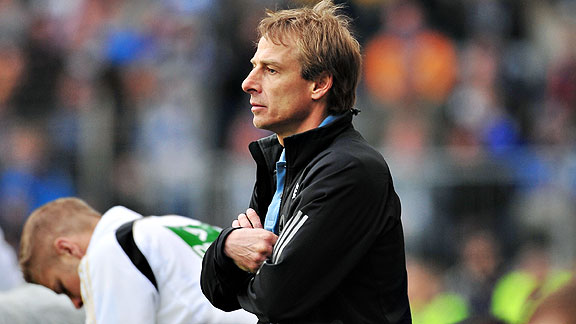 Stuart Franklin/Getty ImagesJuergen Klinsmann's first big task will be getting the U.S. ready for an Aug. 10 friendly against Mexico.
It took patience and persistence, more than five years and three rounds of negotiations, but Juergen Klinsmann is the new U.S. men's national soccer team coach.
Peering ahead at the dawn of his tenure, Klinsmann will look out at a rocky landscape fraught with pitfalls to negotiate and obstacles to overcome.
The expectations are enormous and his to-do list is long. But it starts with the following essential tasks:
1. Hire
Klinsmann has exactly 12 days until the U.S. plays its next game -- against archrival Mexico. That gives him about nine days until players start to arrive. Chances are Klinsmann knew he would be the new coach before the noon announcement Friday. But he nevertheless has a very short span of time in which to put a supporting staff in place. He could retain some of the staff of his predecessor, Bob Bradley, but if he is to make the much-needed clean break from the previous regime, he needs to start entirely fresh. Klinsmann probably has people in mind, given that he's been a national team manager before -- Germany, in 2004-06 -- but he'll want to strike a careful balance between attracting the people he's worked with and those who are thoroughly plugged in to the American game. These hires are vitally important to his success, as coaching staffs set the tone of a program.
Next, he'll need to help advise on the hiring of the vacated U-23 coaching spot -- unless he takes on that role, too -- so preparations for next summer's Olympics can get under way. The U-20 head coaching position is available, too. Klinsmann will probably have a say in this hire, since it is the latest formative stage before the senior national team.
ESPN FC on Twitter
Don't miss a moment of the latest soccer coverage from around the world. Follow us on Twitter and stay informed. Join »
For the U.S. national team program to turn into Klinsmann's desired direction, the filling of these positions will have to be very calculated.
2. Assess
Klinsmann has just a few days to pull together a team for the friendly against Mexico. In putting together a team, he will need to be sensitive to the start of club seasons in most of Europe and one that is still strong enough to compete with Mexico. He'll also have to be mindful of not assembling a squad that could be confused for Bradley's. Klinsmann is expected to smash the status quo and give the team a different look from Bradley's reign. Again, the German coach, who turns 47 on Saturday, has probably known about this move for a few days, so he may have a squad in mind.
Once the Aug. 10 Mexico game has come and gone, Klinsmann will have to get a feel for his player pool. Part of the reason he was such a strong candidate for so long is that he is both an experienced, big-name European with international experience and a California resident, meaning he has watched American soccer from up close for a long time. That said, he has a vast player pool that is spread out all over the world to sift through. It won't be easy, and the honeymoon period he gets with fans and critics alike could be short-lived.
3. Scout
Because the U.S. qualifies for the World Cup in an incredibly fragmented confederation, CONCACAF, with several tiny islands that field national teams even though they aren't sovereign nations, Klinsmann has an enormous amount of scouting work ahead of him. World Cup qualifiers will be drawn Saturday. And although the U.S. has a bye into the third round, while the second round has yet to take place, Klinsmann will have to familiarize himself with dozens of potential opponents in relatively short order. The U.S.'s qualifying campaign is expected to start next June.
4. Prepare
The U.S. plays high-profile friendlies against Mexico on Aug. 10, Costa Rica on Sept. 2 and Belgium on Sept. 6. And more friendlies could follow on FIFA match dates in October and November. This gives Klinsmann little time to put in place systems and protocols -- from mundane tasks like picking hotels and meals to call-up procedures and training schedules and methods. Fair or not, Klinsmann will be judged strictly on how the team performs in those first few games, no matter how little time he has to get it ready for them.
5. Proselytize
Klinsmann sweeps into his new job on a platform of change. Although, as laid out above, he scarcely has the time to get his players, staff and organization sorted out in time for the upcoming friendlies, much more is expected of him. Many U.S. fans have fantasized about a Klinsmann tenure for five years, and he has said that he envisions defining an identity for American soccer and playing attractive, attacking soccer. That means he'll somehow need to find a way to convert a squad that has been force-fed a steady diet of unimaginative and defensive-minded tactics for years into all that he promised. This will require not just a change of tactics but also a culture shift throughout the federation and, eventually, the American game. It's a tall order.
Leander Schaerlaeckens is a soccer writer for ESPN.com. He can be reached at leander.espn@gmail.com. Follow him on Twitter at @LeanderESPN.
Contributing writer, ESPN.com
Leander Schaerlaeckens is a contributing writer for ESPN.com. He has previously written for The Guardian, The Washington Times and UPI.