Commentary
Juergen Klinsmann will shake things up
Updated:
July 31, 2011, 3:55 PM ET
By
David Hirshey
| Special to ESPN.com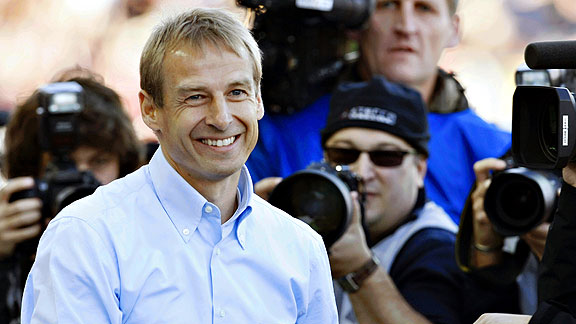 AP Photo/Thomas KienzleThe U.S. men's national team got a huge lift when it finally replaced Bob Bradley with Juergen Klinsmann. But hold off on that ticker-tape parade.
I want to say that the news of Juergen Klinsmann's appointment as the new U.S. coach made me so deliriously happy that I launched myself into a trademark Klinsi face-plant. You know, the kind the German superstar made famous when a blade of grass grazed his ankle while playing for Tottenham in the 1990s.
But since diving and Spurs are the two things I despise most, I simply took a slightly bigger swig of Jagermeister than I normally would at 11 a.m., and said, "It's about friggin' time."
ESPN FC on Twitter
Don't miss a moment of the latest soccer coverage from around the world. Follow us on Twitter and stay informed. Join »
Or words to that effect.
Much to my bemusement, the achingly slow-to-act U.S. Soccer Federation had finally found a pair on sale on Park Avenue, and done the right thing by showing Bob Bradley the door marked "Ausgang" while ushering in Klinsmann through the one that screamed "Wilkommen."
Why this happened now instead of after last summer's dispiriting World Cup loss to Ghana or after the 4-0 humiliation to Spain in a June exhibition or the epic collapse against Mexico in the 2011 Gold Cup final, only God -- or USSF president Sunil Gulati -- knows. The important thing is that for the first time in over a decade, hope can replace delusion as the operative mindset of the U.S. soccer fan.
[+] Enlarge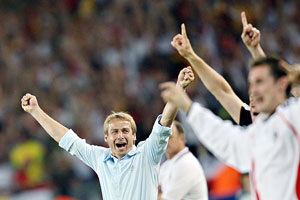 Oliver Lang/AFP/Getty ImagesGermany's manager Klinsmann celebrates after his team defeated Portugal in the third-place game at the 2006 World Cup.
It remains to be seen how much actual salvation Saint Juergen will provide now that Gulati's five-year bromance with Klinsmann has been consummated. Indeed, except for some perfunctory talks with the former Argentina and Chile coach, Marcelo Bielsa, Gulati seemed so besotted with Klinsmann he never seriously considered anyone else, refusing to take nein for an answer not once but twice over the past World Cup cycle.
It couldn't have been easy for Bradley, knowing that for his entire five-year tenure, he had been Gulati's second choice, and under the circumstances, he did a commendable job. He battled obdurately through several tournaments with the occasional success: a 2007 Gold Cup, second-place finish in the 2009 Confederations Cup that saw the U.S. derail Spain's 35-game unbeaten streak and lead Brazil 2-0 at halftime in the final, and a heart-stopping run through the first round of the 2010 World Cup that ended in tears against Ghana in the first round of the knockout stage. His record of 43-25-12 is the second best of any U.S. men's national team manager.
Those results, however, obscured a larger flaw in the national team program under Bradley: his almost pathological inability to allow flair and joy into the American game. His myopic, turgid vision led Bradley back to the core American attributes -- speed, physicality, athleticism -- a set of principles that left little room for players looking to express themselves with the ball at their feet.
Even if he had wanted to field more fluent players, he seemed unwilling to go looking in strange places. Soccer history is replete with stories of the great ones growing up in wretched poverty, playing in the streets. Bradley was far more comfortable harvesting the halls of Bradenton Academy (Freddy Adu and friends) than he ever was scouting local Hispanic leagues. If we are prisoners of our own paradigm, then you can understand why Bradley, with his Princetonian soul, was far more comfortable recruiting players from the green fields of universities than from the barrios.
David Hirshey

For more from David Hirshey, check out his columns on all things soccer.
• The All-EPL Team, 2011-12
• Saying goodbye to Chinaglia
• Time to dethrone King Kenny Dalglish?
• In praise of Fulham
• The comeback artists
• Call it a comeback
• Death by Manchester
• The battle for third
• Spurs' title credentials
• EPL's best starting XI
• City handed first EPL loss
• Chelsea pushed to brink
• Fragile egos crossing
• City and United
• Is Newcastle for real?
• The bad-behavior derby
Now with Klinsmann, the U.S. finally has a coach with no ties to a college system that has produced an assembly line of brawny, hard-working, but not exceptionally skilled players. Remember the German's angry, incisive monologue he gave on live TV in the wake of the U.S.'s loss to Ghana, a tirade in which he pointed to the need for better youth development, a more inclusive "soccer pyramid" that isn't as much a "rich kid's game," and more sophisticated tactics? If Gulati was looking for a change of pace, he has found a world-class sprinter.
That said, America might want to hold off planning the ticker-tape parade for 2014.
Most successful national coaches have deep résumés either at the club or country levels (oh, Maradona, I miss you already). While pundits across the nation point to Klinsmann's third-place finish at the 2006 World Cup as testament to his incipient genius, who exactly did they beat again? Poland? Ecuador? Costa Rica? Sweden?
Granted, Germany's one signature victory over Argentina was completely legitimate, but even Bradley beat Spain -- once. And the Germans were playing at home, for honor and national pride. Klinsmann also had the depth and breadth of one of Europe's best talent pools to draw upon, and a brilliant tactician named Joachim Loew pulling the strings. Does Klinsmann get credit for lifting up a morose and moribund squad and injecting pace and pleasure into them? Yes. Was he able to parlay that into a successful career as the manager of one of the richest, deepest clubs in the world? Ask Bayern Munich.
Klinsmann's stint there was as much a flop as the spectacular spasmodic jackknife he faked against Argentina at the 1990 World Cup final to get defender Pedro Monzon sent off. Despite being given free rein to bring in all manner of fitness coaches, sports psychologists and tofu-dispensing nutritionists -- even going so far as to install four Buddha statues at the team's training facilities -- the club fired him with five games left in the Bundesliga season because of "differences of opinion." Apparently, the boardroom at Bayern was of the opinion that results were important.
[+] Enlarge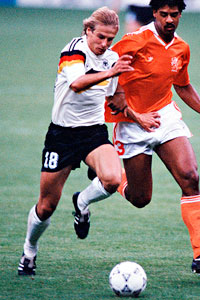 Getty ImagesJuergen Klinsmann and the Netherlands' Frank Rijkaard battle for the ball at the 1990 World Cup.
Klinsmann will certainly bring star quality to U.S. national soccer. After living with the charisma-free Bradley for five years, Gulati knew that the media would fall over itself when faced by a multilingual charmer with wit, intelligence and a Southern California sensibility that often makes Matthew McConaughey look buttoned-down.
If Bradley's news conferences were long on banality and short on quotability, Klinsmann's may feel like a Tony Robbins self-help seminar. He has studied the masters of high-impact motivational speeches and incorporated the jargon into his locker-room pep talks. All of this should galvanize veterans like Landon Donovan and Clint Dempsey, who have operated in the gray space between disillusioned and disinterested of late.
Others who were not ensconced in the Buds-with-Bob camp have renewed hope (Brian Ching, the long-ostracized striker, cryptically tweeted, "Some days just put a smile on your face" within hours of the announcement of Bradley's firing). The first acid test will come in just under two weeks, when the U.S. lines up to play its bitter regional rival Mexico, which has recently left the Americans choking on its dust, winning both the Gold Cup and the U-17 World Cup. Even here, Klinsmann is on the fortunate end of timing, as Mexico's player for the ages, Chicharito, will almost certainly skip the match due to injury.
Then comes World Cup qualifying, almost a formality for the Americans. So it may not be until 2014 when we can truly assess if Gulati brought in the Klinsmann with the magical touch of 2006 or the poison pill that so alienated Bayern. If it's the former and the U.S. advances to the quarterfinals playing fast-paced, skillful soccer, then instead of the statues at the U.S. training camp resembling Buddha, they will look more like a certain lanky, blond German striker.
David Hirshey has been covering soccer for more than 30 years and has written about the sport for The New York Times, Time, ESPN The Magazine and Deadspin. He is the co-author of "The ESPN World Cup Companion" and played himself (almost convincingly) in the acclaimed soccer documentary "Once in a Lifetime."