Commentary
Gervinho could fire up Gunners' attack
Updated:
August 2, 2011, 4:58 PM ET
By
Michael Cox
| Special to ESPN.com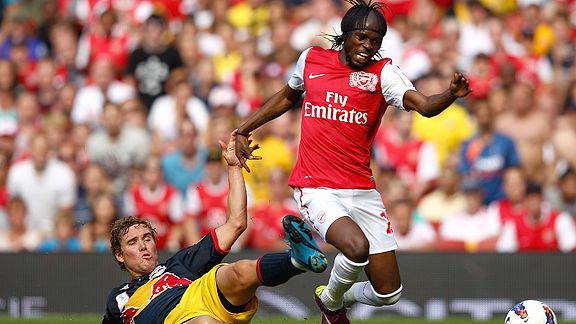 Richard Heathcote/Getty ImagesMuch has been made of Arsenal's defensive woes, but the team also struggled to score goals down the stretch last season. Gervinho could change all that.
There was a strong whiff of déjà vu at Arsenal's Emirates Cup this past weekend. Leads thrown away due to late defensive errors, speculation about the future of Cesc Fabregas, even a small but audible round of boos at the end of the 1-1 draw with the New York Red Bulls. All the usual questions were put to Arsene Wenger in the post-match press conferences. Little has changed since May.
But one thing has -- Arsenal has a new forward. Gervinho was one of the few players to start both games in the tournament, and he was impressive in both, contributing an assist against Boca Juniors and a couple of mazy dribbles against NYRB.
Many believe that Arsenal's problems are purely defensive, with the acquisition of a goalkeeper and a center back frequently pinpointed as necessary signings. That might well be correct, but that doesn't mean Arsenal is flawless going forward. Wenger's side failed to score in three of its final 10 home league games last season, against Manchester City, Sunderland and Blackburn. That is simply not title-winning form. By contrast, EPL champion Manchester United scored in all 19 games at Old Trafford. Sometimes it was startlingly easy to defend against Wenger's men, to the point where clubs from outside the Premier League put in good performances at the Emirates, with Leeds, Ipswich and Huddersfield all threatening to cause upsets. Defensive problems must be addressed, but a new face upfront was also important.
Gervinho offers a solution in both general and specific terms. In general, he is simply more direct than Arsenal's other attacking options. Statistics from his final season at Lille show that he attempts 2.1 dribbles per game -- more than any other Arsenal attacker last season. He also took 2.2 shots per game, more than any other Arsenal player aside from Robin van Persie. These are raw figures and may be skewed by him playing in a weaker league, but since he's likely to be in competition with Samir Nasri, Tomas Rosicky, Theo Walcott and Andrei Arshavin for the wide positions at Arsenal, the numbers support the theory that Gervinho is less likely to be accused of passing unnecessarily.
In more specific terms, Gervinho might solve the problem Arsenal had toward the end of last season when goals dried up from players other than van Persie. The Dutchman had an injury-hit start to the season and didn't score until Jan. 1 away at Birmingham. But that prompted a run of 17 goals in 17 games. Unfortunately, his form was the opposite of Arsenal's as a whole. The team was briefly top of the table in December and then embarked on a dramatic fall from grace to finish fourth.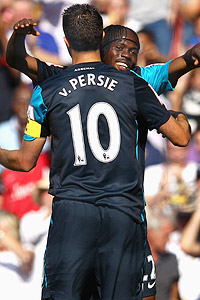 Richard Heathcote/Getty ImagesAgainst Boca Juniors, we saw the first sign that van Persie and Gervinho might combine well for Arsenal.
A dependence upon a prolific goal-scoring striker is far from an unusual problem. Manchester United, for example, was much better off after it sold Ruud van Nistelrooy and utilized Wayne Rooney, Cristiano Ronaldo and Carlos Tevez to their full effect. The strange thing with van Persie, though, is that he's not the ruthless, occasionally selfish poacher that van Nistelrooy was. He's barely even a striker -- he's a brilliant link-up man, and his teammates love playing with him.
There is no proof that van Persie's involvement hampered Arsenal's overall play, though there was a particular problem last year. When van Persie dropped deep, the wide players didn't exploit the space often enough, which furthered Arsenal's habit of playing in front of the opposition defense, rather than penetrating it. Gervinho is a wide forward who naturally cuts into goal-scoring positions. His debut Arsenal goal in a friendly against Koln was a good example of that. And the Boca game saw the first sign that van Persie and Gervinho might combine well, as the Ivorian teed up the Dutchman for the opener.
A strange aspect of van Persie's Arsenal career is that he has never formed a reliable partnership with another genuine forward. Granted, strike partnerships are rarer than 15 years ago because of the prevalence of one-striker formations, but Arsenal favored a 4-4-2 until two years ago.
When breaking through, van Persie seemed part-Thierry Henry, part-Dennis Bergkamp, and therefore didn't complement either particularly well. His relationship with Emmanuel Adebayor was promising but ultimately unsuccessful, and bad blood between the two resulted in actual blood when Adebayor stamped on van Persie after he had moved to Manchester City in 2009. The pattern has continued: Before last year's World Cup, van Persie admitted he'd prefer it if Bert van Marwijk didn't select Dirk Kuyt, favoring the use of Rafael van der Vaart, an attacking midfielder. Meanwhile, there were reports from Arsenal training sessions last season that he and Marouane Chamakh had no understanding when used together upfront.
ESPN FC on Twitter
Don't miss a moment of the latest soccer coverage from around the world. Follow us on Twitter and stay informed. Join »
However, Van Persie has built up a good understanding with a wide attacker, Walcott, who was keen to highlight van Persie's selflessness in an interview with Arsenal Magazine last year. "It's working quite well with me on the right and him up top," Walcott said. "He's set up a lot of my goals over the past few years, such as the one at Blackburn earlier in the season when he dropped back and played me the ball. I think we have a good, natural understanding."
The problem with Walcott, though, is that he is at his best when the opposition leaves space in behind its defense. When teams defend deep, he isn't great at making runs into goal-scoring positions -- and while he's extremely fast at full pelt, his acceleration isn't as astonishing as you might expect over short distances. Besides, with his continuing injury problems, which saw him miss the weekend games, Arsenal need another pacey wide attacker.
Wenger acknowledges that Gervinho's forward runs in these situations should work well for Arsenal. "He has the timing of his runs, as well as the sharpness in the first five meters to get away quickly," he noted in his program column, adding after the Boca game that the Ivorian was "integrating well" into the squad and had the ability to play on the left, the right or through the middle.
A host of factors will determine Gervinho's success, but logic indicates he'll be a good addition to the Arsenal squad.
Michael Cox is a freelance writer for ESPN.com. He also runs zonalmarking.net.