Commentary
Time for Premier League predictions
Updated:
August 11, 2011, 3:46 PM ET
By
Ravi Ubha
| ESPN.com
The Premier League resumes this weekend, with Manchester United seeking a record-extending 20th league title and Manchester City and Chelsea doing the serious chasing.
As for the other teams last season, if they weren't in the hunt to qualify for either the Champions League or Europa League, it seemed as if they were busy trying to dodge relegation. The trend may continue.
So where will each team finish in 2011-12? We know, predictions in football are folly, but they're also fun. So here's our forecast. Bank on it. Sort of.
[+] Enlarge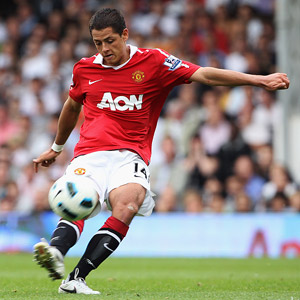 Phil Cole/Getty ImagesManchester United will hope Chicharito can improve on his outstanding debut season for the club.
1. Manchester United: Last season wasn't vintage United. But so typical of the Red Devils, when points were needed in the second half, Sir Alex Ferguson's men produced to surpass Liverpool in league honors. Wayne Rooney sizzled in the second half, and a continuation of his fine form would make things easier for the defending champ. Ashley Young and Phil Jones were handy summer additions, with the versatile Jones probably a better option over Chris Smalling when Rio Ferdinand inevitably gets injured. Goalkeeping may turn out to be an issue with Edwin van der Sar retiring. Ultimately, we think United will win a 20th title.
2. Manchester City: Call it job done for City in 2010-11. Roberto Mancini not only led City to the Champions League, but he ended a 35-year trophy drought with a win in the FA Cup final. The higher the club rises in the standings, the harder it gets, though, and even with Sergio Aguero's arrival, issues persist. Mancini will have his hands full, again, with Mario Balotelli, and wantaway striker Carlos Tevez has yet to settle his future with the club. Others won't be content riding the bench. Winning the title is a stretch, yet expect further progress for City.
3. Chelsea: Chelsea fans had to be a little excited when a young Portuguese, Andre Villas-Boas, took over as manager. They fondly remember the days when another Portuguese, Jose Mourinho, helped revive the London club. Villas-Boas inherits several of the squad that was around when Mourinho showed up six years ago -- they're old. Frank Lampard is 33, while John Terry turns 31 in December. The type of defender he is, Terry's body must feel ancient. Thus far, Fernando Torres hasn't justified his hefty price tag, and influential midfielder Michael Essien is sidelined about five more months. Only one high-profile player has arrived over the summer, 18-year-old Romelu Lukaku. There's a bit of youth. But can the hulking Belgian make a quick transition? The good news is Didier Drogba is healthy, which means he could have a strong season -- that is, if he's playing mostly up front and not on the wing to accommodate Torres.
[+] Enlarge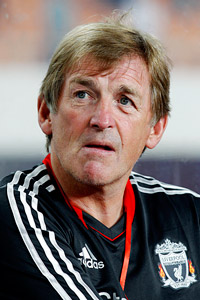 AP Photo/Kin CheungKenny Dalglish has added depth to his squad, especially in the midfield.
4. Liverpool: All is well on the red half of Merseyside. "King" Kenny Dalglish transformed the Reds when taking over from Roy Hodgson, and the recent signing of three midfielders -- Charlie Adam, Jordan Henderson and Stewart Downing -- was a statement of intent. Livewire Luis Suarez is the pivotal performer up front, more so than Andy Carroll. And Mr. Liverpool, Steven Gerrard, currently ill, could use a spell without injury or illness to regain his form. It's silly to think Liverpool can win the league, but we see the Reds finishing fourth and getting back into Europe via the Champions League.
5. Arsenal: Manager Arsene Wenger has had time to plan for life without Cesc Fabregas, who is almost on his way to Barcelona. But Wenger has made only one addition of note up to this point (aka no kids), bringing in forward Gervinho. The club can still rely on Samir Nasri, who had an excellent first half of last season before his performances tailed off in the second half. Then again, there's no guarantee Nasri will be with the club by the time the transfer window closes. Arsenal's old problems -- no leader among the center of defense and a lack of a world-class keeper -- remain. And new challenges, such as replacing Gael Clichy (who left for Man City this summer) at left back, must be addressed. This is the season Wenger pays the most for not buying players in their prime.
6. Tottenham: Harry Redknapp hasn't had a pleasant summer. Instead of chasing transfer targets, he has spent much of his time trying to hang on to midfielder Luka Modric. Desperately trying to boost his strike force, he's been unable to land any big-time recruits. More uplifting is that Tottenham now has a reliable keeper in Brad Friedel and can focus on the Premier League. Jermain Defoe will pick it up, too, aiding Redknapp's attack, if he stays at the club. Tottenham shouldn't be too far off from Liverpool and Arsenal.
7. Everton: Can someone please give David Moyes money to spend? He deserves the cash. No one has done better on a budget than the Scot. Moyes will be happy enough to keep central defender Phil Jagielka and young midfielder Jack Rodwell, both linked with bigger clubs. If they remain at Goodison Park and injuries stay away, the Toffees could be outside contenders for fourth. But to do that, Everton cannot afford to start as slowly as it did last season.
8. Sunderland: Sunderland was the surprise contender for a Champions League spot the first half of last season. When injuries piled up and the Black Cats woke up, they faded, so much so that relegation was a possibility. Manager Steve Bruce made up for the loss of the promising Henderson by splashing the cash this summer, landing, among others, sought-after striker Connor Wickham, 18, and veterans from Manchester United -- John O'Shea and Wes Brown. No relegation worries this time for Bruce and his men.
9. Fulham: The managerial merry-go-round in the Premier League always stops at Craven Cottage. When Martin Jol replaced Mark Hughes this summer, the popular Dutchman became Fulham's sixth boss in the past four years. Jol's penchant for playing attacking soccer will lead to more goals scored -- and allowed -- than under the more conservative Hughes. The longer striker Bobby Zamora stays healthy, the better for Fulham.
[+] Enlarge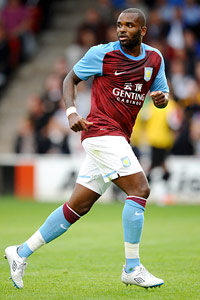 Laurence Griffiths/Getty ImagesDarren Bent will lead the line for Aston Villa in 2011-12.
10. Aston Villa: Now wouldn't it be something if Alex McLeish took two teams from the Midlands down to the Championship in consecutive seasons? Last season was bittersweet for McLeish, who led Birmingham to the Carling Cup title, only to see it relegated. The Scotsman then made the controversial switch to rival Villa, where there's enough talent to ensure the team stays afloat in the Premier League. Marc Albrighton and Ciaran Clark can only get better as they play more; Stephen Ireland has to wake up sometime; and Darren Bent will score his usual goals. In the space of two seasons, though, the priority for Villa has shifted from finishing in the top four to avoiding relegation.
11. Stoke:Stoke City is capable of playing pretty soccer, but let's face it, the Potters earn most of their points thanks to high balls. Why mess with success? Stoke is now a fixture in the Premier League. The lone worry for Stoke, which for some reason signed the perennially crocked Jonathan Woodgate, is that featuring in the Europa League this season will test the squad's depth.
12. Bolton: In his first full season at Bolton, manager Owen Coyle tinkered with the club's long-ball approach. The move paid off. Bolton was in the top half most of the campaign. But the offseason hasn't been positive. Top scorer Johan Elmander left for Turkey (some Bolton fans wouldn't see that as bad), offensive spark Daniel Sturridge returned to parent club Chelsea and South Korean winger Chung-Yong-Lee broke his leg shortly after another midfielder, Matt Taylor, was sold to West Ham. Coyle's acquisitions have been less than stellar. Bolton could get sucked into the relegation picture, especially if defender Gary Cahill leaves.
13. Wolves: How can a team that beat Manchester United, Chelsea, Manchester City and Liverpool be in the relegation mix on the final day of the season? Wolves were obviously unable to bring the needed intensity to every game, surprising since manager Mick McCarthy is Mr. Intensity. Perhaps the signing of central defender Roger Johnson from Birmingham and keeping Jamie O'Hara gives Wolves more breathing room. If striker Steven Fletcher can chip in more regularly -- he was crucial down the stretch -- even better. But the bottom line is that Wolves face another nervy nine months.
14. West Bromwich Albion: West Brom engineered the Great Escape under Bryan Robson, surviving in 2005, only to suffer relegation in 2005-06. You wonder if the same thing will happen again. They don't call them the "Boing, Boing Baggies" for nothing. But Hodgson completely turned around West Brom's fortunes when stepping in for Roberto di Matteo last season. A new defensive mentality in place, the team coasted to safety. Signing keeper Ben Foster, on loan from Birmingham, will help the cause. It'd be surprising, though, if striker Peter Odemwingie duplicates his 2010-11 form.
15. QPR: Neil Warnock, who often divides opinion, got a bum deal the last time he was in the Premier League with Sheffield United. When West Ham broke the rules by signing Tevez and Javier Mascherano, it wasn't deducted any points when many felt that was the right punishment. Sheffield United ended up 18th in 2006-07; West Ham bypassed relegation. Now Warnock is back with QPR. His teams have a history of overachieving, and the Championship winner boosted its depth by signing powerful striker Jay Bothroyd and former England winger Kieron Dyer. We're assuming the oft-injured Dyer will actually play. Most eyes, though, are on attacking midfielder Adel Taarabt, who led the Londoners to promotion.
16. Blackburn: What are the odds of Steve Kean surviving as Blackburn manager? He shouldn't get too comfortable, given the unpredictable nature of Venky's, the club's Indian owners. Blackburn has trouble scoring goals and is in danger of losing one of its only prized assets, hulking defender Christopher Samba. Meanwhile, no noteworthy new faces have made their way to Ewood Park. It adds up to another nail-biting season for the Rovers faithful.
17. Newcastle: The well-supported Magpies achieved their No. 1 objective last season -- staying up, and comfortably. Finishing out of the bottom three should be the priority again. But it won't be easy. Jose Enrique's future with the club is in doubt after the player questioned the club's desire via Twitter (he's reportedly headed to Liverpool), and Joey Barton -- arguably Newcastle's best player last season -- was placed on a free transfer after his own well-publicized Twitter rant. Kevin Nolan has already up and left for West Ham. Newcastle will be hoping playmaker Yohan Cabaye, signed from French champion Lille, and Hatem Ben Arfa (when he recovers from his latest injury) can steady the ship. But who will score the goals up top? There's no standout striker. Little wonder Barton was telling his fans he didn't want to go through another relegation scrap. If Barton stays, Newcastle should have an easier time surviving.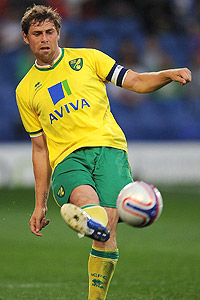 Christopher Lee/Getty ImagesGrant Holt and Norwich netted a league-high 83 times in the Championship, but they'll struggle to stay up in the Premier League.
18. Wigan: What was Roberto Martinez thinking, turning down Aston Villa to stay at Wigan, where rugby is more popular than soccer? He had to know Charles N'Zogbia, Wigan's top performer last season, was out the door. Ironically, N'Zogbia found his way to Aston Villa. Without N'Zogbia, Wigan struggles severely. Not even Martinez can save the Latics this time around.
19. Swansea: Two or three years ago, no one would have picked Swansea to reach the Premier League ahead of Welsh rival Cardiff. So much for that. Swansea, led by the respected Brendan Rodgers, went up via the playoffs, playing attractive, possession-based soccer and relying heavily on winger Scott Sinclair. Swansea cleaned up at home, conceding a measly 11 goals and winning a division-high 15 games. But that was in the Championship. In the Prem, goals will be harder to come by and the defense will face a much tougher challenge.
20. Norwich: Norwich could be this season's Blackpool -- fun to watch but too careless for its own good. The Canaries netted a league-high 83 times in the Championship, while also conceding 58 goals, the most of any outfit in the top six. Can Norwich's attackers, led by the prolific Grant Holt, adjust to life in the Premier League, and if so, will it be enough to offset a leaky defense? Probably not.
London-based Ravi Ubha covers soccer and tennis for ESPN.com. You can follow him on Twitter here.