Commentary
Manchester derby kicks off the season
Updated:
August 6, 2011, 2:30 PM ET
By
Michael Cox
| Special to ESPN.com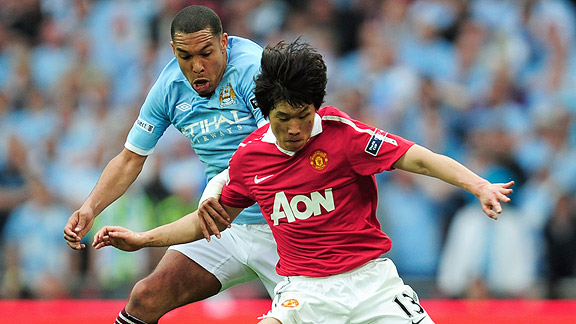 Jamie McDonald/Getty ImagesUnited and City squared off in the FA Cup semifinals in April, but Sunday's Community Shield will be the first Manchester derby in 55 years.
The 2011-12 season is starting with a bang. They may be glorified preseason friendlies, but we have a derby to enjoy from each of Europe's four major leagues in the annual competitions between league champions and cup winners. In Spain, we will be treated to the Clasico, in Italy we have the Milan derby, in Germany it's the Revierderby and in England we can look forward to a Manchester derby.
As always, the new football season has come around quickly, and the Community Shield match takes you slightly by surprise. Even the players have found it has sprung up on them. "I hadn't even thought about it until I turned on the television the other night," Wayne Rooney told FourFourTwo Magazine. "Someone was talking about it being potentially the best Community Shield ever."
That might be hyperbole -- it's likely that Rooney was watching the same television network that will screen the game in Britain -- but this gives an added sense of occasion to the season's annual curtain raiser. Sunday will be the first time in 55 years that the Community Shield is a Manchester derby. The last time, United won 1-0 with a goal from inside forward Dennis Viollet.
Opinions are divided in the United camp about whether the derby makes the game more special. Rooney said "you couldn't get better motivation for the start of the season," but assistant manager Mike Phelan believes that it won't be treated differently from any other Community Shield.
The best part of the game, as always, will be seeing new signings in action. In fact, we'll see the transfer window's two highest spenders so far -- United have spent 56.5 million pounds on David De Gea, Ashley Young and Phil Jones, while City has paid 52 million pounds for Sergio Aguero, Gael Clichy and Stefan Savic. Liverpool is in third place on 49 million pounds.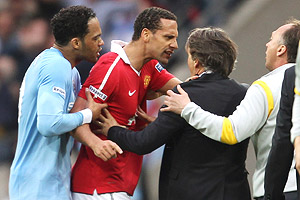 Scott Heavey/Getty ImagesTensions boiled over in the FA Cup semifinal between United and City in April.
Aguero is the main attraction -- although whether he'll participate remains to be seen. He missed training on Wednesday with a stomach bug but will travel down to London with the squad. Like many other players competing in the Copa America, he is not quite up to full fitness yet, and a role on the bench may be more likely.
In his absence, the man to watch out for is Aguero's former Atletico teammate De Gea, United's new goalkeeper. The Community Shield gives a great chance for goalkeepers to make a name for themselves, as it's the only competition in the country that goes to a penalty shootout when there's a draw after 90 minutes. Indeed, four of United's past six Community Shield games have gone to spot-kicks, and United have been victorious on three of those occasions. The last United keeper to be a penalty hero in his debut in this match was Tim Howard in 2003, though, of course, his career at Old Trafford turned out to be less successful than expected.
Another interesting debutant will be Clichy, City's new left back. The Frenchman endured some difficult outings against United in his last couple of Arsenal seasons, particularly up against Nani. With Antonio Valencia only just back in light training after an injury he sustained in the Copa America, Nani looks likely to get the nod down the right. Ashley Young is now another option down that flank.
Incidentally, the players might have a little extra motivation if they know that the "curse" of the Community Shield has been lifted in recent seasons. From 1997 to 2004, no Shield winners went on to win the Premier League. Since then, five of the six winners have been crowned league champion. A statistical irrelevance, perhaps, but both teams will want to stay in the habit of winning.
ESPN FC on Twitter
Don't miss a moment of the latest soccer coverage from around the world. Follow us on Twitter and stay informed. Join »
The Red Devils might be more accustomed to this game, but a win might mean more to them. Having lost in their previous two trips to Wembley against City in the FA Cup semifinal and Barcelona in the Champions League final, they don't want the ground to become an unlucky omen.
United exacted its revenge on Barcelona in the preseason, so it will be keen to take out its frustration for losing the FA Cup semifinal to City. The way Alex Ferguson's men lost that game was particularly limp: The slow, casual passing style in the midfield was defeated by the sheer power of City, and the game's lone goal -- Yaya Toure exploiting a mistake from the casual Michael Carrick -- was somewhat symbolic of City's tactical approach.
The end of the game also featured some flash points. Paul Scholes was dismissed for a crazy tackle on Pablo Zabaleta, and then Rio Ferdinand had angrily confronted Mario Balotelli after the Italian had celebrated at the final whistle by thrusting the badge on his City shirt toward United fans. Those tensions might set us up nicely for a proper battle rather than the friendly exhibition the Community Shield is intended to be.
Michael Cox is a freelance writer for ESPN.com. He also runs zonalmarking.net.