Commentary
Klinsmann pleased with team's energy
PHILADELPHIA -- Underpinning the reasoning for any coaching change is the notion that a new face will bring new vigor.
When coach Jurgen Klinsmann recently put his U.S. national team through its paces in preparation for Wednesday night's friendly against Mexico, his squad -- only recently labeled as stale and stagnant and predictable and uninspired -- got so caught up that he had no choice but to rein in the players, to put the brakes on their enthusiasm.
"The way they approached it in training, we had to slow down certain elements because they were going 200 miles an hour," Klinsmann said. "They are full of energy."
"He did have to slow us down and cut our time short on the training field," veteran right back Steve Cherundolo said.
[+] Enlarge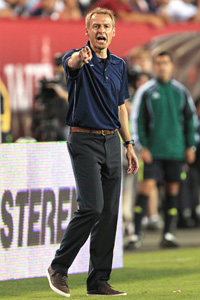 Hunter Martin/Getty ImagesJurgen Klinsmann was pleased with the U.S. team's efforts in pressuring Mexico during the second half of the international friendly.
The U.S. national team has been rocked out of its slumber and reacquired the moxie it had misplaced in the last months, the hunger that has allowed it to compete against more technically gifted nations for the last two decades.
"There is a new energy," goalkeeper Tim Howard said. "Anytime there's change, whether you agree with it or disagree with it, change is good. It livens people up, the mood changes."
That altered state of mind was on display during the last stretch of a 1-1 draw with Mexico. The U.S. spent 70 minutes finding its feet in a slight variation of its usual system under Klinsmann's predecessor Bob Bradley, fitting a few new players in and coping with Mexico's considerable talents on and off the ball. Then, with the late addition of three young forwards -- Juan Agudelo, Brek Shea and Robbie Rogers -- that fresh energy found an outlet, a flow. The game tipped. Agudelo, Shea and Rogers galloped forward, carving through Mexico's half with speed and purpose, putting Mexico on the back foot at long last.
"The subs went for broke," said former U.S. captain and ESPN analyst John Harkes. "They said: 'I'm going to run at guys, I'm going put them under pressure,' and that changes the whole shape and complexity of the game from Mexico's point of view."
"What we were lacking in the first half was putting pressure on them," Klinsmann said. "We knew that once we bring in fresh energy, we're also going to get the Mexican side a bit tired. We kept the pace up and expected them to struggle a little bit later on in the game."
[+] Enlarge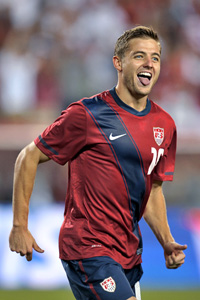 Drew Hallowell/Getty ImagesRobbie Rogers scored his second goal for the U.S. national team in the 1-1 draw with Mexico.
Struggle they did, as Agudelo instantly ripped off a long run before shanking a shot. Not much later, he did good preparatory work for Shea on the left, who used his immense physical attributes to get past his man and slide a ball to the wide-open Rogers at the second post, and Rogers evened up the game.
In that moment and the ones that followed, the U.S. showed flashes of what this newfound youth and drive could be capable of (when deployed with more preparation and practice) over the span of an entire game.
Under Klinsmann, the U.S. gave a very brief glimmer of promise that the national team could use its physical gifts -- its ace in the hole -- for good, rather than the bad. To attack, rather than to sit back and absorb and hope to opportunistically steal a goal or two, the predominant mindset during the Bradley era.
"Mexico constantly changed their positions, and it makes it difficult for us to chase them down," said Klinsmann, who envisions doing the same. "I think we have players with similar capabilities and we have to just train them that way and give them the confidence. There are some players that can make a difference here. A Robbie Rogers, a Brek Shea, they have the qualities to go one-on-one."
This will prove as complicated as it no doubt sounds. For it requires myriad changes to the Americans' mindset.
Said Harkes: "The first thing he has to change is the mental approach to the game, the attitude of, We can believe in ourselves, we could be the players that are taking the game to the other team. That's hard to do when you've always been in the defensive mode."
Nevertheless, Klinsmann's intentions, as put on display last night, will put a smile on the face of anybody who has taken a liking to American soccer. Just maybe the man long prophesized to be capable of reinvigorating and reinventing a sluggish national team program and get it playing more proactive and entertaining soccer will actually be able to deliver on the tremendous expectations.
"We wanted to see a performance with energy and excitement," Klinsmann said of the game.
With a newly energized national team, we're looking ahead to an exciting time indeed.
Leander Schaerlaeckens is a soccer writer for ESPN.com. He can be reached at leander.espn@gmail.com. Follow him on Twitter at @LeanderESPN.
Contributing writer, ESPN.com
Leander Schaerlaeckens is a contributing writer for ESPN.com. He has previously written for The Guardian, The Washington Times and UPI.