Commentary
Tiering it apart
ESPN The Magazine previews the upcoming English Premier League season
Originally Published:
August 12, 2011
By
Roger Bennett
| ESPN The Magazine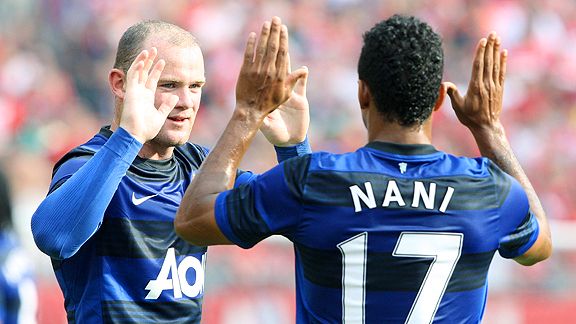 John Peters/Getty ImagesExpect Wayne Rooney and Manchester United to be in the hunt for an EPL title.
With the English Premier League under way, we fire up our exclusive season simulator and sort all 20 teams.
Tier 1: The Big Four
In theory, any team can win. In practice, one of these four will.
Manchester United
To repeat as champs, new winger Ashley Young must mesh in a formation led by Wayne Rooney. Much also depends on new keeper David De Gea and whether Chicharito can avoid a sophomore slump.
Chelsea
An aging but still-potent squad's only major youthful addition is 33-year-old manager André Villas-Boas, who needs to rekindle the scoring ways of $79.5 million man Fernando Torres.
Manchester City
Is this the year all that Abu Dhabi oil money pays off? The twin distractions of a disgruntled Carlos Tevez and balmy Mario Balotelli will be counteracted by the arrival of Argentine marksman Sergio Aguero.
Arsenal
Will an off-season of player discontent result in the downfall of the mighty north London side? Maintaining his team's cutting edge will be manager Arsene Wenger's greatest test yet.
---
Tier 2: Pretenders To The Throne
These two are closest to crashing the Big Four.
Liverpool
BoSox owners spent $75M on British MFs, including unproven Jordan Henderson and chunky Charlie Adam. But the team's fortunes ultimately hinge on Copa America hero Luis Suarez keeping his blistering form.
Tottenham Hotspur
With or without dynamic MF Luka Modric, Spurs and their slumping cadre of strikers still need winger Gareth Bale to rediscover his magic if they want to return to Champions League football next season.
---
Tier 3: Aspiring To Mediocrity
They will huff and puff, but the Europa League is as good as it'll get.
Everton
Deep in debt and with an overstretched squad, Everton will once again count on Tim Howard & Co. to use passionate team spirit as a substitute for lack of depth and quality.
Fulham
With the raw talent of Swiss prospect Pajtim Kasami, Clint Dempsey's hard running and the return to England of manager Martin Jol, Fulham will seek to top last year's eighth place.
Aston Villa
Manager Alex McLeish, plucked from crosstown rival Birmingham, has introduced a disciplined system to bring out the best in young talent like Marc Albrighton and Barry Bannan.
Newcastle United
Nearly a decade has passed since this club was a Premier League contender. A turnaround isn't coming soon. The Joey Barton drama further weakens a thin squad that has fans clamoring for investment.
---
Tier 4: Treading Water
Prepare for another season of midtable obscurity.
Stoke City
Its dependence on physicality and set pieces has made Stoke maligned -- yet feared. The gritty team is desperate for new blood, but so far the only notable new face is oft-injured defender Jonathan Woodgate.
Bolton Wanderers
Manager Owen Coyle has stealthily fostered a free-flowing style. The team can depend on striker kevin davies' aggression up front. But will it be able to rely on American MF Stuart Holden in his return from injury?
Sunderland
The arrival of former Man Utd utility men John O'Shea and Wes Brown made headlines, but 20-year-old Korean Ji Dong-won may be the breakout striker of the season. Cue Sunderland shirt sales across Asia.
---
Tier 5: Relegation Fodder
Their mission: Finish in 17th place or higher.
Blackburn Rovers
The club's eccentric Indian owners have promised fans a Champions League contender, but rumors of financial difficulties abound. If true, this team could implode by the new year.
Queens Park Rangers
If QPR and its gilded Formula One owners have any hope of reliving the west London club's 1970s glory days, they need to keep temperamental Moroccan creator Adel Taarabt.
Wolverhampton Wanderers
The Wolves needed a last-minute goal on the final day of the season to stay up, even after faring well against the Big Four. New CB Roger Johnson must gird an error-prone defense.
West Bromwich Albion
Unfashionable and streaky, West Brom will once again lean on scoring from Nigerian Peter Odemwingie as it looks to best last year's 11th-place finish.
---
Tier 6: The Doomed
The prospects of survival are slim.
Norwich City
The Canaries have been promoted in each of the past two seasons but lack top-flight experience. Their prayers lie with the tactical savvy of manager Paul Lambert and the prolific scoring of Grant Holt.
Swansea City
Low on stardust and from a hard-bitten Welsh City, this speedy squad is the first non-English team to join the Premier League. The Swans' backline woes have led bookmakers to suggest their stay will be for one season.
Wigan Athletic
Coveted manager Roberto Martinez returns after helping Wigan stave off relegation on the last day of the season. But playing on a tepid and predictable team, keeper Ali Al-Habsi will be lucky to survive.
ESPN The Magazine: August 22, 2011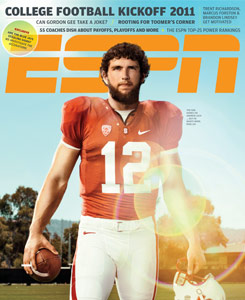 Features
Columns & Go/Play