Commentary
Can Liverpool finally win at Arsenal?
Updated:
August 19, 2011, 2:52 PM ET
By
David Hirshey
| Special to ESPN.com
If you're an Arsenal or Liverpool fan, odds are you're not too thrilled about this coming weekend. Sure, your team gets to be center stage in the first big EPL dogfight of the season (ESPN2 and ESPN3, Saturday, 7:30 a.m. ET), but you fear that the game is coming at the worst possible time. And I don't mean the early-morning kickoff.
Each club has certainly had an eventful summer. But while Liverpool converted millions of pounds into questionable midfielders, Arsenal was busy converting millions of midfielders into questionable pounds. What the two teams have in common is this: They both were underwhelming enough in their initial outings to make you rethink your hopes, dreams and drinking habits for the rest of the season.
If there's a sense of restlessness at Anfield over the inability of all of manager Kenny Dalglish's shiny new parts to prevent the kind of erratic performance against Sunderland that defined the Roy Hodgson era, Arsenal's dour and fractious draw with Newcastle did little to fill the Cesc Fabregas-shaped hole in every Gooner's heart. It didn't help to then see Arsenal's former captain and midfield maestro cradling little Lionel Messi in his arms after assisting on Barcelona's game-winning goal in the Spanish Supercopa against Real Madrid on Wednesday. Personally, I won't be surprised if Fabregas support groups don't spring up all over north London. I already know of one at Kinsale Tavern in New York City.
[+] Enlarge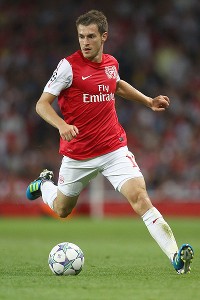 Julian Finney/Getty ImagesFollowing the departure of Cesc Fabregas, more responsibility will fall to Aaron Ramsey in the Arsenal midfield.
What makes it all the more painful for Arsenal supporters is the realization that it took Cesc just ten minutes in a Barca shirt to end his more than 3,000,000-minute trophy drought as a Gunner. Is it any wonder, then, that I've struggled to maintain my usual cool sense of objectivity that has been the hallmark of my Arsenal coverage?
Oh sure, I do admit to feeling a teensy frisson of satisfaction watching Cesc writhing on the ground after being taken out by a vicious leg-scissoring, bench-clearing tackle at the end of the Super Cup by Madrid defender Marcelo. Not that I'm bitter, mind you; but Marcelo, the check's in the mail.
What I'm left with is an anxiousness that I think Liverpool fans can relate to. Given their jittery mental states, neither team can afford another lackluster performance or it will find the tactical and psychological challenges of keeping pace with the front-runners even more daunting. In last week's opener, Manchester United was typical United, doing just enough to win while employing its signature blend of persistence and luck that is vital in any title chase. More impressively, the champions' filthy-rich neighbors, Manchester City, stomped a newly promoted team and sent a chilling message of the team's potential via the otherworldly fusion of Sergio Aguero and David Silva. And though Chelsea may not have lived up to its new manager's grandiose vision (and lost Petr Cech to injury in the bargain), the Blues battled Stoke City admirably and escaped the EPL's toughest stadium with a respectable draw.
And so, with the dovetailing fortunes of Arsenal and Liverpool, there are two obvious ways to look at the first marquee showdown of the 2011-12 campaign. The prudent, pragmatic view dictates that it's too soon in the season to deserve more than a passing interest, and you certainly would not be excommunicated from the Cathedral of the Premiership if you were too hungover to lurch out of bed and pay obeisance at such an obscene hour. But if you're fully committed to both the potential nightmare of a post-Cesc world and the soul-sucking grind that is the weekly embodiment of Liverpudlian fandom, you're seeing it a bit differently. In other words, welcome to The Battle For Fourth Place Before Either Side Is Truly Ready For It.
David Hirshey

For more from David Hirshey, check out his columns on all things soccer.
• The All-EPL Team, 2011-12
• Saying goodbye to Chinaglia
• Time to dethrone King Kenny Dalglish?
• In praise of Fulham
• The comeback artists
• Call it a comeback
• Death by Manchester
• The battle for third
• Spurs' title credentials
• EPL's best starting XI
• City handed first EPL loss
• Chelsea pushed to brink
• Fragile egos crossing
• City and United
• Is Newcastle for real?
• The bad-behavior derby
On the face of it, Liverpool seems the more prepared simply because Dalglish can field his first team. Arsenal is missing Jack Wilshere, Abou Diaby and Kieran Gibbs through injury, while Gervinho and Alex Song are suspended for resounding stupidity (after the Newcastle match). Meanwhile, will Samir Nasri actually play Saturday (manager Arsene Wenger perversely named him to the squad), or continue to sit in the Players Who Think They're Better than They Really Are Departure Lounge? He is expected to follow Kolo Toure, Emmanuel Adebayor and Gaël Clichy to Eastlands in the next 48 hours.
Oh, and did I mention that Fabregas is no longer available?
Wenger now has to roll out his latest string of prodigal children, as the Emirates faithful shake their weary heads and wonder why the Frenchman won't let the moths out of his wallet stuffed with about $100 million in recent transfer fees. Instead, Arsenal may be forced to start 19-year-old defender Carl Jenkinson, whose career in top-flight English soccer has consisted of a handful of appearances for League One's Charlton Athletic and this epic own goal in a Gunners preseason tuneup.
That is hardly the ideal preparation to face the world-class speed and trickery of Luis Suarez, no matter how bone-tired the Uruguayan may be from his Copa America adventures this summer.
Dalglish, on the other hand, had no trouble spending New England Sports Ventures' money as he looked to bootstrap the Reds back into the title hunt. But the manager didn't count on Steven Gerrard's cursed groin, Suarez's fatigue, Jamie Carragher's decrepitude, Andrew Carroll's sloth-like pace and a second half against Sunderland that displayed a complete lack of fight, creativity and confidence. The more things change …
[+] Enlarge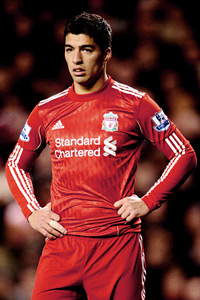 Michael Regan/Getty ImagesLuis Suarez scored once but missed a penalty kick in Liverpool's opening-week draw with Sunderland.
Despite having $165 million of talent on the field, Liverpool gave its fans about 20 minutes of inspired soccer against the Mackems, but Dalglish will certainly learn from his mistakes of last week. And unlike Wenger, he has the depth to afford himself options. Jordan Henderson's headless-chicken routine will give way to the inexhaustible Dirk Kuyt, and 18-year-old defender John Flanagan will no doubt do his ball-watching from the bench.
Arsenal has no such luxuries with its frighteningly thin squad, but the side's confidence did get a boost with the 1-0 midweek win over Serie A's Udinese in the first leg of the team's Champions League qualifier. The Thomas Vermaelen-marshaled back line kept a second straight clean sheet, an unthinkable prospect in the Almunia and Fabianski eras. Wojciech Szczesny was far more spry in goal than anybody expected, and Aaron Ramsey did well in a rejiggered midfield.
But is that really enough for a team that fancies itself among the best in the world? If I recall correctly, Wenger famously declared last month that selling Fabregas and Nasri would mean that Arsenal could "no longer pretend to be a big club." Well, I guess now we'll find out whether the Gunners will be unveiling blue-chip replacements in the next two weeks or whether they're merely a farm team for the Baby Blues of Manchester City.
David Hirshey has been covering soccer for more than 30 years and has written about the sport for The New York Times, Time, ESPN The Magazine and Deadspin. He is the co-author of "The ESPN World Cup Companion" and played himself (almost convincingly) in the acclaimed soccer documentary "Once in a Lifetime."