Commentary
Is Mata the genius Chelsea needs?
Updated:
August 23, 2011, 4:21 PM ET
By
Michael Cox
| Special to ESPN.com
[+] Enlarge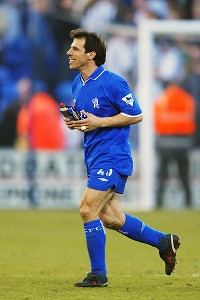 Phil Cole/Getty ImagesNot since the days Gianfranco Zola has Chelsea had a true creator.
Roman Abramovich was a week late. He had just bought Chelsea and was planning to spend hundreds of millions revamping the squad, but money couldn't buy the one player he truly wanted -- Gianfranco Zola.
Zola had left a week earlier, to return to his native Sardinia and a final stint at Cagliari, the island's biggest club. A few months earlier, he had been voted the greatest player in the history of Chelsea Football Club, showing how much the supporters loved him. The feeling was mutual -- Zola later described the award as "an extraordinary thing for me, probably the best prize and recognition that I got in my entire career."
Ironically, Zola chose to leave partly over money -- Chelsea had tried to reduce his salary by $1.65 million. Under Abramovich, wages wouldn't have been an issue. The Russian wanted Zola back, and one of his first acts as Chelsea owner was to try to persuade him to return. Zola was committed to his new club, however, and Cagliari president Massimo Cellino refused to sanction the move, even when offered the chance of immediate profit on a player who hadn't yet appeared for the club.
"Abramovich contacted me on Wednesday and offered me $2.1 million to tear up Zola's contract," he said, back in 2003. "But I told him no straight away."
Some reports indicate that Abramovich then tried to buy Cagliari itself from Cellino, in order to circumvent the contractual problems. "I must say, I was really, really surprised at that," Zola said. "I took it as a compliment. But I had made my choice."
Since then, Abramovich has never signed a player quite like Zola. Or even a player broadly like Zola -- a deep-lying striker or an attacking central midfielder, a creative player, someone who plays between the lines of opposition defense and midfield, and conjures up chances.
He has splashed the cash in his eight years at Chelsea, but rarely on a number 10. Joe Cole, Florent Malouda and Saloman Kalou have been fielded wide, whilst Michael Ballack and Deco were used in much deeper positions. Yossi Benayoun, the man who currently plays with "10" on his back, has yet to start in a Chelsea league victory and is being linked with a move away.
There are reasons for Chelsea's lack of a true creator -- two, in fact.
First, since the days of Jose Mourinho, Chelsea has favored a 4-3-3 system that doesn't have space for a deep-lying forward. Second, the team has relied on the driving midfield runs of Frank Lampard. He, however, is an energetic midfielder who primarily scores goals himself, rather than creating for others. His contribution to Chelsea has been immense, but he is a grafter. Zola was a genius.
Suddenly, Chelsea need a genius.
The $82.5 million outlay on Fernando Torres committed them to building a team around him, and whereas Didier Drogba can lead the line and thrive on crosses and long balls, Torres needs more intricate service.
That's where Juan Mata comes in. He may play in a very different position to Zola, but he shares the same qualities.
Small, adept at finding space and possessing lightning quick feet, he is potentially the man who will get his fellow Spaniard Torres firing again.
Crucially, he is a versatile player that should be able to slot into the side immediately. Although many believe his best position is "in the hole" behind a main forward, he can play on either flank, particularly the left. Having been conditioned by Valencia's fluid, flexible 4-2-3-1 in the past few years, where the attacking band of three has license to rotate and switch, he spends most of his time coming inside from the initial wide position.
In terms of movement and positioning, he shares many qualities with another Valencia old boy, David Silva.
His initial role will probably be on the left wing, though his long-term position may be as Lampard's replacement. The Englishman has spoken of how he wants to play into his late 30s, but accepts he now has to "be effective without doing so much legwork." How long he can continue playing at the top level in his current position remains to be seen, and a deeper role might suit him in a couple of years.
Mata certainly has the potential to take on Lampard's goal-scoring mantle. Recording 28 goals in the past three league seasons, he shares Lampard's ability to arrive late on the edge of the penalty area, such an important attribute for a goal-scoring midfielder. His record at the international level is extremely impressive -- four goals in 11 games is a decent record, but when you discover that 10 of those appearances have been as a substitute, it gets even better.
Having played 327 international minutes, he averages a goal every 81.75 minutes. In other words, better than a goal a game in his short international career so far.
Adapting to the English game should be no problem for Mata. He has studied English and has a decent command of the language already, whilst his sister works on the south coast in Brighton, an hour drive from Chelsea's training ground in Cobham. Like many of the current Spanish national team members, Mata seems a quiet, reserved player who is more likely to be found at home with a book on a Saturday night than in a London nightclub.
As mentioned previously, his natural shirt, the number 10, is currently on the back of Benayoun. Mata may prefer to revert to 16, his number at Valencia, but how about 25? Though not officially retired, no Chelsea player has worn the number since Zola left the club. Maybe a coincidence, or maybe Chelsea has never had another player fit to wear it. Mata might be the man who can do it justice.
Michael Cox is a freelance writer for ESPN.com. He also runs zonalmarking.net.