Commentary
A diving breed
With the help of video, Major League Soccer is on a mission to take down floppers
Updated:
August 30, 2011, 10:09 AM ET
By
Doug McIntyre
| ESPN The Magazine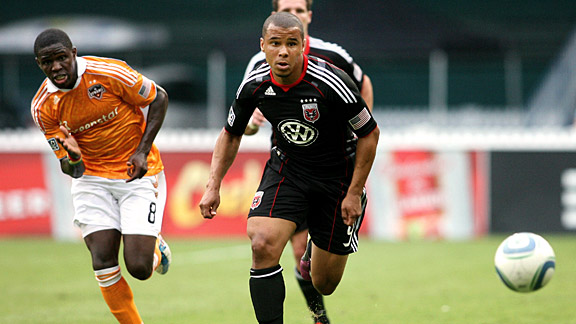 Tony Quinn/Icon SMIA fine for flopping is one stain on an otherwise sterling season for Charlie Davies.
This story appears in the Sept. 5 issue of ESPN The Magazine.
WHEN REAL SALT LAKE STRIKER Alvaro Saborio converted a penalty for the opening goal in a late-July win over San Jose, his coach, Jason Kreis, was more annoyed than happy. That's because Kreis, an ex-MLS striker, knew the Costa Rican forward had blatantly dived to get the call.
"I can't stand when someone falls on the ground acting injured when they haven't been touched," Kreis says. "It's not a necessary part of soccer."
MLS honchos agree. The league has been decried this season for uninspiring parity and dangerous tackling. But it deserves credit for taking the global lead on flopping by using postmatch video replay to punish players who employ the tactic. After the five-member MLS Disciplinary Committee reviewed Saborio's plunge, it unanimously agreed to fine him $1,000 and suspend him for one match.
That may seem lenient to some fans, but it represents a radical step forward for a sport that has been inconsistent in its use of video to identify cheaters.
At the 2002 World Cup, FIFA fined Rivaldo after the Brazilian theatrically grabbed his face when a Turkish player booted the ball off his leg. Yet last summer in South Africa, Ivory Coast winger Kader Keita went unpunished for shamelessly collapsing from a phantom elbow that got Brazil's Kaka a red card. At the club level, then-Arsenal striker Eduardo was famously handed a two-match ban for a PK-earning dive in a 2009 Champions League qualifier against Celtic. UEFA, European soccer's governing body, eventually overturned the decision on appeal.
Regardless of that history, MLS is holding firm on its anti-flopping stance. "In other places, [diving] is at least indirectly lauded as gamesmanship," says chief MLS disciplinarian Nelson Rodriguez, who issued a leaguewide warning after Charlie Davies hoodwinked officials into awarding a late penalty that spared DC United a loss at Salt Lake in June. "We think it's unsightly and speaks poorly of the sport." Davies, who like Saborio wouldn't talk to The Mag for this story, was fined $1,000 but not suspended for the dive.
Rodriguez says MLS is abiding by FIFA rules that allow sanctions for bringing the game into disrepute. He says that future infractions -- including those that occur outside the penalty area -- will be judged with increasing severity.
"Hopefully it makes players think twice," says Bobby Burling, the San Jose defender sent off after Saborio's dive.
Although Burling may have been vindicated by the ruling, he still had to sit out the Earthquakes' next game. Ejections can be rescinded only in cases of mistaken identity.
That's another call worthy of review.
Doug McIntyre is a contributing writer for ESPN The Magazine and ESPN Insider.
ESPN Staff Writer
Doug McIntyre is a staff writer for ESPN The Magazine. He has covered American and international soccer since 2002.
ESPN The Magazine: September 5, 2011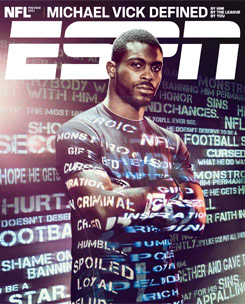 FEATURES IN THE "VICK" ISSUE
MORE FROM THE ISSUE