Commentary
Andy Najar: It was always Honduras
[+] Enlarge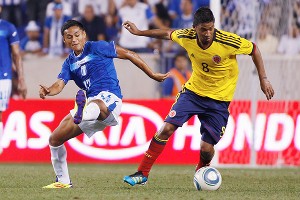 Mike Stobe/Getty ImagesAndy Najar made his debut for Honduras this past weekend, coming on as a substitute in the 69th minute.
HARRISON, N.J. -- Sitting in one of the plush chairs that make up the bench at Red Bull Arena, Andy Najar twitched his left leg nervously. Before him, Honduras was being outplayed by Colombia in a friendly on Saturday. He shifted in his seat, checking and rechecking his cleats. Mercifully, the 40th minute offered him a reprieve from his anxiety. He got up to warm up. In the 68th minute, he was summoned by the coach. In the 69th, he entered the game and started his Honduran national team career. After a few touches of the ball, his nerves were gone. So was the prospect of one of the most technically gifted prospects to wash up on American shores in decades playing for his new homeland.
Najar first showed up at a D.C. United academy tryout at age 14 and was turned away because he was too young. Upon returning the next year, he became a sensation in the development academy. In 2010, at age 17, he gave United no choice but to hand him a starting job, growing into arguably its best player as a versatile attacking rookie. Trading on his speed and improbably mature and well-rounded game, he became the youngest-ever MLS Rookie of the Year and was named his team's most valuable player on the back of his team-leading five goals. (His second season has been a disappointment, attributed to the workload of his first year and increased competition on an improved team.)
The whole experience of getting called up to the Honduras national team for the first time had been a bit overwhelming for Najar, especially when he had to fly by himself from Washington, D.C., to Fort Lauderdale, Fla., to join up with the team. It was the first time he'd ever traveled alone. Even when he'd come slogging into Texas after a 48-hour trek through a desert on the Mexican-American border as an illegal immigrant at age 13, he'd been accompanied by a smuggler.
But on the field, his nerves didn't show. In the 75th minute, Najar put Honduras' best chance of the game (which it would lose 2-0) on the frame, drifting into the center of the field from his spot on the left and thumping a square pass onto the opposing goalkeeper's fists. Ten minutes later, he'd make a mazy run of improbable skill on the right, combining with teammates and turning a defender inside-out before lofting a promising ball across that no teammate anticipated.
ESPN FC on Twitter
Don't miss a moment of the latest soccer coverage from around the world. Follow us on Twitter and stay informed. Join »
Najar was showing why Honduras so badly wanted him to play for them. After discovering that D.C.'s dribbling dynamo was Honduran, Najar had been built up to a national hype in his native land, where he'd been a complete unknown, playing only on the dusty field outside his desperately poor village every day. The question over whether he would choose to represent Honduras or the United States was regular fodder for the papers.
Technically, Najar, who won't turn 19 until March, can still make a one-time switch to the U.S. But he won't. For starters, he has a good three-year wait until he is even eligible for U.S. citizenship and thus could qualify to play for the U.S. And secondly, he doesn't want to.
In the tunnel after the game, Najar beamed. "I'm very, very thankful to the coaches that gave me the opportunity, and I'm really happy for the minutes that I got to play," he said through a translator. His English is coming along and he'll have his GED soon, but he still prefers to speak in Spanish.
"At the beginning of the season, I thought it was going to take a little bit longer," he said of his first call-up. "But I'm just thankful to God that the opportunity came and that the coaches actually called me."
I first spoke to an incredibly shy Najar a year and a half ago, when he'd just turned pro with United. Today, Najar smiles a little more, seems a little more at ease. He still speaks softly, his lips barely moving as he twirls the diamond studs in his ears. He still has almost no facial hair, and he still looks skinny as all hell, as if he came wandering out of that desert not four and a half years ago but yesterday.
"

I had already made up my mind. I knew where I wanted to play and who I wanted to play for.

"

-- Andy Najar on his decision to play for Honduras
The soccer communities in two countries wondered for a long time for whom he would choose to play. Honduras cared more than the U.S. And, as it turns out, it was never much of a choice for the player. It was Honduras all along. "I had already made up my mind," said Najar. "I knew where I wanted to play and who I wanted to play for."
Is there anything the U.S. could have done to change his mind? Perhaps call him up before Honduras did?
Najar laughed. "I had made my decision and it was good from the beginning," he said.
"We won't say there was never a time when we didn't think to explore the U.S. option," said Najar's agent, Chris Megaloudis. "But his heart was always in playing for Honduras. It's the right fit; he's happy and his family is happy. It's what Andy wanted and has wanted for a long time."
Najar wants to keep his family together, too. His mother left his Honduran village for the U.S. in 2002. Not until last year was the entire family back together, when Najar's younger brothers finally joined them in northern Virginia. That's why Najar seems lukewarm toward interest from European clubs. According to Megaloudis, Ajax Amsterdam and a second Dutch club have professed an interest, while two English clubs "put out feelers."
"There's some legit interest, and he will go to Europe this offseason to get training experience," Megaloudis said.
Now that Najar is a national teamer, the glare won't fade, even if he feels he needs more time. The boy from the tiny village is a hot commodity now.
It's usually hard to tell who the ones that got away were until they're further into their careers, when hot prospects become either stars or could-have-beens. We knew Giuseppe Rossi's decision to play for Italy was a blow to the U.S. national team. But we didn't know who Neven Subotic or Vedad Ibisevic were. Chances are Andy Najar will be missed by the U.S. Even if it never had him.
Leander Schaerlaeckens is a soccer writer for ESPN.com. He can be reached at leander.espn@gmail.com. Follow him on Twitter at @LeanderESPN.
Contributing writer, ESPN.com
Leander Schaerlaeckens is a contributing writer for ESPN.com. He has previously written for The Guardian, The Washington Times and UPI.