Commentary
U.S. struggles in front of goal -- again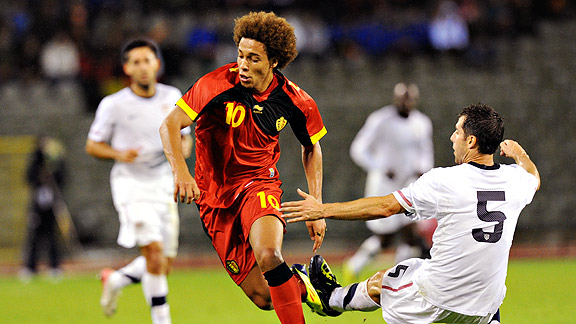 John Thys/Getty ImagesThe U.S. was resoundingly outplayed by Belgium, losing 1-0 in Brussels. It's yet another lesson for Jurgen Klinsmann and his players.
If Jurgen Klinsmann's rebuilding of the U.S. national team is, as he frequently puts it, "a process," Tuesday's 1-0 loss against Belgium in Brussels was one of the lumps his group will have to take on the road to bigger and better things. The U.S. was resoundingly outplayed, and will take away many lessons in how not to combat a technically superior and physical team.
In the first half, the U.S.'s approach was the antithesis of its opening 45 minutes against Costa Rica on Friday. Rather than attack furiously and try to put its opponent on the back foot, it made a measured, controlled start to the game, trying to build gradually. But an initially standoffish Belgium side was soon able to interrupt the American buildup and clog the space. This forced Jose Torres to drop deeper to distribute and isolated Clint Dempsey. As its buildup was clinically choked off after the opening phase, the U.S. created little and was imprecise on the ball, a far cry from its spirited start against Costa Rica.
As the opening act wore on, Belgium patiently wrested control from the U.S. and started bombing forward in numbers, catching the U.S. midfielders upfield, putting together zippy attacks that looked like they would inevitably end in a goal but somehow didn't. Credit Tim Howard (as usual) for keeping the U.S. in the game, as well as admirable defensive organization and a little luck.
In the second half, the U.S. lost all grip on the game. Adding a second holding midfielder in Kyle Beckerman helped shield the defense and slow Belgium down some, but it ground to a halt what little offensive flow the U.S. had in the first half. If it weren't for a distinct lack of urgency by Belgium -- due perhaps to the team's focus on its intense qualifying process for Euro 2012, rather than this friendly -- the U.S. easily could have been picked apart. The Yanks by this point had ceded the initiative entirely to their hosts, and were clumsy in possession and almost nonexistent in attack. The U.S. hadn't exactly pelted the Belgian goal with chances in the first half but got even less dangerous in the second.
ESPN FC on Twitter
Don't miss a moment of the latest soccer coverage from around the world. Follow us on Twitter and stay informed. Join »
For a second consecutive game, the U.S. created very few dangerous attacks. In the 70th minute, Brek Shea sent a cross to Juan Agudelo, which was deflected for a corner. And Dempsey faked his way into the box on the subsequent play, only to shoot right at the goalkeeper. The U.S. also had an 86th-minute header into the net by Maurice Edu dubiously called off.
While this wasn't an altogether bad result for the U.S., the Yanks will want to get the uninspired performances such as this one out of their systems and start scoring goals again before the "process" ends and World Cup qualifiers begin next summer.
Grades (1-10; 10 being the best):
GK, Tim Howard, 6: Howard kept the U.S. in the game during the first half, making two excellent saves on a low, hard shot and another from point-blank range. In giving up Belgium's lone goal, however, he didn't cover himself in glory, letting a savable shot skid under his outstretched arms.
D, Steve Cherundolo, 5: Cherundolo can count himself lucky that he didn't cause any goals on the U.S. side. As the game progressed, he lost his grip on Belgium wingers Eden Hazard and Dries Mertens, getting beaten regularly. Mercifully, Belgium took its foot off the gas after scoring, and Hazard eventually was taken off.
D, Clarence Goodson, 6: Goodson, like most U.S. defenders, had trouble keeping up with Belgium's quick forwards and midfielders, but he was strong in the air and compensated with his strong positioning.
D, Carlos Bocanegra, 6.5: Captain Bocanegra had his defense organized well and allowed it to minimize the damage while Belgium dominated the midfield. He nearly scored an own-goal when he headed a corner inches past Howard's goal, but he could count luck on his side, too.
D, Timothy Chandler, 5: Probably Chandler's worst game for the U.S. and not incidentally the only time in his career he was asked to play on the left. Although he was the only American who could keep up with his man, his runs up the pitch were poor, with cross after left-footed cross missing its target.
M, Maurice Edu, 6.5: Even if Edu wasn't always capable of shutting down Marouane Fellaini and Axel Witsel, he did enough to keep the U.S. defense from getting overrun. He did good work plugging holes, but his poor clearance set up Belgium's goal. In the 86th minute, his headed goal was dubiously called off.
M, Jose Torres, 7.5: Fielded as a central attacking midfielder, Torres was easily the best player on the American side, distributing very well and tracking back when necessary, putting in some crucial tackles and interceptions. On the back of this game, it seemed unimaginable that he's not always been a U.S. regular.
M, Clint Dempsey, 5.5: Dempsey found almost no room to operate for the bulk of the game, as tight as the spaces were held by the Belgian midfield. Thus he was inconsequential until late in the match when he helped set up a few attacks and faked his way into the box, shooting straight at the goalkeeper.
M, Robbie Rogers, 3: In a half of work, Rogers showed what we've known for too long -- he's too slow in his mental and physical processing of the play, and too weak defensively to hold his own at this level. He was rightly subbed out at halftime.
M, Brek Shea, 6.5: Shea was a bright spot on the U.S. offense once again, running at the defense without trepidation and tracking back well. His aggressiveness, despite having played more than 700 minutes since Aug. 13, produced the only danger in the Belgian half for long spells of the game.
F, Jozy Altidore, 5: Altidore held the play up well early in his first and only half of work, but as Belgium took control, he hardly saw the ball, completely starved for service.
Subs
F, Juan Agudelo, 5: Coming on at halftime for the exhausted Altidore, Agudelo wasn't the beneficiary of much service, either. He did make good, sharp runs and carved out a half-chance in the 70th minute, when he almost got on the end of an unexpected Shea cross.
M, Kyle Beckerman, 6.5: Beckerman, added to the fold as an extra holding midfielder at halftime, helped steady the U.S. midfield, stemming the tide of Belgian attacks. Coupled with Edu, he formed a good shield.
M, Jeff Larentowicz, 5: Coming on in the 76th minute, Larentowicz's influence was minimal.
Leander Schaerlaeckens is a soccer writer for ESPN.com. He can be reached at leander.espn@gmail.com. Follow him on Twitter at @LeanderESPN.
Contributing writer, ESPN.com
Leander Schaerlaeckens is a contributing writer for ESPN.com. He has previously written for The Guardian, The Washington Times and UPI.