Commentary
Why Joe Cole is misunderstood
Updated:
September 9, 2011, 2:40 PM ET
By
Michael Cox
| Special to ESPN.com
[+] Enlarge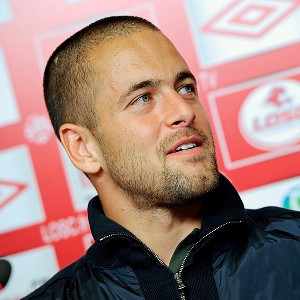 Philippe Huguen/AFP/Getty ImagesJoe Cole is hoping to revive his flagging career at French side Lille.
As a rule, English players rarely move abroad. These days, it's arguable that they don't need to -- the money is in England, as are many of Europe's best clubs -- but even when Italy and Spain find themselves in similar privileged positions, you see their players venturing to different countries. The English stick to what they know, for various reasons -- poor language skills, perhaps, or reluctance to experience different cultures. The lack of knowledge about overseas is arguably one of the many factors that has made English football so insular.
Therefore, Joe Cole's deadline-day move to Lille was one of the more interesting ones of the transfer window. He hasn't moved far. In fact, by virtue of the Eurostar, Cole is closer to his London origins than he was in Liverpool, and can be back in the English capital in less than 90 minutes. Then again, the key to Cole moving abroad is not about distance, it's about a new culture off and on the pitch.
Some believe Cole is the classic Englishman who should have moved abroad sooner. Short, skillful and not suited to a 4-4-2 because he was a central creator when growing up, maybe he would have become a better player away from the Premier League. The problem is, Cole was never as good as was rumored when he was younger. Hyped beyond belief before his professional debut, his early days at West Ham were encouraging, but nothing to suggest he was England's next superstar. When he played centrally, he simply wasn't consistent enough to influence the game on a regular basis. That's fine. He was a youngster and these things are natural. But when he was shoved out wide, people complained that he was being forced to play out of position, a view that has persevered to this day.
Cole never looked good as a central player, certainly not in the creative sense. He was named West Ham's captain at a ridiculously young age in 2002-03 and won the club's player of the year trophy that season, as the Hammers were relegated. That award was as much about his work ethic and his ability to fight for the cause as it was for his playmaking abilities.
[+] Enlarge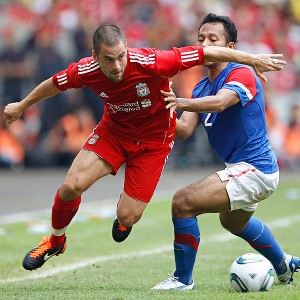 AP Photo/Vincent ThianCole has long been typecast as a central midfielder when, in fact, he's best suited to play out wide in a 4-3-3.
Contrary to the view that Jose Mourinho ruined Cole, the Portuguese manager's arrival at Chelsea was actually the best thing that happened to him. In his first season at Chelsea, in 2003-04 under Claudio Ranieri, Cole was almost an irrelevance -- he didn't complete 90 minutes in a league game until April, on the day Chelsea conceded the title with a defeat at Newcastle. He was something of a mystery, a loose bundle of attributes that might stand out in an average side, rather than a useful player for a successful club.
Under Mourinho, Cole became a top-quality player as a wide player in a 4-3-3, rather than as a No. 10. Despite early problems with Cole's defensive positioning, Mourinho understood what he was -- a battler, and someone who could occasionally provide magic in the final third, but not someone who would run a game. His contributions were crucial. He got the winner home and away against Liverpool in 2004-05, and in 2005-06 sealed the title with a superb goal against Manchester United, getting into the PFA Team of the Season that year. Plus, he was perfectly capable of playing good football once Mourinho left the club; Cole was named Chelsea's player of the season in 2007-08 under Avram Grant.
He was a useful player in a functional role. As Italian football coach Arrigo Sacchi says, "A player needs to express himself within the parameters laid out by the manager." Mourinho provided those parameters, and Cole never showed enough quality to justify a role without parameters -- in other words, a free role in a central position between the lines.
Yet, because that had been expected of him as a teenager, that is the impression that stuck. Cole has never been taken for what he is. Instead, he's always been compared to what people thought he might be. The same is probably happening with Theo Walcott. Over the past two seasons he's become a useful player in Arsenal's system who has made some key contributions. Yet because of his premature inclusion in the England World Cup squad of 2006, when it was assumed he was some kind of superstar, he's suffered. Walcott probably won't ever be a superstar, but he's a decent player in a wide position, as was Cole. When Cole signed for Liverpool last summer, Roy Hodgson wanted to play him as the No. 10 in a 4-2-3-1. Why? Cole had proved himself to be a successful wide player, not a central one. He didn't the last half of his disastrous debut against Arsenal before being sent off, and his Liverpool career never recovered. Or rather, it didn't even really get started.
ESPN FC on Twitter
Don't miss a moment of the latest soccer coverage from around the world. Follow us on Twitter and stay informed. Join »
The important thing, then, is not that Cole is going abroad, but that he's going to a club that will play 4-3-3, and -- according to Cole himself in a radio interview yesterday -- he'll be used in one of the wide roles. Those who think Cole will be suited to abroad believe he'll be freed from the shackles of English football, but it's not immediately clear why Cole would suit the French game, which is more defensive than the Premier League (2.34 goals per game last season, compared to 2.80 in the Premier League), and about as physical.
It does, however, represent the chance for Champions League football for Cole, something that wasn't on offer in England. More importantly, there's the chance for a fresh start. French football fans are no doubt aware of Cole, but because of what he was at Chelsea, rather than what he was billed as when he was a youngster. He might not even regain his Chelsea form, but the more modest expectation in France, rather than cultural differences or footballing changes, is why Cole has a chance of being seen as a success in Ligue 1.
Michael Cox is a freelance writer for ESPN.com. He also runs zonalmarking.net.
Michael Cox
ESPN.com writer