Commentary
AC Milan stuns Barcelona
[+] Enlarge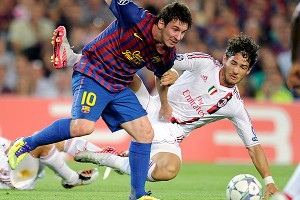 Lluis Gene/AFP/Getty ImagesFor Pato and AC Milan, it was a classic Italian performance -- absorb pressure, allow Barcelona most of the possession and take your chances.
The main attraction on the opening night of the Champions League, Barcelona versus AC Milan, didn't disappoint, with Milan bagging a dramatic 92nd-minute 2-2 equalizer. While the group stage has been dull in recent years, this game Tuesday between European titans was no such thing.
Here's what we learned:
1. Barcelona's central defense is a problem
The defending European champion couldn't have started any worse. In all of 23 seconds, Pato received the ball at the halfway line, and spliced Barca's makeshift central defense of Javier Mascherano and Sergio Busquets, who were thunderstruck in the middle of the park. Unleashed, Pato scampered on through to goal and slipped it under Victor Valdes to put Milan ahead with the competition's fifth-fastest goal of all time.
Aside from an early lapse in organization, the goal exposed one of Barca's few flaws: its lumbering center halves. Busquets, who let Thiago Silva tower over him to head home the 2-2 equalizer on an extra-time corner, and Mascherano aren't natural central defenders, and are merely filling in for Carles Puyol and Gerard Pique. But among those four, Barca hasn't a single central defender with suitable pace. Left back Eric Abidal can play in the middle, but moving him there weakens his native flank, and he isn't a good enough one-on-one defender up the middle.
ESPN FC on Twitter
Don't miss a moment of the latest soccer coverage from around the world. Follow us on Twitter and stay informed. Join »
2. Milan's tactics were bizarre, cowardly and, ultimately, fruitful
While minnows can be forgiven for ducking out of a fight with Barcelona and opting for damage control, titans of the sport can't. Much of Milan's approach to this game was cowardly. Not to mention deeply illogical. After Milan went ahead on that early goal, it had the better of the chances in the first 15 minutes, giving Barca's back line all kinds of trouble with its quick break-outs. Then the visitors decided to roll over and play dead for 60 minutes.
Milan receded into its own half and reverted to the old Italian Catenaccio approach, playing 11 men behind the ball and absorbing Barca's pressure, as the Catalans were allowed to pelt the Italian box with passes and shots. In the 33rd minute, while still ahead, Milan coach Massimiliano Allegri took off an attacking midfielder in Kevin-Prince Boateng and replaced him with Massimo Ambrosini, a defensive midfielder.
Inevitably, this approach was punished, after Lionel Messi managed to squirm through the dense Italian defense, cut around Ignazio Abate and laid the ball back for Pedro, who had an empty goal to make it 1-all. Yet Milan persisted with its negative tactics. In spite of Milan's dominance early on, Barca had 80 percent of possession in the first half. Milan completed just 12 passes in the opposing half, to Barca's 272 in the opening 45 minutes, according to ESPN Stats & Information's Albert Larcada.
Then, when Barca pushed through to make it 2-1 on a splendid David Villa free kick in the 50th minute, Allegri responded with another counterintuitive move, taking off Antonio Cassano, one of his two forwards, for defender/midfielder Urby Emanuelson.
Milan, more than anything, seemed not to want to get embarrassed, digging itself in early even though it had sent Barcelona scrambling to not lose control of the game. For a clash between the Italian and Spanish champions, this was a disappointing approach for the Milanese to take.
But in the 78th minute, Allegri reversed course again, taking out holding midfielder Mark van Bommel and inserting playmaker Alberto Aquilani, further confusing his own tactical narrative. This nevertheless had a positive outcome, as Milan became more dangerous and eventually nabbed that equalizer.
Be that as it may, Allegri's handling of this game will have those who paid close attention scratching their heads. Men with Magic 8-balls or relying on astronomy (ahem, Raymond Domenech) have been more consistent in their decision-making.
3. Barca's depth might be an illusion
Barcelona spent considerable time and effort this summer adding some much-needed depth to its squad. Cesc Fabregas came back from Arsenal to back up Xavi and Andres Iniesta in central midfield, while Alexis Sanchez was bought from Udinese to help pad the wings. Yet with Sanchez out for several weeks and Iniesta being subbed off early, the injury bug has already depleted Barcelona's options. By all appearances, Pep Guardiola has a squad that is fairly injury-prone, and the depth it has assembled might not be enough to cover it throughout what will be another demanding season.
Leander Schaerlaeckens is a soccer writer for ESPN.com. He can be reached at leander.espn@gmail.com. Follow him on Twitter at @LeanderESPN.
Contributing writer, ESPN.com
Leander Schaerlaeckens is a contributing writer for ESPN.com. He has previously written for The Guardian, The Washington Times and UPI.