Commentary
New-look Chelsea, same old Torres?
Updated:
September 14, 2011, 7:52 AM ET
By
John Brewin
| ESPN.com
[+] Enlarge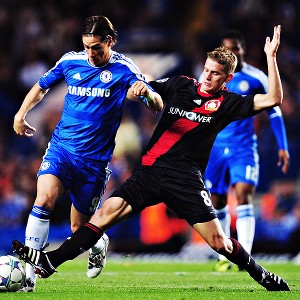 Jamie McDonald/Getty ImagesChelsea won its opening match in the Champions League, and while Fernando Torres played his part, he didn't score a goal.
LONDON -- Speed would be of the essence. Could the accompaniment of the spring-chicken legs of Daniel Sturridge and Juan Mata convert Fernando Torres into the fleet-footed goal machine of lore? Here was a chance to answer what is a pertinent question about the new-look Chelsea.
"The problem is solved," manager Andre Villas-Boas said. "The investigation is over." Yet he was speaking of Chelsea's inquiry into Torres' critical or otherwise comments about some of his teammates on his website rather than the pressing concern of whether a 50 million pound striker will actually score again.
The Champions League match between Chelsea and Bayer Leverkusen on Tuesday looked as if it had ebbed into more Torres turmoil until an injury-time burst of the old Fernando saw him turn provider for Mata. With the Chelsea fans in the Shed End singing his name, Torres salvaged something from the evening.
His also had been the touch to supply David Luiz with Chelsea's timely opening goal just as Bayer Leverkusen began to look capable of securing an away point. Here were signs that Torres can yet be a team player to offset his own troubles. However, the negative headlines will continue because in front of goal, Torres still looks short of the precision and calm that will convert him once again into a goal machine.
For much of the game, until a late arrival as a substitute, there would be no Frank Lampard behind him, while John Terry completely sat out the game ahead of Sunday's visit to Old Trafford. Raul Meireles, the recently purchased midfielder who is not quite Luka Modric, was handed the burden of supporting a three-pronged front line and showed promise, although mostly in the form of a greater mobility than his English counterpart Lampard. A different supporting cast did not supply the answer to a Torres riddle in which the original question is becoming difficult to remember.
From an early flick that looped over Bernd Leno's goal, Torres looked zestful, even being booked for a lunging foul that was more enthusiastic than vicious.
The 10th minute saw Mata play him into a scoring position, and he seized on the ball with haste -- far too much haste, in fact, as his shot squirted toward Bayer keeper Leno. Torres' presence on the ball in such areas always results in squeals of expectation from Chelsea's fans. They desperately want him to succeed; their embarrassment matches his. They do not like to see Roman Abramovich waste his money. On the sidelines, a youthful new manager kicks every ball, his expensive suit holding up impressively to a series of squatting exhortations. He, too, saved his moments of special excitement for when Torres was in sight of goal.
Villas-Boas spent much of the game in terse conversation with assistant Roberto Di Matteo, contorting himself into yoga-like poses and pronounced facial expressions. Whenever either team mounted an attack, he would creep to the edge of his technical area in anxiety, looking a world away from the studied calm of a polished media persona. For much of the game, until two substitutions immediately preceded Luiz's opener while not actually providing it, Villas-Boas was probably his team's most impressive performer.
A Daniel Sturridge shot in the 33rd minute, which previously had been the best piece of on-field Chelsea enterprise, was saved well to the left of Leno. A minute later, Torres tried from similar distance, but his kick resembled more Jonny Wilkinson in Dunedin than his attacking foil's well-struck and well-aimed half-volley.
Both Mata and Sturridge showed flashes of what their purported attacking pivot might produce, with the younger Spaniard's busy motion a threat throughout. Mata's size and gait remind of former Arsenal winger Marc Overmars. He possesses a similar ability to the Dutchman in getting into scoring positions through direct and speedy running. Sturridge, a young man never short on confidence, staged his own audition to be the main man when showing off some ambitious long-range shooting.
Meanwhile, the antsy demeanor of Villas-Boas reflects a desire to get things right quickly. Chelsea has a perfectionist at its helm. Remember, this is the man who expressed his disappointment at Porto's Europa League win in Dublin because he was not entertained by his team. His anxiety is not misplaced; this Chelsea is yet to flow even though he is yet to lose as its manager.
He could have been talking of himself when he said "there was always emotion during the game" as he mounted an optimistic defense of an evening in which experimentation did not halt victory but did not offer much in the way of serenity, either. "The team gave a very good collective effort throughout the game," is typical Villas-Boas, who often answers questions in English that is more technical discourse than flowing prose.
The dropping of both Terry and Lampard supplied something of a marker, perhaps symbolic of a new Blues. It signifies a manager happy to take on big decisions that his predecessors either ducked or did not have to face. It is early days, but Villas-Boas is clearly searching for his own formula among a battle-weary, tried and perhaps no longer trusted bunch. His best performers here were the new breed of Mata, Sturridge and Meireles, with due deference to Nicolas Anelka, who sparkled when he replaced Sturridge. Despite their showings, the greatest question Villas-Boas still faces is that the player he has to make work, to pay off for his paymaster, could actually prevent that formula from working.
At least there were signs that Fernando Torres can finally flourish at Chelsea. And now for that goal …
CHELSEA VERDICT: A focus on attack, with just John Obi Mikel playing anything like a deep midfield role, meant the defense often was exposed. Had Michael Ballack put away a one-on-one with the score at 0-all, Villas-Boas' experimentations would have faced public fire. However, Luiz's goal was, according to his manager, straight from the training ground, a sign that the new man is having an effect.
BAYER VERDICT: Coach Robin Dutt said his aim had been to get to halftime with the score goalless and push on from there to victory. The plan might have worked had Ballack found the net and Andre Schurrle taken another chance. But Ballack was subbed to standing ovation, and soon the tide turned as Luiz scored a minute later. For Bayer, it was perhaps a reflection of a collective lack of experience at this level.
MR. CHELSEA: Rested for this occasion, John Terry cut a relaxed figure as he ambled through the Stamford Bridge concourse and media room in T-shirt, jeans and what can only be described as a "fashion ruffle" across his chest. Will that catch on? Or is that considered fashion these days? Your correspondent is in no position to comment further.
John Brewin
ESPN FC