Commentary
Inter turns to Ranieri after 3-4-3 disaster
Updated:
September 22, 2011, 3:13 PM ET
By
Michael Cox
| Special to ESPN.com
[+] Enlarge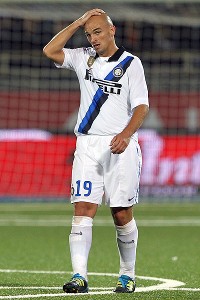 Marco Luzzani/Getty ImagesBreaking point: Esteban Cambiasso was left searching for answers after Inter lost to Novara in a match in which Novara had 36 percent of possession yet nine shots on target to Inter's two.
It says a lot about Inter president Massimo Moratti that, despite giving Gian Piero Gasperini only five games as coach, you could see the sacking coming a few weeks ago. This is a man who has now appointed 16 coaches in 16 years.
Then again, it says a lot about Gasperini that despite being given no time to settle into the job, it's rather difficult to defend him. This is a man who guided Inter to four defeats and a goalless draw in five games, an abysmal record for a side expected to be challenging for Lo Scudetto. No one comes out of this looking good, and it is a five-game spell that both president and coach would be happy to erase from the record books.
It is easy to judge in hindsight, but Gasperini's appointment never really made sense for Inter on sporting grounds. The defining aspect of Gasperini's coaching ideology is his love of a 3-4-3 formation. He worked wonders at Genoa in 2008-09 with a side including current Inter players Diego Milito and Thiago Motta, ordering his side to play with width, energy and attacking drive. If you appoint Gasperini, you're more or less appointing a 3-4-3.
Yet it was clear that Moratti didn't want the side to play that way. When asked about the new formation before the season had started, Moratti insisted that Gasperini "would eventually change." Moratti is hardly regarded as a fine footballing philosopher, but perhaps he was right. Inter seemed completely uncomfortable with the new system, with the aging backline unable to cover the space on the flanks and arguably too set in its ways to embrace change.
Ironically, Gasperini's first error as Inter coach was to move away from the three-man defense, at the only time it appeared to be working. With a couple of players out injured and transfers not yet confirmed, he fielded an unusual 3-5-1-1 system in the Italian Super Cup against AC Milan, and found himself up 1-0 at halftime through Wesley Sneijder's goal. Inter had a spare man at the back against Zlatan Ibrahimovic and Robinho and were enjoying 58 percent of possession.
Then Gasperini decided to switch to a 4-4-1-1 shape. Javier Zanetti was moved back from midfield, Cristian Chivu went from center back to left back, and Joel Obi pushed on. Ricky Alvarez, the best player in the first half down the left, was switched to the right. It all seemed unnecessary when Inter had been on top, and the switch contributed to a 2-1 loss.
"We played less well after the break in defense, especially compared to what we had done in the first half," Gasperini admitted afterward. "It's a real shame, as we had the game in hand and deserved to be in that position."
[+] Enlarge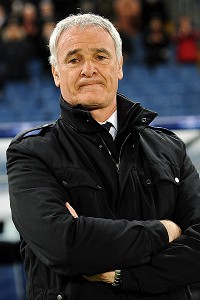 Andreas Solaro/AFP/Getty ImagesSerie A's de facto firefighter, Claudio Ranieri has been appointed to save Inter's season.
Next was the league trip to Palermo on the opening day of the season, where the 3-4-3 debuted. In a numerically neat coincidence, Inter lost 4-3 -- and was outplayed the entire game. Worryingly, it was up against a standard 4-4-2, the type of system the 3-4-3 should thrive against since you have a spare man at the back, you're even in midfield and you can occupy the opposition fullbacks.
Nevertheless, Inter was exposed repeatedly, particularly at the back. Fabrizio Miccoli dragged Lucio out of position, Walter Samuel played too high up and should have been sent off, and Zanetti is plainly not a centre back. A 4-3 defeat flattered Inter.
Gasperini's choice of formation against Roma was also odd. His opposite number, Luis Enrique, made the surprising decision to start two midfielders, Rodrigo Taddei and Simone Perrotta, at fullback. What did Gasperini do? He went for a narrow 3-4-1-2 that didn't test them. That game ended 0-0.
The crucial defeats, however, were against Trabzonspor in the Champions League and Novara in Serie A. The Trabzonspor result was unfortunate and could have been considered a blip in isolation, but the 3-1 Novara defeat demonstrated how easy it was to expose Inter's defense. Novara had just 36 percent of possession, yet recorded nine shots on target to Inter's two. By this stage, Gasperini had chopped and changed so much that the issue wasn't the formation, it was the lack of confidence and self-belief -- certainly from the team, and probably from the manager. It was over.
In comes Claudio Ranieri, a man harshly ridiculed for his failure to win major trophies, but now the natural choice when a side needs to avert a disaster during the course of a season. In 2006-07, he took over Parma with the club on course for relegation, averaging 0.68 points a game. Ranieri bumped that up to 1.69 under his leadership, guiding them to survival.
In 2009-10, he took over at his hometown club, Roma, after replacing Luciano Spalletti. The Giallorossi had lost their first two games of the season, but Ranieri got them back in the title hunt -- briefly overtaking Inter to top the table in March -- before they ran out of steam late on.
It's a near-identical task at Inter, which still possesses a talented squad full of experienced Serie A players. Ranieri took charge of training Thursday, just a couple of hours after being confirmed in his position -- a neat summary of the quick impact expected of him. He has become Serie A's de facto firefighter.
He's also been given a two-year deal, but which Inter coach ever sees out his contract? Not Gasperini, not Leonardo, not Rafael Benitez, not Jose Mourinho. This is likely to be a one-season job, and Moratti seems to be slipping into the short-term-ism that dominated his early, unsuccessful years as president. Ranieri will extinguish the flames, but Inter will have to look elsewhere for a long-term, fire-resistant construction.
Michael Cox is a freelance writer for ESPN.com. He also runs zonalmarking.net.
Michael Cox
ESPN.com writer