Commentary
QPR's intriguing journey back to EPL
Updated:
September 25, 2011, 6:01 PM ET
By
Ravi Ubha
| ESPN.com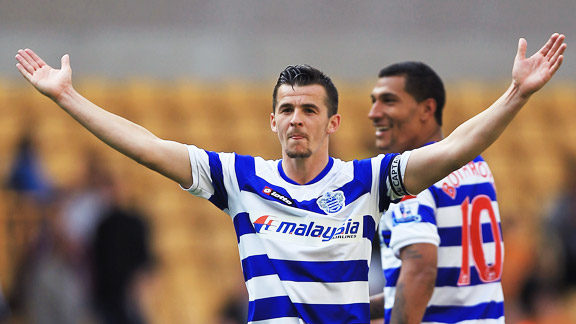 Matthew Lewis/Getty ImagesJoey Barton is one of a number of summer signings given the chance to revive their careers as QPR returns to the Premier League.
Times are good at Queens Park Rangers, London's newest entrant to the Premier League.
Any team promoted from the second tier wants a decent start to life at the top, and through five games, QPR sits a respectable ninth in the standings. Even better: One of its major rivals, Fulham, languishes in the relegation zone.
Chelsea, the archenemy, predictably rests above QPR, but the fans know they can't have everything, or at least not yet.
"It's very positive," Peter Hegarty, a 59-year-old season-ticket holder for the past 20 years, said succinctly.
And like him or not, recent arrival Joey Barton deserves a share of the credit.
Led by Barton, Rangers, back in the Premier League following an eventful 15-year hiatus, crushed listless Wolves 3-0 away last week. QPR hopes for a maiden home win when Aston Villa visits west London in Sunday's lone Premier League fixture.
[+] Enlarge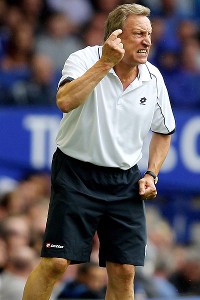 Alex Livesey/Getty ImagesNeil Warnock's most notable managerial stint came at Sheffield United, which earned promotion to the EPL during his time at the helm.
To say that Barton, a Liverpool native, is controversial puts it mildly. Here's a guy who attacked a teammate in training while at Manchester City, was involved in a fracas with a young Everton fan on a preseason tour in Thailand, spent 2½ months in prison for assault and mooned Everton supporters. Barton routinely goes in hard on tackles but isn't averse to going down at the faintest of touches himself.
And that's the truncated version.
He was, unsurprisingly, public enemy No. 1 at Wolves since he clashed with tough midfielder Karl Henry last season, and the dislike intensified when, booed late in Saturday's affair after a foul by Henry, he held up three fingers and formed a zero to rub in the score.
According to Henry, Barton boasted throughout the game about his weekly wages. Henry, for those wondering, said it was £80,000.
"He has tried to reinvent his image, but it's probably the same old story," Henry told Sky Sports.
But Barton, who frequently takes to Twitter to express views on all sorts of subjects, can still play -- although he's probably not the best English midfielder, as he claimed last spring.
He drew interest from Arsenal and Tottenham prior to joining QPR from Newcastle, claiming this week a move to the Gunners hit the skids when he confronted Arsenal's Gervinho on the season's opening weekend.
"I think he's one of those guys you want to have in the team," former Rangers striker Paul Furlong, revered at the club, said in an interview. "He's one of those guys very passionate about the game, he loves the game, almost wears his heart on his sleeve. And he's got the experience of playing in the Premiership, having played at some big clubs. I'm sure he can bring a lot to QPR."
Barton is far from the lone interesting character at QPR. Throw fellow transfer imports Jay Bothroyd, Kieron Dyer and Shaun Wright-Phillips -- all with England experience, like Barton -- into the mix.
QPR vs. Villa: Justice served?
A dubious penalty, another not given, a red card and a player putting the ball into his own net.
Just another day in the Premier League, eh?
When Aston Villa defender Richard Dunne scored the ninth own goal of his Premier League career three minutes into injury time to give newly promoted Queens Park Rangers a point in a 1-1 draw, justice appeared to be served.
Earlier in the second half, referee Michael Oliver awarded Villa a penalty at Loftus Road as the speedy Gabriel Agbonlahor went down following a faint shirt tug from Frenchman Armand Traore.
Minutes later, Villa fullback Alan Hutton went unpunished for a rather blatant hand ball in his own box.
You knew fiery QPR boss Neil Warnock would let loose afterwards.
"It's disappointing to be talking about the decision but I don't think it's given anywhere else," Warnock told Sky Sports. "Not one Aston Villa supporter appealed for a penalty on that. I bet there's 25,000 more tugs everywhere else on the pitch. Referees should be seen and not heard. For me, it's everything about the referee today and it takes away from our performance."
QPR regained ninth, one spot behind still-unbeaten Villa. --RU
Many would call Bothroyd, an imposing striker, an underachiever. At 29, he's already with his eighth team. The injury-prone Dyer, who once traded blows during a game with temperamental teammate Lee Bowyer at Newcastle, has made a mere 40 appearances in the last four seasons; and Wright-Phillips didn't live up to expectations at Chelsea and in a second stint with Manchester City.
Then there's keeper Paddy Kenny, a favorite of manager Neil Warnock. Kenny served a ninth-month suspension for ingesting -- apparently inadvertently -- a banned substance, ephedrine.
Warnock divides opinion, too, but his teams generally overachieve. He worked wonders in leading QPR to the Championship title when no one expected it, getting the best out of attacking midfielder Adel Taarabt.
"He's a real motivator," said Furlong, who had a brief loan spell at Sheffield United in 2002 when Warnock was at the helm. "He's what you would call a man manager. He'd put his arm around you. He'd want to know any problems off the field because you then may not perform well on the field.
"He's got that knack of getting the best out of individuals and a collective team. How he does it, you don't know. If you did, you could bottle it up and give it out."
Warnock did his thing despite not getting along with two of QPR's newly departed owners, the uber-rich Formula One duo of Bernie Ecclestone and Flavio Briatore.
When they rescued the club in 2007, along with reportedly the richest man in the U.K., Lakshmi Mittal, QPR fans had visions of following Chelsea's path to the top. The cash, however, wasn't pumped in a la Roman Abramovich. Further, managers came and went at an alarming pace.
"The early days, when they were bringing Naomi Campbell to the games and a couple of other supermodels, you were thinking this place was going to be going in the right direction," said Furlong, now working with the under-13s at QPR and serving as a player-coach at non-league St. Albans City.
More discontent among the fans ensued. QPR hiked ticket prices in May, leading to the resignation of popular vice chairman and Warnock ally Amit Bhatia, Mittal's son in-law.
It could have been worse. Earlier in May, QPR averted a points penalty relating to the transfer of Argentinean Alejandro Faurlin. Such a sanction could have dropped QPR to a playoff position.
[+] Enlarge
Matthew Lewis/Getty ImagesJourneyman forward Jay Bothroyd joined QPR having already played for seven other clubs during his career.
"There was a huge sense of euphoria that day because it could have all gone wrong," Hegarty said.
Most of the tension is gone.
Tony Fernandes, founder of successful low-cost carrier Air Asia and a longtime West Ham fan, became majority shareholder in August. Out went Ecclestone and Briatore. Bhatia returned.
Harmony.
"They're both football people who have common sense, and when you have those ingredients together, the recipe is usually success," Warnock told reporters. "That's how I look at it. It's a fantastic day for me personally."
Fernandes immediately endeared himself to the QPR faithful by lowering ticket prices and giving Warnock cash to spend. In came Barton and Wright-Phillips, the two higher profile signings. QPR was even linked with David Beckham, signaling its intent.
"For Tony Fernandes to come in and drop the ticket prices was a great gesture in my opinion because he could have easily said, 'Let's keep it the way it is this season but we'll look to address it next season,'" Furlong said. "He made a statement right away. With Amit Bhatia, it's good for the club to have people that have their heart in the club in and around the club."
Furlong thinks QPR, which won its lone trophy in 1967, can finish mid-table this season.
Hegarty would take less.
"It would be great if they were 15th and not 17th, but definitely it's all about survival," he said.
London-based Ravi Ubha covers soccer and tennis for ESPN.com. You can follow him on Twitter here.