Commentary
Kyle Beckerman's second chance
[+] Enlarge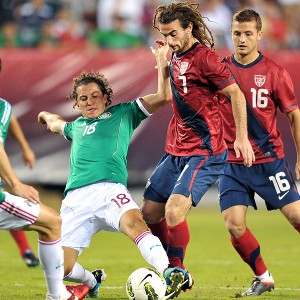 Drew Hallowell/Getty ImagesKyle Beckerman is the biggest beneficiary of Jurgen Klinsmann's new approach to coaching the U.S. national team.
When the winds of change come cutting through, it's hard to predict what they'll sweep away and what they'll bring in its stead.
Sometimes, even the beneficiaries of that change are taken aback by it. So when new U.S. national team coach Jurgen Klinsmann not only called up Real Salt Lake defensive midfielder Kyle Beckerman but also threw him straight into the starting lineup in Klinsmann's first game in charge against archrival Mexico on Aug. 10, well, needless to say, Beckerman was surprised. Although he had orbited the fringes of the national team for years, collecting 11 caps from 2007 through 2010, he was a 29-year-old MLSer with iffy technique previously deemed unfit for the international level. The sort of player who was good enough to play against minnows during the group phase of the Gold Cup, or the initial stages of World Cup qualifying, but probably not much use after that. In former coach Bob Bradley's final 22 months in charge, Beckerman played 137 minutes for the national team, the last of them coming on Feb. 24, 2010. But there he was, starting against Mexico.
"Yeah, I was surprised," said the dreadlocked Beckerman. "[Bob] Bradley got fired and maybe a week later Jurgen was the coach. But I didn't want to get my hopes up. For a while, I thought it was kind of a closed door for me. Things change quickly. All of a sudden -- coaching change and I get in there."
Beckerman was a revelation. Playing in the back of a midfield triangle, he got in the way of myriad Mexican passes and generally helped stymie the tide of El Tricolor's attacks, playing all 90 minutes. Against Belgium on Sept. 6, he was subbed in at halftime to seal off a defense getting overrun and helped slow down the opposition. Three games into Klinsmann's reign, Beckerman logged 135 minutes, two shy of his total for 2010 and 2011 under Bradley.
Klinsmann was widely expected to overhaul the national team program from top to bottom. But he spent more time recycling and retooling Bradley's castoffs throughout his first weeks in charge.
ESPN FC on Twitter
Don't miss a moment of the latest soccer coverage from around the world. Follow us on Twitter and stay informed. Join »
Trying out several erstwhile discarded midfielders and defenders, Klinsmann emerged from his first games with young, gunslinging FC Dallas winger Brek Shea, who looked intimidated in two games under Bradley but self-assured and dangerous under the German. Even one-time punch line Robbie Rogers showed flashes of promise, although he isn't good enough to play at the international level. But Beckerman was the real find, like a priceless antique ceramic doll procured at a yard sale for a quarter. Only with dreadlocked hair.
Klinsmann has spoken at length about empowering people, allowing them to function inside their own parameters and letting them make mistakes. "Jurgen is really expressing that, making sure everybody knows that," said Beckerman. "Jurgen's been really outspoken and convincing."
This has resonated with Beckerman. "He's brought a lot of positive energy to the team, and he wants guys to go out and express themselves and try to play without any fear," he said. "It's been a joy to play under Jurgen Klinsmann."
The nurturing environment fostered by Klinsmann's nascent regime has allowed those less secure in their place on the national team to settle in, safe in the knowledge that they will get time and confidence. "I've definitely felt more comfortable," said Beckerman.
That comfort bred his breakout performance, which his club teammates at Real Salt Lake are astonished they didn't see Beckerman deliver sooner. "He'd been called in multiple times but he just wasn't in favor, I think," said RSL goalkeeper Nick Rimando. "But he's proven himself in the league that he's one of the best, if not the best, defensive midfielders."
"What surprised me wasn't that he got called in but that he's gone so long unrecognized," said defender Nat Borchers. "He's been such an integral part of this team for so many years. We can attribute most of our success to having him on our team. I was actually shocked that it's taken so long for him to become a mainstay on the [national] team."
But a page appears to have been turned in Beckerman's national team career. "From everything that I've talked to Jurgen about and from everything that I'm reading," said RSL coach Jason Kreis, "I think that Kyle is definitely in his long-term plans."
In the end, what will largely determine a national team coach's fate isn't necessarily the performance he extracts from his star players, who don't require much management, but how he can get the most out of role players like Beckerman.
Now, after years of false starts throughout an intermittent national team career, Beckerman is finally being put to good use.
Leander Schaerlaeckens is a soccer writer for ESPN.com. He can be reached at leander.espn@gmail.com. Follow him on Twitter at @LeanderESPN.

Contributing writer, ESPN.com
Leander Schaerlaeckens is a contributing writer for ESPN.com. He has previously written for The Guardian, The Washington Times and UPI.