Commentary
The joy of rooting for Ajax in Europe
[+] Enlarge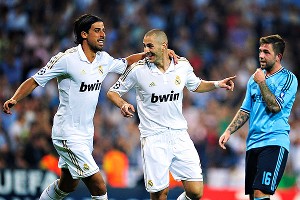 Denis Doyle/Getty ImagesReal Madrid easily defeated Ajax in Match Day 2 of the Champions League.
I grew up as a fan of Ajax Amsterdam. Because I was Dutch, all my friends in school were Ajax fans, and because around the time I got very heavily and irreversibly into soccer, at age 10 in 1994, Ajax was the best team on the planet with a dazzling young nucleus.
They were halcyonic days I am both happy and sad I lived through -- happy because I got to see it; sad because I now know better. Ajax won the 1994-95 Champions League, returned to the final the next season (losing on penalties to Juventus) and pushed to the semifinals the year after (again losing to Juve). Ajax, in spite of coming from the modest Dutch league and tiny Netherlands, could hang with anybody, beat all comers.
But Ajax was the final dynasty to emerge from one of the smaller leagues, the last big club from a little country. In December 1995, the European Court of Justice pronounced the Bosman ruling, (rightfully) granting European soccer players their free agency and banning caps on foreigners, unleashing the full force of capitalism on football. With talent now flowing without restriction, the little big clubs receded from the European elite, unable to generate sufficient revenue and spend what needed to be spent.
All the concentration of star power, and the commensurate destruction of competitiveness in continental play, made for better soccer and spawned an era of unprecedented riches propping up the game's biggest clubs both on and off the field. But if your team is not among the dozen or so haves, but one of the countless have-nots, forget it. You will never again know what it's like to be among the best.
And so, ever the stubborn Ajax supporter, I am relegated to taking delight in afternoons like Tuesday. In the second day of this year's Champions League group stage, Ajax played one of the world's best and brightest clubs, Real Madrid, which it had twice beaten comprehensively in 1995-96. Despite of losing 3-0, Ajax put in an admirable performance. In the first minute, Cristian Eriksen got off a hard shot from the edge of the box, forcing Madrid goalie Iker Casillas to make a cat-like save. Ajax came out of the gate so unintimidated that it visibly irked Casillas, the Madrid captain. Ajax created more decent chances in the 10th, was unfailingly aggressive and, as Louis van Gaal, who engineered those mid-1990s triumphs prescribed, played from its own strength, rather than seeking to minimize that of their opponents.
ESPN FC on Twitter
Don't miss a moment of the latest soccer coverage from around the world. Follow us on Twitter and stay informed. Join »
And then reality caught up. In the 25th, 41st and 49th minutes, Madrid slashed simply through the Ajax defense and scored through Cristiano Ronaldo, Kaka and Karim Benzema, respectively. But Ajax kept trying, kept going, kept circulating the ball, kept creating chances, yearning for possession, a way back into the game and respectability.
These are our victories now as fans of the little big club: We lost badly but we weren't bad. That and the play of the likes of 19-year-old Danish playmaker Eriksen, who marched onwards on his path to greatness. We enjoy them while we can. Because if Eriksen is still here next season, he won't be the year after. That Luis Suarez stayed until a few days after his 24th birthday was a miracle. That Wesley Sneijder stuck around until he was 23 was too. But they left. They always do. Cruyff did and Neeskens did and Rijkaard, van Basten, Bergkamp, Seedorf, Kluivert, the De Boer brothers, van der Sar, van der Vaart, Ibrahimovic and Hundelaar did. They all do.
There will be the odd fluke, like the 2002-03 Champions League, when Ajax was minutes from the semifinals, before that blasted Pippo Inzaghi snuck in the sort of goal he built his career on and put eventual winners AC Milan through instead. But, by and large, just participating in the Champions League is as good as it gets for the little big club now. And that makes nights like tonight one of the last wells of continental glory in the existence of the Ajax fan.
Ajax won't win the Champions League this year, or ever again. So today I celebrate a game in which Ajax fought valiantly, didn't shrink from the challenge and tried to make the plays. A game lost 3-0 but in which Ajax was at least as good as Real but for a few decisive moments, even if it was overmatched at each and every position -- a small battle won in a war already lost. But today I too mourn the Ajax of yore and its limitless upside, and the Ajax of today, for its tomorrows will bring less than its yesterdays.
Leander Schaerlaeckens is a soccer writer for ESPN.com. He can be reached at leander.espn@gmail.com. Follow him on Twitter at @LeanderESPN.

Contributing writer, ESPN.com
Leander Schaerlaeckens is a contributing writer for ESPN.com. He has previously written for The Guardian, The Washington Times and UPI.