Commentary
The evolution of Javier Pastore
Updated:
September 30, 2011, 9:19 AM ET
By
Michael Cox
| Special to ESPN.com
[+] Enlarge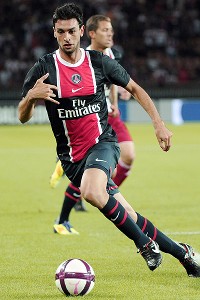 Bertrand Guay/AFP/Getty ImagesWith four goals and two assists from five Ligue 1 starts, Javier Pastore has an excellent record this season.
Early in the second half of Paris Saint-Germain's 2-0 defeat at Athletic Bilbao last night in the Europa League, Javier Pastore made his umpteenth diagonal run toward the flank, exploiting the fact that Athletic's fullbacks were pushing on and leaving space in wide areas. The pass didn't come, Pastore threw his arms up in disgust and walked back to his position. It summed up a disappointing performance from the French side.
Pastore was not the primary reason for the poor display, yet it seems natural to look at him and question his showing. He is an outstandingly talented player, the creative hub PSG has chosen to base its expensive new side around. The problem with playing in that position, as fellow Argentina No. 10 Juan Roman Riquelme once acknowledged, is that you always get the blame when your side doesn't perform.
Pastore's display is an interesting case study of how the No. 10 has been forced to vary his game. He was up against the excellent Javi Martinez, who tracked Pastore in central zones. So Pastore's movement was always lateral. It's not where he wants to be -- if you start central, make a 15-yard off-the-ball run, then control the ball on the move, you're far closer to the touchline than the center of the pitch, the zone Pastore is supposed be patrolling. Pastore's search for space left PSG bare through the middle.
Valeriy Lobanovskyi and Arrigo Sacchi both predicted and tried to introduce the concept of universality in football -- a phrase often discussed in terms of front to back -- by which attackers are expected to defend, defenders can often attack. The evidence is clear for the most casual football fan: Barcelona has sometimes used two holding midfielders as its center backs, and Lionel Messi, a No. 10, as its main goal poacher. It is arguable that the football pitch is now, in effect, one giant midfield zone.
The concept is equally applicable in terms of lateral positioning. In the past decade, it's fair to comment upon the slight decline of the No. 10 (although the popularity of the 4-2-3-1 has brought the central playmaker back into prominence, after the brief dominance of the 4-3-3 had no place for him) and also the classic winger, who beats the fullback on the outside and swings crosses in. There are still wingers, of course, but increasingly the top clubs want them to come inside into the middle of the pitch, or they field them as "inverted" wingers on the side opposite their strongest foot, where they can cut in and shoot.
So if players who can only play in the center are suffering, as are those who can only play on the flanks, what is the role of today's attacking midfielders? They simply have to be capable of roaming laterally. The continent's best creative midfielders -- Andres Iniesta, Mesut Ozil, David Silva, Wesley Sneijder, Juan Mata and Santi Cazorla -- can do that comfortably.
Moving wide isn't a disaster for Pastore -- he has a burst of pace to beat opponents -- but it's something he still has to adapt to. Last season he played in a 4-3-2-1 at Palermo based around narrowness, counterattacking and direct football. Josip Ilicic and Fabrizio Miccoli were the two in the trident who moved wide, while Pastore thrived in the gaps they created through the middle.
On Thursday, when Pastore ran onto a through pass in wide areas, he attempted fancy backheels that didn't come off. There was a contrast with his opposite number, Athletic's 18-year-old Iker Muniain, a great example of a player who can move laterally. Naturally a winger, he was fielded in the center and was much more adept when moving sideways into the channels, and was arguably the game's best player. His skill on the ball forced Mohamed Sissoko to a string of fouls on him -- and in the 53rd minute, Sissoko was finally dismissed after Muniain was tripped yet again.
ESPN FC on Twitter
Don't miss a moment of the latest soccer coverage from around the world. Follow us on Twitter and stay informed. Join »
Antoine Kombouare had to reshape PSG after the dismissal, and who was brought off? Pastore, of course. Indirectly, Muniain had been so good that he'd forced Pastore to depart -- he'd been successful in the battle of ideologies in the No. 10 role. Pastore walked off to whistles from the Athletic fans, but some applause too, acknowledging his talent rather than his performance.
All this said, Pastore has been a big success at PSG so far. Four goals and two assists from five Ligue 1 starts is an excellent record, and his artistry on the ball fits his new club's desire to become one of Europe's most attractive sides, as well as one of its most successful. He's a footballer whom romantics want to succeed. Let's hope we see more of him waving his hands in the air to celebrate goals, rather than when complaining about a lack of service.
Michael Cox is a freelance writer for ESPN.com. He also runs zonalmarking.net.
Michael Cox
ESPN.com writer