Commentary
Can El Loco lead Bilbao to success?
Updated:
October 4, 2011, 1:11 PM ET
By
Michael Cox
| Special to ESPN.com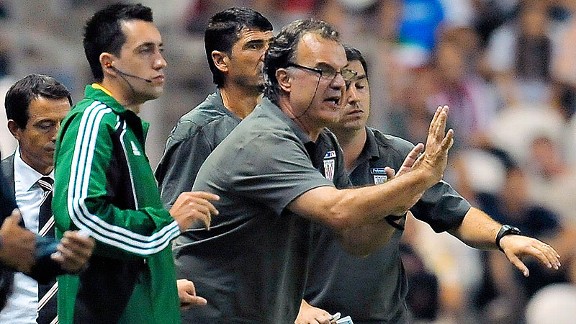 AP Photo/Alvaro BarrientosAthletic Bilbao's manager, Marcelo Bielsa, hopes his idiosyncratic tactics will push up the La Liga table.
BILBAO, Spain -- An Athletic Bilbao employee is showing me around the club's legendary San Mames stadium. "This is the home dressing room, and in there are the showers, and through that door you can see the massage room." There is one door, opposite a blank full-pitch chalkboard, not open to interested visitors. "The coach's room," he says. "Before, we could show you in there, but this season we're not allowed. Maybe Marcelo Bielsa has some secrets."
He probably does. Bielsa is possibly football's most precise, rigorous coach. He took 2,000 videos to the World Cup of 2002 to aid his prematch preparations, and was once said to have the largest football video collection in the world. He often paces out the length and width of opposition pitches before completing his instructions to players. And if rain is forecast on match day, he's been known to have the training pitch soaked to recreate the conditions the players will face. El Loco is his nickname -- like so many other South Americans -- but few have as good a claim to the title as Bielsa. Who knows what was behind that door?
I was unable to get in his room, and Athletic's players have been unable to get into his mindset. They finished sixth last season, and Bielsa was installed after a change of presidency at the club, rather than his predecessor being sacked for poor performances. Athletic didn't really need a revolution, but by appointing Bielsa as manager, they were always going to get one. Five league games in, Bielsa was still without a win.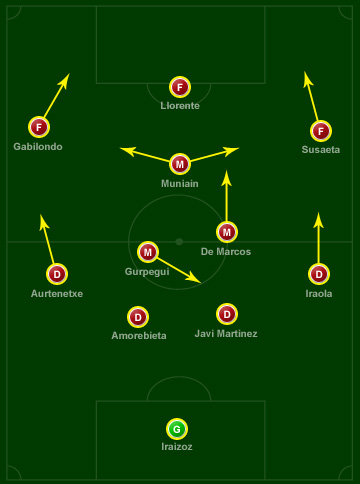 Michael Cox, Zonal MarkingThis was the formation Bielsa used for the game against Real Sociedad on Sunday.
Athletic, of course, is no ordinary club. It is committed to only using players from the Basque region of Spain, an amazing strategy that gives the club a clearly defined identity. The downside for Bielsa is that he can't buy anyone he likes, and when you play such a specific style of football, you often need new additions to fill a particular gap. Furthermore, he is unable to introduce a couple of players he knows from his days as the Chile coach to set an example to the rest of the players and demonstrate that his methods can work. Arsene Wenger, for example, did that at Arsenal when introducing a new ideology at the club with the purchase of the hard-working, loyal Remi Garde, now the Lyon manager.
Tactically, Bielsa has his idiosyncrasies. He favors an extremely high line and pressing all over the pitch. He loves the 3-3-1-3 formation, but this is flexible depending upon the nature of the opposition -- he usually wants one more defender than the opposition has strikers. Therefore, it's 3-3-1-3 against two strikers, and 4-2-1-3 against a lone striker, with the fullbacks pushing very high up and marking the opposition wingers.
It was a good time to visit Bilbao, however, because in the past week Bielsa had strung together back-to-back victories: a 2-0 triumph over Paris Saint-Germain in the Europa League followed by a first league victory. Crucially, that was in the Basque derby away at Real Sociedad, an extremely important win that will rejuvenate the side and should put it on course for more success.
Athletic is not yet a Bielsa-esque side. He has adapted his methods to a more Spanish style of football. The sheer directness of passing and movement, so obvious with Chile, has been replaced by a slower, more gradual buildup play -- albeit with plenty of forward movement. The approach can be summed up by Bielsa's final prematch warm-up activity. While the defenders and holding midfielders play games of "rondo" (piggy in the middle) to practice keeping the ball, the attackers take turns to play one-twos at speed, running onto the ball quickly toward goal. That's how Athletic plays on the pitch -- the buildup play is slow at the back, and then higher up there's a sudden transformation with quick movement to try to get in behind the back line.
The defense is still a work in progress. Bielsa has surprised many by trialing both Javi Martinez, the World Cup-winning ball-playing midfielder, and the veteran box-to-box player Carlos Gurpegui in the backline. Neither looks immediately comfortable there -- Martinez, in particular, seems uncomfortable when the ball is played in behind to his left side -- but it's part of a long-term strategy. The defense plays so high up the pitch that it's often in a zone usually patrolled by the midfield, and using midfielders at center back should help ball circulation. Barcelona and Villarreal, the two most possession-oriented sides in Spain, have been doing something similar this season.
ESPN FC on Twitter
Don't miss a moment of the latest soccer coverage from around the world. Follow us on Twitter and stay informed. Join »
The fullbacks, or wing-backs, have to get through an awful lot of running, and their role changes between the 3-3-1-3 and the 4-2-1-3, the formation used in the last two games. They're higher up the pitch in the former, and partly as a result their movement is different. With the forward three spreading across the pitch, gaps open up in the center, allowing them to make diagonal runs towards goal. It's easy for them to be caught out of position -- PSG goalkeeper Nicolas Douchez continually sent his long goal kicks in behind them, forcing Athletic back.
A stationary holding midfielder is used -- this was Javi Martinez against PSG, but Gurpegui at Sociedad. Their job is to sit deep, protect the defense and distribute the ball to the flanks. The midfielder partner, in the 4-2-1-3, plays a very different role. The versatile Oscar de Marcos moves very vertically, connecting the defense and the midfield, and trying to exploit the gaps created by Iker Muniain. Ander Iturraspe can do a similar job, but has been dropped to the bench.
Muniain is the key player. Brought in from the wing to a more central role (an increasingly popular managerial choice) he is vital because he is the only player who doesn't immediately move directly forward. Instead, he drifts from side to side, playing quick passes from and to the wide players, emphasizing why Bielsa wants his players to work on their one-twos before the kickoff. Athletic tries to form triangles to overload the opposition in a certain area of the pitch, and Muniain's mobility is key to that process. He can link up with a fullback and a winger on one side, overloading the opposition fullback. Small, tricky and the most-fouled player in La Liga so far, he has been Athletic's best player under Bielsa.
[+] Enlarge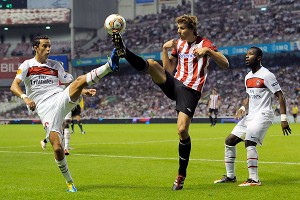 AP Photo/Alvaro BarrientosFernando Llorente is still adjusting to the idea that he should play the ball first time, rather than holding it up and waiting for teammates to get in advance of him.
The wide players are told to stay near the flanks, stretching the opposition defense and creating gaps others can play through. They have struggled to make much of an impact on matches, although the win over PSG might be a turning point, as both Igor Gabilondo and Markel Susaeta arrived late at the far post for good finishes in the 2-0 win.
And finally, there is Fernando Llorente. Tall, strong and lethal in the box, he's still adjusting to the idea that he should play the ball first time, rather than holding onto it and waiting for teammates to get in advance of him. He kick-started his season with two excellent goals in the derby -- the first from a fine spin and a cool, rolled finish past the goalkeeper, and the second a stretching volley from a long diagonal ball over the defense.
Llorente ended that match flat on his back in the opposition penalty area punching the air, exhausted after 90 minutes spent closing down from the front, a huge task considering that this game kicked off at midday in the middle of the heat wave Western Europe experienced over the weekend. That image, of Llorente exhausted but triumphant, was a nice metaphor for Athletic under Bielsa. They're going to have to work hard, they're going to have to be patient -- but eventually they should succeed.
Michael Cox is a freelance writer for ESPN.com. He also runs zonalmarking.net.
Michael Cox
ESPN.com writer