Commentary
U.S. poised to start scoring more goals
HARRISON, N.J. -- Lately, any U.S. national team player desirous of a compliment from head coach Jurgen Klinsmann during practice -- and at this early stage of his tenure, all are -- has a simple task to perform: unlock a large pocket of space for an unmarked teammate with a quick, crisp pass.
On Monday night, as the U.S. shuffled through its final preparation for Tuesday night's friendly match with Ecuador (7 p.m. ET, ESPN2, ESPN3, followed by Mexico vs. Brazil at 9:30 ET), Klinsmann was seen sprinting after the run of play during a 7-on-7 drill, instructing in his affable way and offering nice words as rewards for any such passes.
Because at this stage, heading into Klinsmann's fifth game in charge, all is being done to get a sputtering U.S. offense accustomed to his new system -- a 4-5-1, with high wingers and at least one attacking midfielder, premised on speed, space and off-the-ball movement. While Klinsmann's predecessor, Bob Bradley, often seemed to treat attacking like an afterthought, preferring to sit back and lurk for the counterattack, the new coach has quickly retooled the team for a more adventurous approach.
"What we try to do is push up higher and hopefully create more chances ... by picking up a higher rhythm and through that higher rhythm ... find gaps," Klinsmann said.
"We've been a defend-and-counterattack team," goalkeeper Tim Howard said. "I think [Klinsmann] is trying to get us to dictate and control games. And the way you go about that is by passing and opening teams up."
Although the U.S. went 233 minutes without scoring a goal between a 1-1 tie with Mexico in Klinsmann's debut on Aug. 10 and a 1-0 win over Honduras on Saturday, the players are becoming comfortable with the manager's offense. Against Honduras, the added dynamism the U.S. front line has acquired was plainly visible, as a host of attacks, orchestrated by the withdrawn forward Clint Dempsey, produced far more good chances than the score line implied. Left winger Brek Shea diced up the left flank, while advanced striker Jozy Altidore held up play and got the next wave of attackers involved. Most of all, the quartet, completed by first-timer Danny Williams on the right, created space for itself while drawing the defense to the center of the field to create room for the wing backs to advance. Yes, that all-important space again. "It looked a lot better," Klinsmann said. "Step by step, we're getting there."
[+] Enlarge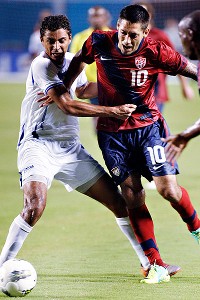 AP Photo/Jeffrey M. Boan"I enjoy it better," Clint Dempsey said of Jurgen Klinsmann's system. "I've been playing more of a withdrawn forward and under [Bob] Bradley I was more of a left mid. When you're playing left mid in a 4-4-2, I had more defensive responsibilities."
After practice, three-quarters of the attacking diamond, Dempsey, Altidore and Shea -- doubtless joined by injured Los Angeles Galaxy forward Landon Donovan on the right when he is fit and available -- professed their pleasure with their offensive scheme, which offers them considerably more leeway than Bradley's mirthless 4-4-2 or 4-2-3-1 did.
"Guys have more freedom to play," Altidore said. "[Klinsmann's] emphasis is more attacking, so I think [it comes] naturally for a lot of us and on the pitch you see that -- it's a free-flowing attack and we're getting better and better each game."
"Especially for attacking guys he likes for them to do what they like to do," Shea said. "He wants you to take the guys on one-on-one. Knowing you have that freedom, it feels good. I don't know that I had that much freedom under Bob."
"I enjoy it better," Dempsey said. "I've been playing more of a withdrawn forward [under Klinsmann] and under Bradley I was more of a left mid. When you're playing left mid in a 4-4-2, I had more defensive responsibilities."
On Tuesday night, the U.S. will hope to put that offense to good use against its Ecuadorian opponents and raise its goal-scoring average during the Klinsmann era from its present half a goal per game. In all of 2011, the U.S. has scored 13 times in 14 games, working through a schedule that included some world-class opponents but also minnows like Guadeloupe and Panama, a figure that will have to increase once the U.S. enters World Cup qualifying in the spring.
Ecuador will provide the refurbished attack a tough test. "We expect a very difficult game ... because we have an opponent that is really on the rise in South America," Klinsmann said. "Their last couple of results, they beat basically every team that came along. They had an impressive game on Friday night against Venezuela and started their World Cup qualifying campaign with a [2-0] win [against Venezuela]. If you go through their roster and look where those guys are playing, it's not only [Antonio] Valencia that plays for Manchester United, it's other ones that play in good places, as well."
Much has been made of "process" during the first two months of Klinsmann's tinker-happy reign. Now the U.S. seems poised to reap the benefits.
Leander Schaerlaeckens is a soccer writer for ESPN.com. He can be reached at leander.espn@gmail.com. Follow him on Twitter at @LeanderESPN.

Contributing writer, ESPN.com
Leander Schaerlaeckens is a contributing writer for ESPN.com. He has previously written for The Guardian, The Washington Times and UPI.