Commentary
England's Wayne Rooney problem
Updated:
October 11, 2011, 11:54 AM ET
By
Michael Cox
| Special to ESPN.com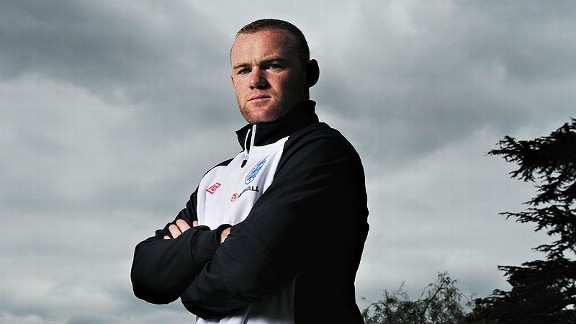 Michael Regan/Getty ImagesFabio Capello's dilemma: England can't afford to drop Rooney for Euro 2012, but it can't afford to rely on him, either.
English football loves a hero, loves a villain, and best of all, loves it when one man can fulfill both roles. In Wayne Rooney, we have the perfect player -- someone capable of wonderful goals, yet a man with on-field disciplinary problems and off-field personal issues.
Last Friday against Montenegro, Rooney became only the second man to be sent off twice in England colors. The other is David Beckham, someone who also fits the bill in the hero/villain stakes. The negative reaction to Beckham and Rooney after their red cards contributed to England crashing out of the 1998 and 2006 World Cups, respectively, was particularly strong because of their status. Compare those backlashes to the muted anger for Phil Neville, a perennial backup, when his ridiculous concession of a penalty resulted in England's elimination from Euro 2000. No one minded; he was never the man who was going to win the tournament.
But for players like Rooney, it's build them up, knock them down. And then start over again.
Rooney burst onto the scene in late 2002, and was immediately heralded as the new savior of English football. It coincided with the last we saw in English football of Paul Gascoigne, and Rooney was thrust into the national team before the end of his debut Premier League season. He quickly became a key man, and since then, almost every peak and trough in the performance of the national team has been attributed to his contribution, or lack thereof. England was brilliant in the Euro 2004 group stages, and in qualifying for World Cup 2010 -- and Rooney was the figurehead. Yet he limped off against Portugal in 2004, was sent off against the same opponents two years later, was absent for the crucial qualifying defeat to Croatia in 2007 and was anonymous in 2010 in South Africa.
[+] Enlarge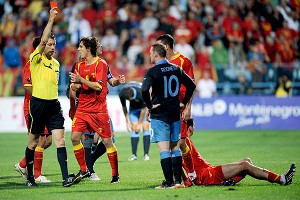 Hrvoje Polan/AFP/Getty ImagesAgainst Montenegro, Wayne Rooney became only the second man to be sent off twice in England colors.
England has struggled to adapt when deprived of Rooney, especially in the two Portugal games. His replacement in those two matches was Darius Vassell in 2004 and Peter Crouch in 2006 -- players you couldn't possibly expect to play the Rooney role. That is essentially the problem: a lack of replacement in stylistic terms, which makes it so dangerous to depend so much upon a player who, for all his qualities, is distinctly unreliable. Through suspension, injury or simple lack of form, Rooney is far from a consistent player.
All of this makes Fabio Capello's comments this week particularly interesting. First, he declared that Rooney wouldn't start in the friendly at Wembley against Spain next month, and hinted that he might not start any of the friendlies until Euro 2012. Then, he added that Rooney's place was not guaranteed for the tournament, and that if others played well, they'd remain in the team over Rooney.
The first point is important in the development of the side. Capello knows he'll play at least one game at Euro 2012 without Rooney due to his impending punishment from UEFA for the red card (the length of the suspension will be announced Thursday), so preparation without his star man is important. England will be forced to explore different attacking combinations, new routes to goal. There'll be a new strike partnership, so others will have to contribute toward goalscoring, while the midfielders won't be able to sit solidly as a four and leave invention to Rooney -- they'll have to move forward and create chances themselves.
Capello's second point is posturing. Few believe that he would dare leave out Rooney next summer after his suspension is served, but a manager has to imply that places are available for others. No one wants the closed shop England became under Sven-Goran Eriksson, when the best players were picked regardless of compatibility or form.
The points, of course, are interlinked. Hopefully, England will get away from dependence on Rooney and others can step up. Then when he is ready to return, he will be able to do so without the pressure of being entirely responsible for the attacking thrust of the side. The newfound structure and understanding of the rest of the side will blend with Rooney's star quality to make a comprehensive offensive weapon. That's the ideal, but in reality, England will probably forget everything it's learned to do without Rooney, will constantly try to play through him, he'll underperform and the team will have the worst of both worlds.
ESPN FC on Twitter
Don't miss a moment of the latest soccer coverage from around the world. Follow us on Twitter and stay informed. Join »
The general point still holds. Successful modern international sides are cohesive groups of players that function as a team, rather than eleven men highly dependent upon one. Diego Maradona's one-man show with Argentina in 1986 is unlikely to be repeated. Recent tournaments have been won by groups that play with an obvious footballing ideology (Brazil 2002, Spain 2008 and 2010) or functional sides highly dependent upon their manager's tactical acumen (Greece 2004, Italy 2006, Uruguay 2011).
Try to pick an obvious standout player from those tournaments. Ronaldo in 2002? Maybe, but Felipe Scolari said Rivaldo had the better tournament. Xavi for Spain? A key player, but the side would still function without him. Sides built around one star generally fail. Most obviously at last year's World Cup, when England, Portugal, Argentina and Brazil depended too much on Rooney, Cristiano Ronaldo, Lionel Messi and Kaka.
England can't afford to drop Rooney for Euro 2012, but it can't afford to rely on him, either. The next few months will be a difficult balancing act for Capello. Spain will probably defeat England next month, probably comprehensively, and he'll need to have faith that a Rooney-less England is worth continuing with.
Michael Cox is a freelance writer for ESPN.com. He also runs zonalmarking.net.