Commentary
U.S.'s growing pains continue
[+] Enlarge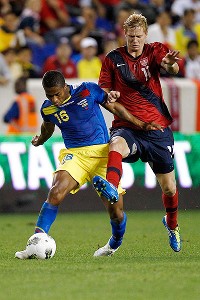 Jeff Zelevansky/Getty ImagesBrek Shea continued to impress on the international level.
HARRISON, N.J. -- No good deed goes unpunished.
So it was for the U.S. against Ecuador on Tuesday night, when it took almost all the initiative for most of the game, but ultimately fell 1-0 after a 79th-minute mistake undid an otherwise laudable performance.
In the first half, the U.S. got off to a strong start, heeding the lessons Jurgen Klinsmann has been hammering home. The Yanks pressed Ecuador high and poked at its defense with quick, diagonal balls and savvy off-the-ball runs, resulting in three of the better chances the U.S. would craft in the opening half occurring within the first seven minutes. By trapping Ecuador into tight spaces and keeping the passing lanes clogged, the U.S. dominated the opening phase of the game. But Ecuador was able to settle in and used its quickness to overload the U.S.'s right side. The slowing of the American attack's rhythm also gave Ecuador time to regroup its stodgy and structurally sound defense after surrendering the ball, making it difficult for the U.S. to find that increasingly elusive space.
It was evident that the U.S. went into this game with a different mindset from its contest with Honduras on Saturday, when the players attacked aggressively. Against Ecuador, Klinsmann's wing backs, Steve Cherundolo and Timmy Chandler, were far more conservative in picking their moments to advance. This led to a stable performance from the defense, but sometimes to a lack of manpower in the attacking third, too, however hard Clint Dempsey tried to connect those around him with the ball.
In the second half, Ecuador grew increasingly satisfied to sit back and look to counter. It consistently aligned three midfielders in front of the back four, shutting down any chance for the U.S. to replicate its high-tempo offense that had yielded chances early in the first half. Dempsey struggled to find room to operate and the forwards were so dramatically outnumbered that they couldn't be faulted for disappearing entirely from view. Reverting to a 4-4-2 from something resembling a 4-1-3-1-1 gave the U.S. less opportunity to stretch the defense with wide runs on the diagonal ball. Instead, the Yanks had to make do with hurried flicks in the box, improbable shots from the outside or high balls heaved in the general direction of their taller members.
ESPN FC on Twitter
Don't miss a moment of the latest soccer coverage from around the world. Follow us on Twitter and stay informed. Join »
As the U.S.'s game got bogged down, Ecuador caught the U.S. defense making a mistake at long last when substitute center back Tim Ream let forward Jaime Javier Ayovi Corozo slip past him and nod the game's only goal past Tim Howard. From that point on, Ecuador had only to bunch up behind the ball and ride out the clock.
Given that it played a tough South American opponent, the U.S. performance was encouraging. But it'll have to learn to win these types of games if Klinsmann's reign is to be a success.
Grades: 1-10 (1 is lowest; 10 highest)
GK, Tim Howard, 6.5: Howard, as always, was there when needed, making a good early save. By and large, he had little to do and wasn't to blame on the goal.
D, Steve Cherundolo, 3.5: Ecuador's speed up the flank gave Cherundolo considerable trouble during his half of work; he was torched several times on shoulder-to-shoulder sprints.
D, Oguchi Onyewu, 7: Gooch is back. He sussed out attacks, ran down stray attackers and distributed well out of the back. He even put in serviceable work up front near the end of the game.
D, Carlos Bocanegra, 6.5: Another good day at the office for Bocanegra, who was reliably composed and solid, shepherding his defense against a quicker opposition.
D, Timmy Chandler, 7: The case for Chandler playing on the left was given extra credence with a strong performance against Antonio Valencia, who was a complete nonfactor.
M, Kyle Beckerman, 5: Beckerman covered ground and plugged gaps, but his passing was largely poor.
M, Danny Williams, 5: In his second appearance for the U.S., Williams again turned in a mixed bag of results in terms of passing and making runs. He played his opponent physically, but it was fairly evident that he is no winger, given that he can't beat a man one-on-one.
M, Maurice Edu, 3: Edu had a stinker, plain and simple. His passing was poor, he dallied on the ball, his placement on the field was often out of sync with the rest of the team and he single-handedly torpedoed the U.S.'s most handsome attack halfway through the first half. He was deservedly subbed out at halftime.
M, Brek Shea, 7: Shea continued his startling emergence at the international level with 45 minutes of standout work during which he sliced merrily through the right half of the Ecuadoran defense and set up attacking plays that very few Americans have ever been able to conceive. He also tracked back with vigor to help his defense.
F, Clint Dempsey, 6.5: Dempsey was splendid early on, savoring a free role and using his trickery and passing to create chances. Once Ecuador got serious about defending, though, his influence waned sharply.
F, Jozy Altidore, 5.5: Altidore got a good shot off in the second minute, but the physical play of the opposition forced him into a lot of aerial battles, which isn't his strength. Given the circumstances, a solid 45-minute shift.
Substitutes:
D, Jonathan Spector, 5: Looked skittish and has to take some blame on the goal, given that he didn't step out on the cross.
M, Michael Bradley, 6: Bradley reliably covered ground, helped out on defense, played good lateral balls and was decent on set pieces.
F, DaMarcus Beasley, 5: Beasley put in hard work, battling his physical opponent bravely, but other than a shot from distance, he was seldom dangerous.
F, Juan Agudelo, 5: Agudelo worked hard as always, but he got little out of his efforts. He had little service or support.
F, Edson Buddle, 4.5: Mostly invisible in almost 30 minutes of work, he, too, was marked out of the game.
D, Tim Ream, 2.5: Ream is still gaffe-prone and showed that again tonight, letting his man stroll past him and head in the winner.
Leander Schaerlaeckens is a soccer writer for ESPN.com. He can be reached at leander.espn@gmail.com. Follow him on Twitter at @LeanderESPN.

Contributing writer, ESPN.com
Leander Schaerlaeckens is a contributing writer for ESPN.com. He has previously written for The Guardian, The Washington Times and UPI.