Commentary
Grading Klinsmann, five games in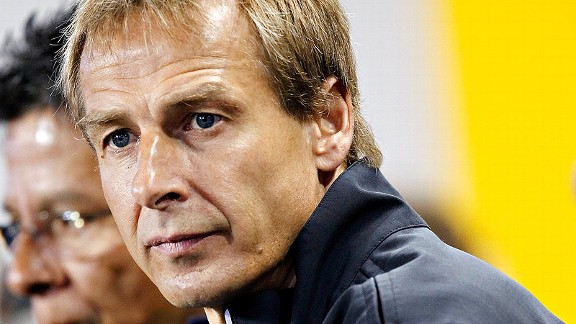 Jeff Zelevansky/Getty ImagesThe opening act of the Jurgen Klinsmann era has led to a 1-3-1 record and a minus-2 goal difference.
It's been 10 weeks and five games since U.S. national team head coach Jurgen Klinsmann was installed as the great reformer and Bob Bradley's successor. With an opening 1-1 draw against Mexico, a 1-0 win over Honduras and 1-0 losses to Costa Rica, Belgium and, most recently, Ecuador, the U.S. has amassed a meager 1-3-1 record with a minus-2 goal difference in the opening act of the Klinsmann era. But beyond results and statistics, which don't entirely matter at this pre-World Cup qualifying juncture, what have we learned?
Here are the five main takeaways from the national team's wooden anniversary with Klinsmann:
[+] Enlarge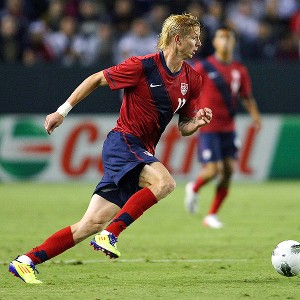 Victor Decolongon/Getty ImagesBrek Shea's recent performances have earned him a place in the starting XI, according to Klinsmann.
1. Brek Shea is a revelation
Stating the very obvious, FC Dallas forward Brek Shea has lit up whoever the U.S. has faced over the past five games playing as a left winger. Big, strong and quick, Shea combines those traditionally prized American traits with a soft touch and a highly attuned feel for the game's spacing.
"Brek Shea is definitely on the rise here and has secured his spot in the starting lineup as a youngster 21 years of age," said Klinsmann of the towering Texan, who had looked overwhelmed in two appearances under Bradley.
Rumors of interest for Shea coming from the Premier League swirl. But more important to the national team is that Shea offers the U.S. danger on the wing, allowing either Clint Dempsey or Landon Donovan to move to the center of the field, a luxury the team long lacked. And through the unpredictability and breadth of runs that he makes, Shea occupies considerable defensive resources from his opponents, creating time and space for his teammates.
2. The system is sound, but it needs time to take root
Although in shape and personnel, the U.S. hasn't looked all that different than it did under Bradley, Klinsmann's approach is different to Bradley's. Whereas Bradley took care to ensure that the defense was fundamentally sound and worried about attacking later, Klinsmann prefers a more proactive approach, aiming to make the play and attack more often than defend. This is no simple change to ask a team to make. "It's a hard transition because you're going from virtually one extreme to the other," goalkeeper Tim Howard said.
As Klinsmann's five games have worn on, the initiative, movement and pace he is centering his practices around have slowly bubbled to the surface. "The movement of the ball is better, brighter and collectively we have a better idea of what we want to do," right back Steve Cherundolo said.
In spells against Costa Rica, Honduras and Ecuador, the quick, vibrant attacking was especially visible and effective, as the U.S. created a host of chances. Those time spans suggested the new ploy will work well with the present group of players. But putting it all together throughout an entire game is an assignment of another order, and one that will take patience and painstaking work.
"I think we're going in the right direction, though it's early days," Howard said. "It takes time and sometimes things aren't going to be spot on because we're learning a new system."
Realistically, if the U.S. masters the new system by the time it gets to the business end of World Cup qualifying in 2013, it will be in good shape.
3. Pace is paramount
What has become increasingly clear is that the spells where the U.S. is dangerous coincide with the ones where its pace is highest. Over these five games, the U.S. has consistently gotten its opponents in trouble when it played quick, diagonal balls in the final third with sharp off-the-ball runs. When the pace dips below a certain threshold, that snappy interplay vanishes and the offense grinds to a halt, since the U.S. doesn't have the ability to break down a defense that has the time to set up properly.
The U.S.'s progress will run exactly parallel to its ability to stretch its paciest periods over longer spans of the game.
4. The defense is best left unchanged
Since the end of the 2010 World Cup, both Bradley and Klinsmann have tried out new players along the back line. But Klinsmann tryouts Michael Orozco Fiscal and Edgar Castillo proved unsuitable while Clarence Goodson is best suited as a backup and Tim Ream is still too wet behind the ears to hang at the international level.
Good thing, then, that much maligned center back Oguchi Onyewu, who struggled to find playing time after an injury kept him out for almost all of the 2009-10 season, looked as strong as ever on Tuesday -- "Gooch is back," Klinsmann said. To his left and right, fellow veterans Carlos Bocanegra and Cherundolo, both of whom are 32, show no signs of their age yet, even if Cherundolo had an uncharacteristic off-day against Ecuador.
Chandler, first brought in to the national team by Bradley in March, has excelled on the left. "Timmy Chandler at left back didn't even allow [Antonio] Valencia one thing and we're even talking about a player who plays for Manchester United and is a very, very good player," gushed Klinsmann after the Ecuador game. "Timmy Chandler closed him completely down."
A natural right back, Chandler appears the front-runner to fill the abyss at left back after two solid games there. And he has developed a strong understanding with his roommate and new friend Shea up the left wing, a partnership Klinsmann has already declared he would be loath to break up.
The U.S. would be best served by not experimenting with the back line further. Sticking with the three holdovers from the World Cup, complemented by Chandler, is clearly the way to go for now.
5. Dempsey belongs in the middle
In the two most recent games, Clint Dempsey, used as a left or right midfielder or an advanced forward by Bradley, played as a roaming withdrawn forward behind Jozy Altidore. From there, Dempsey scored both the winner and a dubiously disallowed second goal against Honduras and helped pick apart the Ecuadoran defense in the early going.
"Dempsey has the experience to play either way, as a floater behind the No. 9 or as a 10 or as a pure midfielder in a flat midfield," said Klinsmann of his new playmaker. "But we obviously have to try out different options." Note that an option not mentioned by Klinsmann is moving Dempsey back to the wing or up top.
Landon Donovan will likely be angling for a chance to play in the middle when he returns from injury and a probable deep run into the MLS playoffs that would keep him out of the Nov. 11 and 15 friendly match dates. But the U.S. has found its ideal striker pairing, with Dempsey playing behind Altidore, who is increasingly adept at holding up play.
Bonus takeaway
In my view, the ideal U.S. lineup with no injuries or other restrictions at this stage would be:
                                 Tim Howard

Steve Cherundolo   Oguchi Onyewu    Carlos Bocanegra     Timmy Chandler 

                               Michael Bradley      
    
Landon Donovan                 Stuart Holden	         Brek Shea

                               Clint Dempsey      

	                        Jozy Altidore

Leander Schaerlaeckens is a soccer writer for ESPN.com. He can be reached at leander.espn@gmail.com. Follow him on Twitter at @LeanderESPN.

Contributing writer, ESPN.com
Leander Schaerlaeckens is a contributing writer for ESPN.com. He has previously written for The Guardian, The Washington Times and UPI.