Commentary
Nigeria not so 'super' these days
Updated:
October 14, 2011, 9:11 AM ET
By
Michael Cox
| Special to ESPN.com
[+] Enlarge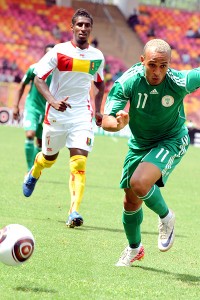 PIUS UTOMI EKPEI/Getty ImagesAs a result of a 2-2 draw with Guinea, Peter Odemwingie and Nigeria failed to qualify for the African Cup of Nations for the first time since 1986.
The problem with being nicknamed the "Super Eagles" is that you always have to justify that description. Now, more than ever, the tag seems inappropriate.
In 1996, Nigeria won Olympic football gold with a last-minute victory over an Argentine side featuring Ariel Ortega, Javier Zanetti and Hernan Crespo. It had overcome the Brazilian side of Roberto Carlos, Ronaldo and Rivaldo in the semifinals. The Olympic tournament may not be as revered as the World Cup, but it was a significant step for African football on the world stage. The fact that it was technically an under-23 tournament was further reason for optimism -- that generation was set to become a major force in world football.
Fifteen years later, that dream should have been realized. Not with the same group of players, most of whom have now retired, but with their protégés. Instead, Nigerian football was dealt a crushing blow this past Saturday with a 2-2 home draw to Guinea. As a result, Nigeria failed to qualify for the African Cup of Nations for the first time since 1986, although it missed two tournaments in the 1990s for non-sporting reasons.
There are short-term, medium-term and long-term causes for the elimination. The problem with Saturday's game was not a lack of technical or tactical ability, but poor communication. At 2-1 up, Nigeria would have qualified for the tournament as one of the two best-placed runners-up. However, wrong messages from the stands confused the players, meaning that some thought they needed a third goal to advance. The side pushed forward, left gaps at the back, and predictably conceded an equalizer, dropping out of the tournament.
That said, the real blow in the qualification process was the opening-day defeat in Guinea. This came after a week of confusion, when FIFA initially banned Nigeria from its tournaments for political interference, only to lift the ban the day before the match. Hardly the best preparation for a crucial qualifier, with the eventual defeat not surprising.
ESPN FC on Twitter
Don't miss a moment of the latest soccer coverage from around the world. Follow us on Twitter and stay informed. Join »
But it shouldn't come down to losing to Guinea. Nigeria, the most populated African country and one of the more successful at exporting its players to major European leagues, simply lacks the stars of old. There is no Nwankwo Kanu, no Jay-Jay Okocha, no Finidi George.
A friendly just after elimination from your confederation's next regional tournament should, on the face of it, be irrelevant. Tuesday's game against Ghana, however, took on huge importance because it was widely believed that it would determine whether coach Samson Siasia remained in his post -- a win and he continued, a defeat and he was sacked. Typically, the game finished 0-0, prolonging the wait.
That the decision was dependent upon one friendly suggests alarming short-termism from the Nigerian FA, although its technical committee is planning a report detailing how Nigerian football can progress on a wider scale. Throughout the speculation about his job, Siasia has remained a very relaxed figure. Casually attired in a jumper and jeans at the news conference after the Ghana draw, he was "happy that we played a good game and didn't lose." He approved of the way his side passed the ball, the number of opportunities it created, and was satisfied that he'd represented the country well, whatever his future.
"I've not lost a game!" he exclaimed when pressed about his job situation, which is an obvious but entirely valid point. "How many coaches have we had in the last three years? You can't just keep changing coach to have a winning formula."
For the record, Siasia is the sixth coach since the start of 2008. He was a popular appointment, and his track record indicates that he's a wise choice: He won 51 Nigerian caps in the late 1980s and '90s, so he understands the demands of playing for the side, and has previously coached the U20 and U23 squads. Nigeria's style of play has progressed since his appointment, too. There is more structure, the team moves the ball quicker, and it often tries to play out from the back -- all while remaining unbeaten, despite the Guinea disappointment.
[+] Enlarge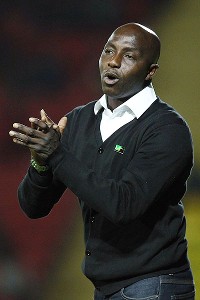 Bryn Lennon/Getty ImagesNigerian coach Samson Siasia has conducted himself with intelligence and forethought, but it may not be enough to avoid being sacked.
Usually, an embarrassing failure at international level is followed by a clean sweep of the playing squad to make way for a new generation, but Nigeria's current side is already youthful. The average age of the starting XI against Ghana was 24, which Siasia will see as a positive and a sign that this group can stay together and move forward. But fans and the media may want to see clear change.
Rather than new blood, this Nigeria side needs a leader. Chelsea's Jon Obi Mikel is the obvious star man, yet some feel he is the main problem with the side. Whereas he performs a disciplined, reliable holding job for his club side, at the international level he gets caught out of position and ambles back when he loses the ball. Fegor Ogude played instead of him against Ghana, and impressed with his presence and tackling ability.
The other type of player Nigeria lacks -- a playmaker -- also involves Mikel. At the junior level, he was an attacking midfielder with both drive and guile, but at Chelsea he was converted into a defensive-minded destroyer. He still wears the No. 10 shirt for Nigeria, and perhaps his strolling indicates he wants to play a more creative role. But he seems unable to exert influence upon the side, much to the disappointment of those who thought he was set to be a world-class creator.
One bright note was the performance of the U20 side at this summer's world championship in Colombia. Ahmed Musa, a winger playing with Dutch club VVV, has already been involved with the senior side, and others, like Olarenwaju Kayode, may be ready to join them.
Siasia's future is still up in the air. The Nigerian FA was expected to make a decision Thursday, but has seemingly delayed it until next week. Sections of fans may be unhappy with Siasia, but the way he's conducted himself in charge suggests intelligence and forethought, two qualities Nigeria desperately needs if it's to return to being "super" once more.
Michael Cox is a freelance writer for ESPN.com. He also runs zonalmarking.net.